Indians lefty works five scoreless innings in Scrappers' victory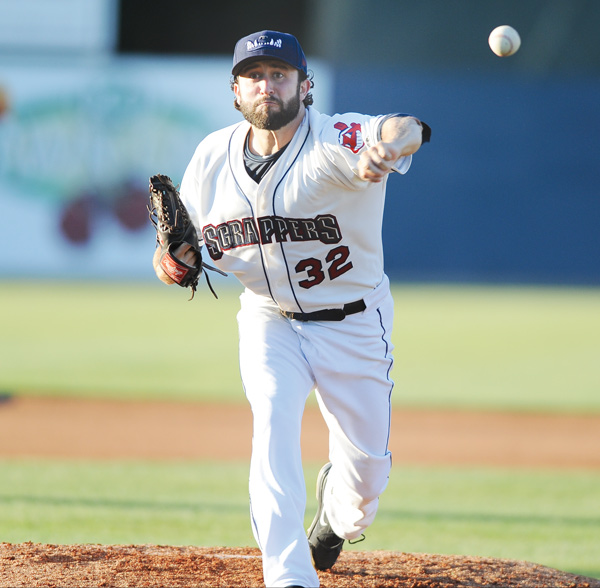 ---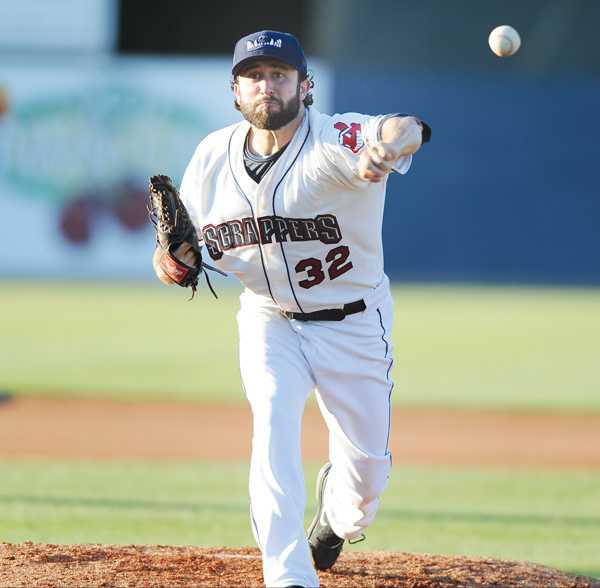 Photo
Cleveland Indians pitcher T.J. House pitched five scoreless innings for the Scrappers during Wednesday's 4-0 shutout of the Connecticut Tigers at Eastwood Field in Niles.
Indians lefty works five scoreless innings in Scrappers' victory
By Steve Ruman
NILES
The Mahoning Valley Scrappers returned to Eastwood Field on Wednesday looking to break out of a major season-long home funk.
Mission accomplished, thanks to a bit of major-league help.
Backed by a strong pitching performance from Cleveland Indians starter T.J. House, the Scrappers kicked off a six-game homestand with a 4-0 win over Connecticut in front of 3,003 fans.
The win was just the Scrappers' fourth home victory in 15 tries. The Scrappers' overall record is 11-21.
House made his big-league debut on May 17, pitching one inning in a relief appearance. He has since made eight starts for the Tribe. He owns a 1-2 record (4.40 ERA) and earned his first big league win July 5 in a 7-3 win over Kansas City.
House made a start last Thursday against the New York Yankees, giving up three runs in 4 2/3 innings. Following the game, the left-hander was temporarily optioned to the minors and replaced on the 25-man roster by Columbus Clippers pitcher Austin Adams. The move was made to add some relief to an overworked bullpen heading into the All-Star break.
House is scheduled to make his next start on Monday at Minnesota against the Twins.
"Having 11 days off between starts, the plan was for me to just get in some work to maintain my regular rotation schedule," House said. "It was a good experience — a good night for me all the way around.
"I felt good out there tonight. I wanted to work on a few things, throwing strikes down in the zone and working the inside of the plate a little bit. I wanted to mix things up out there against these guys just to get ready for when I get back up there."
Against the Tigers, House worked five innings, giving up two hits and recording four strikeouts without issuing a walk. He retired the first nine batters he faced before giving up a hard single to Tigers leadoff hitter Brett Pirtle in the top of the fourth. House gave up an infield single to lead off the fifth.
House threw 54 pitches, 35 for strikes.
"I've had a little bit of a problem keeping my changeup down, so that's something I worked on tonight," he said. "The guys I faced, they're good hitters and they know how to handle a bat. If you make a mistake against them, they'll hurt you. I think I was able to locate the ball and get ground balls."
House was matched by Tigers starter Tanner Bailey, who through five scoreless innings surrendered just three hits and faced just two batters over the minimum.
However, in the sixth the Scrappers touched up Bailey for two runs on three hits. Bradley Zimmer plated the game's first run with a single, then Francisco Mejia followed with a sacrifice fly that gave the Scrappers a 2-0 lead.
The Scrappers added single runs in the seventh and eighth. Meanwhile, a trio of Scrappers relievers (Luis DeJesus, Jose Zapata, Luke Eubank) combined to to work four scoreless innings, giving up just two hits.
House, who spent the afternoon at Eastwood Field then spent time with the Scrappers after the game, said he enjoyed his one-day visit to Niles.
"This is a great group of guys here, and they're all shooting for the same thing," House said. "I was in their shoes not long ago. I know what it's like to come through the system, and I also know what it's like to have the guy who is a big-leaguer come down.
"I didn't want to be that guy who comes in and ignores everyone. They're a great group and I hope that one day some of these guys join me [with the Indians]."
As for his other team, House said he believes the Indians are primed to make a second-half run at the playoffs.
"I think we have a good chance of duplicating what happened last year," House said. "Baseball is a strange game. You can struggle and struggle, then certain things click and you take off. That's what I hope happens."
The Scrappers and Tigers continue their three-game series at 7:05 tonight.