Struthers police ID slain man, have a person of interest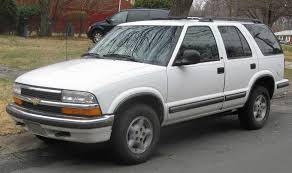 Photo
1999 Chevrolet Blazer similar to the vehicle that police are searching for in connection with the death of Mark Westfall in Struthers.
STRUTHERS
Police have identified the man found dead in his Struthers Manor apartment as Mark Westfall, 56.
Detective Jeff Lewis said Westfall suffered multiple stab wounds and police are searching for his white, 1999 Chevrolet Blazer, plate number FUT8365.
Police said the victim was stabbed multiple times in the back, abdomen, neck, and arms.
Police have a person of interest, but that person's identity isn't being released. Lewis said the two men were "familiar with each other."
There was no forced entry into Westfall's apartment, he said.
Struthers Manor is a Youngstown Metropolitan Housing Authority-owned facility. Lewis said police are unaware of any drug activity at the complex.