Authorities investigate Struthers apartment death
---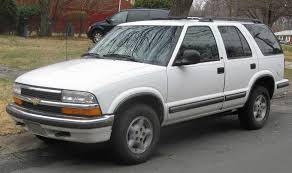 Photo
1999 Chevrolet Blazer similar to the vehicle that police are searching for in connection with the death of Mark Westfall in Struthers.
Staff report
STRUTHERS
Authorities are hopeful that a missing white Chevrolet Blazer, once recovered, can provide some information about the 56-year-old man found dead Tuesday morning in his third-floor apartment at the Youngstown Metropolitan Housing Authority-owned Struthers Manor.
Struthers Police Chief Tim Roddy said though the car is missing, authorities aren't sure under what circumstances. He could have lent it out or it could be in the shop, Roddy said, but authorities need to know for sure. The car's license plate number is FUT8365.
He added that Struthers police — along with the Mahoning County Homicide Task Force and the Ohio Bureau of Criminal Investigation — arrived at noon after being notified of the body by facility employees. The Mahoning County Coroner's Office also is investigating.
Though authorities were releasing few details about the death, Poland Village Police Chief Russ Beatty, who belongs to the county's homicide task force, said it is being investigated as a homicide, like any other unattended death.
Authorities did not release the victim's name, though some family members had been notified and had gathered at Struthers Manor; they declined to comment.
Carmelita Douglas, executive director of the YMHA, said the victim had lived at the facility for a little more than a year.
Struthers Manor, located on Poland Avenue, is a low-income, independent housing development for senior citizens, and has 70 apartments.
Douglas noted that business at the facility will continue as usual "until we find out anything different."
She said, too, that she and her staff would be there to provide support for residents and answer any questions they might have, though she added that "no concrete answers" were yet available.
"[We will] be available for them for whatever they need," she said.