Ursuline camp stresses grades, behavior, football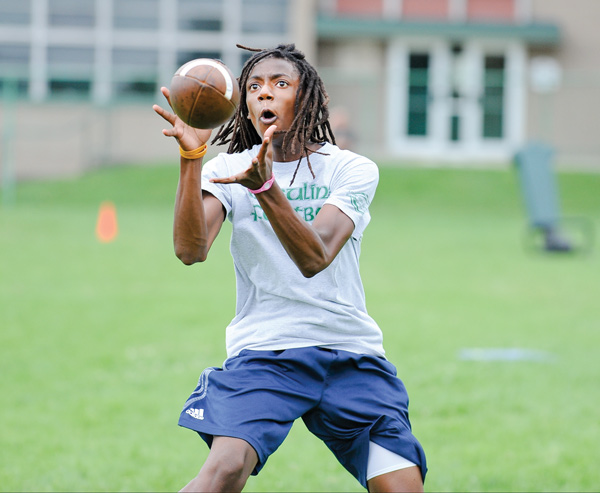 Photo
Tristan Ballad of Youngstown catches a pass during a receiver drill at Ursuline's football camp Monday morning at Ursuline High School.
By Greg Gulas
YOUNGSTOWN
For Ursuline High School head coach Larry Kempe, football is perhaps the least important of the three principles he preaches as the face of his program.
Guest speakers on the opening day of his two-day camp are in total agreement with him.
Kempe welcomed nearly 150 campers Monday at the school's Tom Carey practice field as they went through drills, learned techniques at their respective positions and listened to speakers.
"Our goal for the next two days is to have fun while also teach those in attendance fundamentals of the game," Kempe said. "They also had the opportunity to both listen to and learn a little bit about life from some really excellent coaches with area ties."
The three priorities Kempe stresses are to be a good person, a good student and a good football player.
"Academics remain our top priority while players must realize that they are also accountable for their actions, both on and off the field," he said. "When I took over the program three years ago our conduct grade was in the high 70s. Today is sits at 92 percent so they are definitely buying into our system."
With two sons, Liam and Aiden, signed up for the camp's two sessions, Kevin Murphy appreciates Kempe's approach to both football and the classroom setting.
"As a parent I fully appreciate the quality and core values that Larry brings to both UHS and the entire Mahoning Valley," Murphy said. "He instills that in his players and everyone is then held accountable for their actions."
Mark Porter of Scouting Ohio told the campers that grades remain the biggest factor for college recruiters.
"The first question a coach asks me when we discuss a player is what are his grades like? If they're sub-standard in regards to their admission requirements, then that player is crossed off the list and they move on," Porter said. "Kids blame it on high school but it's actually the grade school that's to blame. They needed to know how to read and write in those grades because by the time they get to high school, it's already too late and tough to play catch up."
Struthers native Tim Zetts, the running backs coach at Fordham, grew to appreciate his school's strict entrance requirements.
"Our requirements are like that of the Ivy League. We want our players to excel academically, have excellent character and be good football players as well," Zetts said. "My first question to a coach like Larry [Kempe] is about a recruits' academic standing. That's when I know whether or not we should proceed."
Tom Manning, a member of the Fighting Irish's first state championship team in 2000, serves as offensive line coach and run-game coordinator at the University of Toledo.
"Attitude, effort, team and value of education is what we stress at UT. You have to be committed to achieving the grades you are able to achieve in the classroom; be men of great character and have a true passion for the game," Manning said. "What we learned while at Ursuline High School has carried over to our everyday lives after graduation and I am so appreciative of that every single day."
Matt Stansfield, offensive coordinator and offensive line coach at Waynesburg, told campers that they are fortunate to have caring coaches
"Consider yourself lucky to play for a coach who wants to help you along the way; both on the field and when away from the game," he noted.
YSU offensive line coach Carmen Bricillo used a simple acronym: WIN.What's Important Now.
"Man is the only animal that has the ability to choose so you have to make the right decisions when confronted to do so," he said.
Ke'andre Cundiff, an eight grader at St. Joseph the Provider School in Youngstown, is a lineman who plays on both sides of the ball.
"I signed up to learn more about playing both the offensive and defensive line. I'd like to learn the proper technique when rushing the passer and being a better blocker when on offense," he said.
A second grader at Niles Primary School, Jake Holloway is hoping to be a wide receiver someday.
"I want to learn about that position and some of the drills while making some new friends at camp as well," he said.
The camp will continue today with coaching instructions and guest speakers scheduled from 9 a.m. to noon at the school's practice facility.