Racino continues to take shape for fall opening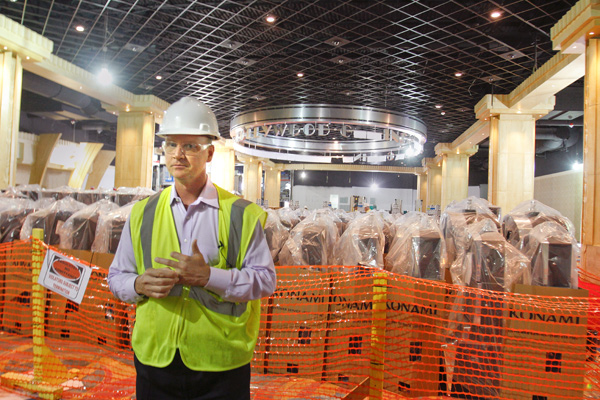 ---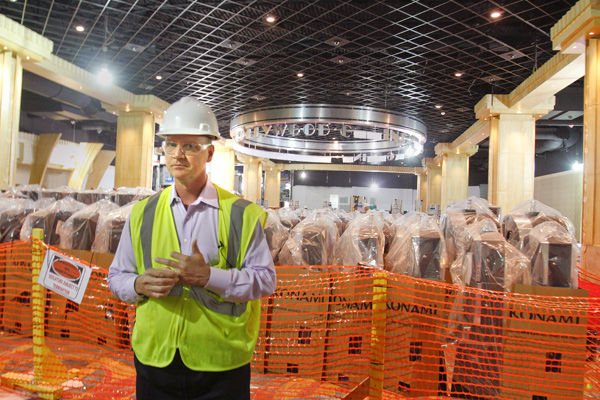 Photo
Mike Galle, general manager of Hollywood Gaming at Mahoning Valley Race Course, discusses progress at the building off state Route 46 in Austintown.
By Kalea Hall
AUSTINTOWN
The carpet is being rolled out, the video lottery terminals have mostly all arrived and a wooded landscape is set to provide the backdrop for a 21-day racing season beginning this fall at the Hollywood Gaming at Mahoning Valley Race Course.
"We are really in the homestretch now," Mike Galle, general manager of the Austintown racino, said of the construction.
Mark Loewe, vice president of the Ohio racing operations with Penn National, said the racetrack is in the final stages.
Most important to the residents of the Mahoning Valley, however, are the jobs the racino off state Route 46 is bringing and the economic impact it will continue to have on the area.
"People of the Mahoning Valley are hard-working," said Jim Davis, Austintown Township trustee. "We knew if we could showcase what we could do, we would get the job done. Come to the Valley and put us to work, and we will get the job done."
The main building was open Monday to a tour by media and local leaders.
Since the onset of Penn National's $250 million investment into the approximately 190-acre site, development in Austintown has increased. A Candlewood Suites is under construction, and several businesses have completed renovations including a $4 million investment into purchasing and updating Hotel California, formerly the Economy Inn and Suites on Route 46 by Interstate 80.
"We have seen interest pick up," said Darren Crivelli, Austintown zoning inspector. "I think we will see more interest after the racino opens."
Crivelli also said Hilton Hotels recently submitted zoning permits for property along Route 46.
The county commissioners approved a tax-increment finance district, or TIF, last September on 187 acres between state Routes 11 and 46. The casino and thoroughbred track are expected to increase property values, and 50 percent of that increase will go toward improving county infrastructure.
County Commissioner David Ditzler said those tax funds are expected to reach $6 million over the next 10 years.
In addition to the development surrounding the racino, there is the construction of the 100,000-square-foot main building, a one-mile thoroughbred racetrack, 13 horse barns, a ship-in barn, maintenance buildings; and a dormitory, testing and office building. There are now 200-300 construction workers on the site each day.
"I think [the racino] will be very well received," Ditzler said.
Ditzler said Penn National and Turner Construction Co. of Cleveland worked well with local employees from area unions.
The racino will hire a 400-member team with 90 percent of those positions filled by local workers and 65 percent of the positions full time.
"I think they will be in the top two of employers in the Valley," Ditzler said.
Galle said about 60 percent of supervisors and 35 percent of hourly employees have been hired. The company had two job fairs in June with about 2,800 applicants.
The racino is expected to open in early fall with horse racing beginning Nov. 24.
Inside the main building there are approximately 1,000 enclosed track-view seats with large windows to see beyond the track with two levels of seating available. During the offseason, the lower level can be used as a banquet center.
The gaming area, for 21-and-over guests, is set with 850 video lottery terminals on a 25,000-square-foot gaming floor and capacity for up to 1,500 terminals. An additional 5,000 square feet is available to expand the gaming floor. Table games are not in consideration at this point, Galle said.
"We will look at that to see if we want to expand," Galle said.
So far, there are 700 terminals in house that need to be mounted.
Dining options include the Skybox Sports Bar, Take 2 Grill, Ciao, Harlan's Holiday, Trackside and Hollywood and Grind. Italian cuisine to an American style of cooking with burgers and grab-and-go shops will be available.
For entertainment, there will be a simulcast theater that features horse racing from around the country throughout the year.
A 250,000-gallon water tank supports the facility, and a backup generator is also on the property.
"It's awesome — what else can you say," Davis said. "You can almost hear the people and see the hustle and bustle."