Park board gets earful about geese euthanasia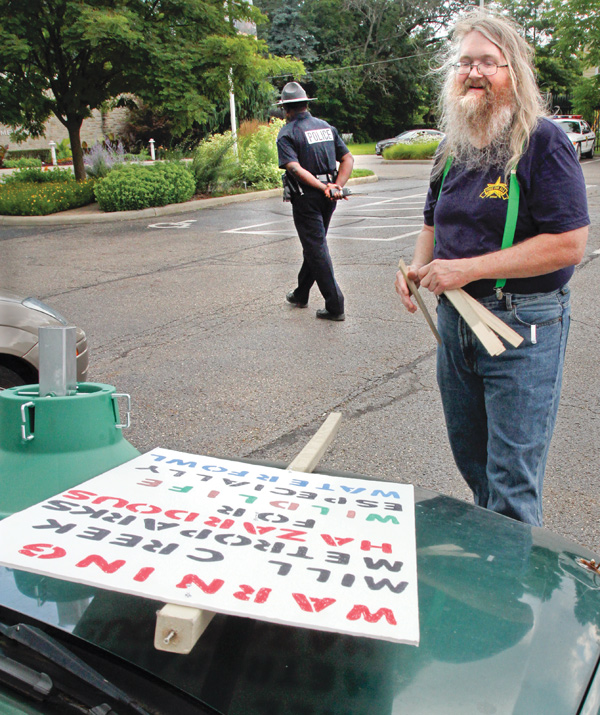 ---
YOUNGSTOWN
The Mill Creek MetroParks Board of Commissioners got an earful about the roundup and euthanasia of geese in Mill Creek Park, with comments overwhelmingly against killing the geese.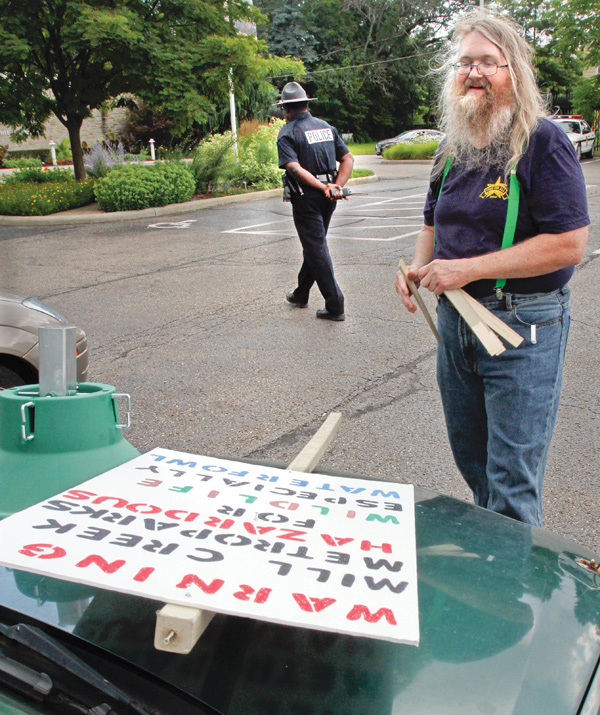 Photo
Jack Malley, above, of Youngstown examines his sign saying: "Warning: Mill Creek MetroParks: Hazardous for wildlife, especially waterfowl." The park police officer in the background told him he wasn't allowed to display the sign on his car in a park parking lot Monday, outside a park board meeting.
Monday's meeting was the board's first since the June 26 roundup, in which kayakers from the USDA herded geese ashore, where they were fenced in and euthanized with carbon dioxide in a trailer-mounted chamber.
"Dennis, the board and myself are truly saddened by the fact that we had no choice but to euthanize these geese," said Louis Schiavoni, board chairman, referring to Dennis Miller, MetroParks executive director. "As difficult as this decision was, we truly believe it was necessary."
Schiavoni said goose droppings had created unpleasant conditions at the Newport Wetlands and ruined newly planted vegetation and polluted the water at the Lily Pond, that the public had continued to feed the geese despite signs prohibiting the feeding, and that geese sometimes had become aggressive.
"For every perceived wildlife conflict, there is a humane solution, and what you folks did was not humane," protested Nancy Borowski, who spoke at the meeting, which drew a crowd of more than 100.
"As far as that Lily Pond, when you put all those thousands of dollars in planting and stuff, that was poor planning. What did you think the geese were going to do? They eat vegetation," she said. "I don't think you guys have done your due diligence."
Under a permit sought by the MetroParks and issued by the Ohio Department of Natural Resources, the U.S. Department of Agriculture euthanized 238 geese at the Lily Pond, Lake Glacier and Newport Wetlands.
It was the first roundup and euthanasia of geese in the park's 123-year history.
Jay Macejko, John Ragan and Schiavoni were the only board members attending Monday's meeting, with Dr. Robert Durick being on vacation and Valencia Marrow mourning two recent deaths in her family.
Candice Sinistro LaRocca of Boardman, who wore an "I like geese" T-shirt, was frustrated because neither board members nor park staff would answer her questions as to whether park staff counted geese in the park or whether the park administration discussed the matter with park naturalists before the roundup.
"The Lily Pond is not for picnicking; it's for the wildlife," she added.
Park staff conducted "informal, cursory counts" of the geese, a park spokeswoman said earlier this month.
"A lot of people think this was a shoot-from-the-hip response. It was a last resort," Doug Bush said of the roundup. "This problem had been going on for four years. ... People have to stop feeding the geese. That was the main problem."
Kirsten Peetz, MetroParks natural resources manager, told the board that, before the roundup, MetroParks officials had been experimenting with a gun with screamer-siren cartridges, a green laser pointer and a floating amber flashing light to discourage geese from congregating.
Park officials also have used a dog and predator decoys to scare off geese, and they have destroyed 630 eggs in 129 nests over the past four years, she said.
The Ohio Department of Natural Resources said no further roundup permits would be approved if park police don't increase enforcement of the park rule against feeding the geese.
Park police have issued dozens of warnings for feeding wildlife since they launched a public awareness campaign on this issue in spring 2013; and they issued their first citation this month at the Lily Pond, where anti-feeding signs are posted, said James Willock, MetroParks police chief.
ODNR did not request or require a formal study of the park's geese population, a park board resolution or an executive letter before issuing the permit for the roundup.
Miller approved the roundup and euthanasia without any resolution of support having been adopted in advance by the board.
"Our naturalists and staff were advised by the DNR on how to handle this problem. Why would we, as a board, legislate issues on animal control when our staff asked for and received expert advice?" Schiavoni said.
The printed permit issued to the MetroParks said goslings were not to be killed and had to be humanely relocated to a state wildlife area.
But Laura Graber, an ODNR wildlife research technician, said she later gave oral approval for the killing of goslings and that goslings were killed June 26. She issued an undated letter after the roundup on ODNR letterhead saying: "MetroParks was authorized to kill goslings along with adults in the nuisance goose roundup."
USDA charged the park $2,283 for the costs of corralling and killing the geese while they were unable to fly during their molting period.
More like this from vindy.com