Canfield wins 9-10 softball district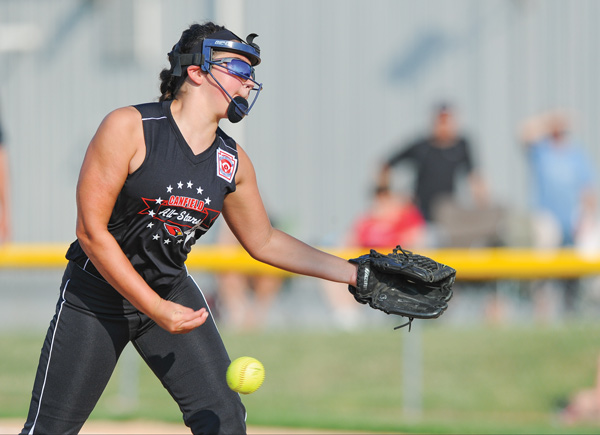 ---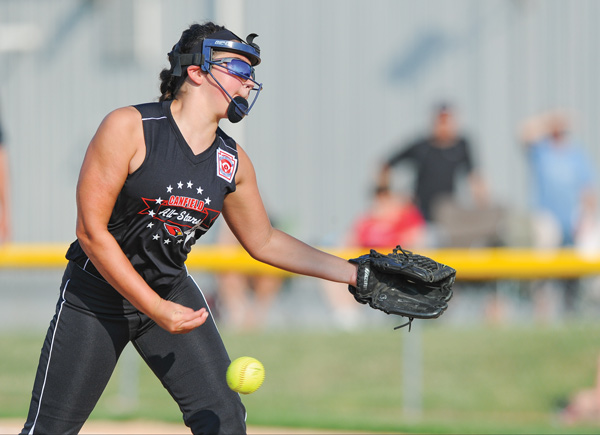 Photo
Canfield pitcher Lauren Fitzgerald throws a pitch during the top of the third inning of Monday night's 9-10 Little League district championship game at the Field of Dreams. Canfield won 4-2.
By Curtis Pulliam
Boardman
In the top of the fifth inning, Poland had the bases loaded and no one out.
Canfield pitcher Lauren Fitzgerald had one thought in her mind.
"I can't let anyone score," Fitzgerald said.
She kept that promise to herself and struck out the side to escape the jam as the Canfield 9-10-year-old Little League softball team advanced to the state tournament with a 4-2 victory.
Fitzgerald finished with 15 strikeouts in six innings.
"I'm really proud of myself and the team," Fitzgerald said. "I just wanted to live in the moment and control the pitch that was in my hand."
Canfield manager Marty Fitzgerald, who is Lauren's father, was thrilled his team held on to the lead in the later innings.
"That was quite a battle," Fitzgerald said. "I have to give credit to Poland. This was their sixth game in six days. They're a great softball team. So for us to just hold on to that game [was great]."
Poland took the lead in the top of the first when catcher Abby Farber drew a walk off Fitzgerald. After stealing second and advancing to third on passed ball, Farber scored on a second passed ball.
Canfield answered in the bottom of the frame when Fitzgerald doubled home third baseman Emma Castronova. The second run of the inning came on an error for a 2-1 lead.
Canfield added two more in the third to make it 4-1.
Poland responded with a run in the top of the fourth, when Farber singled and moved around the bases, scoring on a passed ball again.
A single by outfielder Maria Fire and two walks brought up the heart of the Poland order. The elder Fitzgerald headed to the mound after the second strikeout, with a message for his daughter.
"There was a lot going through her head, I know that," Fitzgerald said. "I just asked her [on that last batter] to dig down and just give it everything she has. Think about all the practice she's done and deliver one pitch at a time."
Poland had its chances throughout the game, but not one better than in the fifth. Even with the loss, manager David Wolfe was proud of the way his team fought.
"I thought we played with a lot of heart," Wolfe said. "We made a couple of errors early, we came back strong, our pitcher, Connie, was probably only 80 percent, fighting through a bug. I just loved coaching them."
Wolfe knew how big that fifth inning was to the game's outcome.
"We just didn't get the ball in play enough," Wolfe said. "Just too many strikeouts, especially there at the end."
Wolfe was really hoping for his team to advance to the state tournament, which will take place at Boardman's Field of Dreams.
"We really wanted to be here this year," Wolfe said. "These Canfield girls get to come back here in two weeks. We wish them luck and hope they represent District 2 well. They're a nice bunch of girls too."
For Canfield, Marty Fitzgerald doesn't think he will change much heading into state play.
"We're just going to keep the same attitude," said Fitzgerald. "Be aggressive and play our game."