Cortland woman places in top 10 in Ohio pageant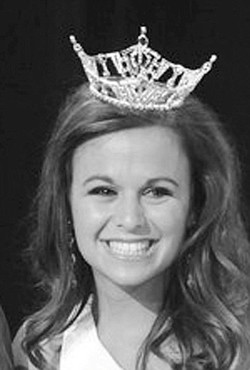 Photo
SPECIAL TO THE VINDICATOR Jenna DePizzo won a spot in the top 10 in the Miss Ohio Scholarship Pageant finals.
Jenna DePizzo won a spot in the top 10 in the Miss Ohio Scholarship Pageant finals.
Staff report
MANSFIELD
At the Miss Ohio Scholarship Pageant finals June 21 at the Renaissance Theatre, 25 young women competed for the title of Miss Ohio 2014. Cortland resident Jenna DePizzo won a place in the top 10.
The women competed in the categories of private interview, lifestyle and fitness in swimsuit, talent, evening gown and on-stage question. DePizzo competed as Miss North Central Ohio and performed her own rendition of Etta James' "At Last."
In addition to her winning a $1,000 scholarship for placing in the top 10, she also won the Miss America Academic Award, totaling $1,000, for the second year.
During the three nights of competition, DePizzo won some special awards: The Silver Duke of Edinburgh Award for commitment to leadership, fitness, talent and adventure; and the Paul Herlihy Spirit Award and Mina O'Guinn Award for dedication to education, each totaling $500.
DePizzo will continue the year as Miss North Central Ohio promoting her platform, "Inclusion in America: Our Duty to the Future." She plans to travel to elementary schools in the state to share her program E.M.B.R.A.C.E., which stands for Encouraging Minds to Believe Real Acceptance Comes with an Embrace. It is meant to encourage inclusion, respect and acceptance. She also plans to raise money for the Miss America national platform the Children's Miracle Network.
DePizzo graduated summa cum laude this year with a bachelor's degree in education from Slippery Rock University.
She is beginning her career teaching first grade at Bascom Elementary School in the LaBrae district this fall. She plans to continue her education through Slippery Rock's master's program in K-8 math and science education.
Miss Ohio 2014, Mackenzie Bart, was crowned by Warren's Heather Wells.