Mr., Mrs. Perkins celebrate 50th at reception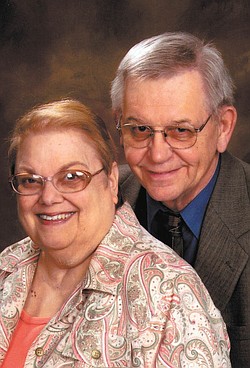 Photo
Mr. and Mrs. John Perkins
AUSTINTOWN
John and Anastasia Perkins of Austintown celebrated their 50th wedding anniversary at a dinner reception with family and friends at the Fifth Season in Mineral Ridge.
Mr. Perkins and the former Anastasia Milienu were married May 22, 1964, at St. Nicholas Greek Orthodox Church, Youngstown, where they are members.
The couple have two children, Katherine (fiance Marty Shaffer) Perkins of Austintown and Eric Perkins of Chicago. The couple have three grandchildren, Luke, Matthew and Ian Perkins of Chicago.
Mrs. Perkins retired in 2011 after 30 years as secretary to St. James Parish Family in North Jackson. She also worked for the Youngstown Health Department.
Mr. Perkins retired in 1999 from The Schwebel Baking Co., where he was a driver-salesman. He then worked for Cornersburg Giant Eagle for 15 years and drives for Fred Martin Ford. He served in the Marine Corps from 1955 to 1959.