Lavish $4M renovation to offer fine dining, comedy club
By GUY D'ASTOLFO
dastolfo@vindy.com
AUSTINTOWN
Palm trees in Austintown?
Hotel California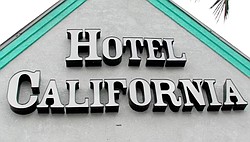 Video
A new hotel opening in Austintown will cater to customers of the soon to open racino.
The tropical flora that surrounds Hotel California has raised the eyebrows of passers-by for weeks.
But the trees are only the first hint that the new hotel is a long way from the usual.
When it opens in September, Hotel California will be a resort destination. It's designed to take advantage of its proximity to the new racino — Hollywood Gaming at Mahoning Valley Race Course — that will open in November about a half-mile away.
Hotel California is designed with Southern California style and ambiance. A reincarnation of the former Economy Inn budget motel, the hotel sits amid the neon-lit travel oasis along state Route 46 near the Interstate 80 interchange.
It is the brainchild of owner Sebastian Rucci, a Poland attorney who once operated an adult club on the property. The structure has been gutted and is currently undergoing a $4.5 million renovation.
It's on pace for a grand opening in mid-September.
The hotel today bears no signs of any of its past lives.
First, there are the aforementioned palm trees. They are artificial but so realistic that folks who see them for the first time have been known to ask how often they need to be watered.
The 100 palm trees — both inside and outside — come with a price tag of $120,000.
Once you get past the tropical trees, and the 40-foot decorative fountain in the parking lot, the fun at-any-cost philosophy really comes into focus.
Upon entering, the visitor is greeted by a spacious lobby painted in tropical pastel hues. A giant video screen, which are found throughout the property, dominates the room, along with a fireplace.
To the left is Club Cali nightclub. It's a neon-lit bar with an adjacent showroom where entertainers, including comedians, musical acts and others, will perform several nights a week on the stage.
The showroom will also become the new home of the Funny Farm comedy club, a Mahoning Valley mainstay for more than two decades.
Adjacent to the nightclub is what could be the Hotel California's crown jewel: a fine-dining restaurant headed by Michelin three-star chef Daimer Cescon.
Wall-length aquariums lead to the restaurant, where artificial skylights give the impression that one is dining under a tropical canopy.
Cescon, a native of Italy, was head chef at the former D'Vino Ristorante in Niles.
In addition to fine dining, the restaurant will also have a 24-hour room service menu.
The nightclub and restaurant will be open to the public, not just hotel guests. Both are scheduled to open before the end of summer.
Around the corner from the restaurant is the hot-tub lounge. Here, a waterfall presides over a spacious room with multiple hot tubs of varying sizes that can accommodate couples or small groups.
Walk outside the hot-tub room, and you are in the outdoor patio bar, which features a fire pit, a sand volleyball court and more palm trees.
The private portion of the hotel continues the resort appeal.
Every inch of the 103 rooms and suites has been completely redone.
In each room, a mirror wall hides a spacious closet. A large flat-screen television, with DVR and hundreds of channels, is mounted on the wall opposite the king-sized bed. Each room also has a refrigerator and a microwave.
On the top floor are two-room suites that will cater to VIPs.
The hallways are illuminated by recessed neon lighting that is ever changing, slowly morphing from aquatic blue to a lush muted green, then shimmering shades of red.
Rucci, the owner, is not primarily a hotelier, but he saw an opportunity and plans to make the most of it.
"Somebody had to do this," he said, while giving a tour of the property.
"When you think of a casino, you think of a great hotel," he said. "We're doing big things with entertainment and food."
While the impetus of Hotel California was to take advantage of the new racino, it expects to lure business travelers and VIP guests visiting Youngstown.
"If you're in town on business, you can enjoy yourself, stay up late, enjoy the food, the hot tubs, the television," Rucci said.
Local residents, he said, will be proud to bring out-of-town guests to Hotel California for its nightclub and restaurant.
"Even if you live nearby and don't stay here, you will tell people about it when they come to visit: 'We've got a really cool hotel here and it's near the casino,'" Rucci said.
Room rates haven't been set, but Rucci said they will be just a little more than an average motel.
"You will get a lot of value for your money," he said. "When you leave you will say, 'That was worth it.'"
Those coming to town to go to the racino will find Hotel California has a vacation atmosphere, said Rucci, who expects most guests will be in their 40s to 60s.
Scott Frost, spokesman for the new Hollywood Gaming racino, said Hotel California will be a unique place that will provide a needed service.
"It's a great thing they're doing there, a different approach," Frost said. "We welcome the additional rooms that we will need for our players and invited guests, and we hope that this is a good example of the positive impact that [the racino] will have on the local economy."
While Rucci became known in the Mahoning Valley for his Go Go Girls Cabaret, which became embroiled in much-publicized legal troubles, Hotel California is a completely different direction. Rucci said he expects the hotel will improve his image and that of the Mahoning Valley.
Rucci's public persona as a lawyer will get another boost later this month. The July 30 episode of CNBC's "American Greed" will focus on a massive fraud perpetrated on investors in St. Louis by a con man minister/attorney.
Rucci, who was able to recover $10 million of the plaintiffs' money so far, will be interviewed as part of the show.
Rucci received an engineering degree at Youngstown State University and lived in St. Louis and California for periods of time before moving back to the Valley.
He said he became interested in real estate while in St. Louis and went to law school in California.
Rucci said he is federally licensed to practice law in 18 states, but on the state level only in California.