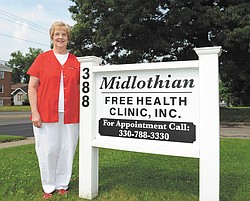 Photo
When Carol Beard of New Middletown retired in 2004, she became part of a group of nurses that formed the Midlothian Free Health Clinic, which now serves a client base of 800 to 900 people.
Midlothian Free Health Clinic
What: Free health care
Who: For uninsured people living in the greater Youngstown area
When: 6 to 10 p.m. on the second and fourth Thursday of each month
Where: Bethlehem Lutheran Church, 388 E. Midlothian Blvd., Youngstown; served by WRTA bus line
How: Call 330-788-3330 for appointment
By JoAnn Jones
222You know — do the things that many retirees do.
But Beard, of New Middletown, changed all that when she became part of a group of nurses from Bethlehem Lutheran Church in Youngstown and Christ Lutheran Church in Struthers who wanted to help people who had no health care. The shared pastor from those two churches at the time, Robert Johnson, couldn't believe the churches didn't have a parish nursing program, Beard said.
And so, what started as an idea late in 2004 with two nurses from the Bethlehem church and two nurses from the Christ church where Beard attends has blossomed into the Midlothian Free Health Clinic that now serves a client base of 800 to 900 people.
"We started just with a parish nursing program doing blood pressure and sugar screenings," Beard said. "It was a grass-roots program."
"But then we thought, 'Gee, what can we do next?'" she said.
"We spent a year talking about it and had people advise us," she added. "At first we thought we could do anything."
"Then we found out we needed insurance, we needed policy and procedures, and we needed a doctor," Beard said. "We had to diversify and get help because it was a lot more than we thought."
"I can remember saying to one doctor, 'What if we fail?'" Beard said. "He told me if we helped one person, then we had succeeded."
The first organizational meeting took place in April 2006, Beard said. The group began to receive funds when a parishioner at Bethlehem Lutheran passed away, and the deceased's family agreed to donate $5,000 in six months if the parishioners could match it. Then Thrivent Financial for Lutherans, a nonprofit insurance company that offers investment services, annuities, insurance and more, gave another $5,000.
"So we opened with $15,000, which I was told was miraculous to open a clinic with that little money," Beard said.
The clinic, which operates from 6 to 10 p.m. on the second and fourth Thursdays of each month, opened its doors March 27, 2008, under the direction of Dr. Thomas Albani Jr., who is still one of the five doctors servicing the clinic.
"In the beginning we got a lot of things from Shepherd of the Valley, and doctors have given us an EKG machine, otoscopes and even our filing system," Beard said. "The clinic operates much like a doctor's office would. We do mostly preventative care and diagnosing."
The funding, Beard said, has become more stable with grants from the Ohio Association of Free Clinics and the Community Development Block Grant program.
"The Zion Lutheran Church in Cornersburg has an annual golf outing and usually gives us $5,000 a year," she said. "We've also received money from the Medical Alliance and a grant from Good Shepherd of Cleveland to provide healthy snacks for our patients. We're also a recipient of St. Patrick's of Youngstown spaghetti dinner funds, and the NEOMED [Northeast Ohio Medical University] pharmacy school has made a donation."
"We also get private donations," she continued. "We have a letter-writing campaign once a year, and we've received a good amount of money from various individuals who've given very generous donations."
"I can remember when our treasury was only $40," she said. "I was so scared and didn't know how the clinic could survive. Now we're at five figures. That just shows how much we've done to make this work."
Beard credits the clinic's executive director, Judge Maureen Cronin, with helping the clinic apply for and maintain its grants.
"She has done a wonderful job," Beard said. "Oh my gosh! She has everything so precise to make sure we get our grants. She has everything in on time and files all the paperwork. She puts her heart and soul into the clinic."
However, Judge Cronin isn't the only one who puts her heart and soul into the clinic.
Beard's "retirement" now consists of a part-time job as nurse manager, coordinating the schedules for the nurses, checking patients' charts, taking care of referrals to doctors, and calling patients to let them know about referrals or lab work.
"I come the day before the clinic to get the charts ready, and then I spend about five hours on the clinic day," Beard said. "Usually, in between the two Thursdays, I spend about 12 to 18 hours on the charts or referrals. I'm compensated for everything I do outside of the clinic, but on clinic nights, I'm a volunteer."
Beard was just recently named the treasurer of the clinic and, as a founding member, will always remain on its board of directors.
For her service to the clinic, Jim Benedict, the chair of the clinic's board of directors, nominated Beard for the 2014 Athena Award, which honors outstanding professional women of the Valley.
"It was a very great honor," Beard said. "I was surprised to have been nominated. I had no idea it was such a big thing until I went to the orientation, luncheon and dinner. I had 40 people there with family and co-workers from the clinic. It was an experience I'll never forget."
Beard said the clinic staff has plans to expand services in the fall to include dental and physical therapy services as well as help with diet and exercise.
According to Beard, she feels really fulfilled when a patient comes in and the clinic staff is able to diagnose what is wrong and then help. One of her favorite memories comes from the clinic's early days.
"One of the first patients we had, actually two, was a husband and wife," she said. "Both had diabetes and high blood pressure and didn't have enough money for doctors or medicine. They would go to a doctor and get medicines and would share them until they ran out. We were able to help them."
"I really think we've made an impact on the community," Beard said. "We've helped many people and, hopefully, will continue to help."