Greenes cruise to Bermuda to mark 50th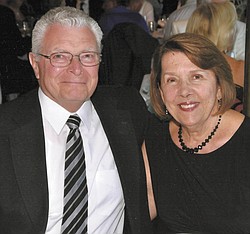 Photo
Mr. and Mrs. William Greene
NEW MIDDLETOWN
William and Crystal Greene of New Middletown and Largo, Fla., marked their 50th wedding anniversary with a cruise to Bermuda in June.
Their children are Kimberly (Kenny) Graft and Valerie Greene, all of New Middletown. Their grandchildren are Colton Ware and Cryssie Ware.
Mrs. Greene is a homemaker. Mr. Greene retired in 2007 from Aqua America Inc., where he worked as a manager in information security. He is a U.S. Navy Seabee veteran and served from June 1962 through June 1965.
The couple are members of New Springfield Church of God and Indian Rocks Baptist Church in Largo.
Mr. and Mrs. Greene were married Feb. 6, 1964, at Wesleyan Centenary Church, Smith's Parish, Bermuda.