Friends of Fellows to host garden party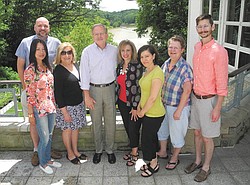 Photo
SPECIAL TO THE VINDICATOR Friends of Fellows Riverside Gardens is hosting its annual Summer Garden Party July 25 at Fellows Riverside Gardens. Preparing for the event are John Noga, left, LinQing Bruno, Dolly Vivalo, Jack Fergus, Debbie Reiner, Lanore Jones, Catherine Powers and Paul Hagman.
Staff report
YOUNGSTOWN
Friends of Fellows Riverside Gardens will host its annual fundraising event, The Summer Garden Party, from 6:30 to 9:30 p.m. July 25 at the Davis Center, 123 McKinley Ave.
It will feature a seasonal menu by The Georgetown, and entertainment will be provided by the Dana Classical Guitar Quartet and the eight-person musical ensemble Redline.
Tickets are $75 each or $125 for reserved seating and can be purchased at the Davis Education Center at the Gardens or by calling 330-740-7116.
All proceeds will benefit Friends of Fellows Riverside Gardens.
FFRG is a nonprofit organization dedicated to the preservation and improvement of the gardens as a cultural, educational and aesthetic center. Its goals are to inspire continued discovery and enjoyment of the gardens by supporting the many worthwhile programs and garden improvements.
Fellows Riverside Gardens' 12 acres was donated by Elizabeth Fellows, who bequeathed her family's homestead and her personal assets to create a "beauty spot to be enjoyed by all." Youngstown and its surrounding communities have enjoyed the garden's beauty and serenity for more than 50 years.