Summer Festival of the Arts opens 16th year, continues today
By EMMALEE C. TORISK
YOUNGSTOWN
Summer Festival of the Arts and Downtown Jazz Festival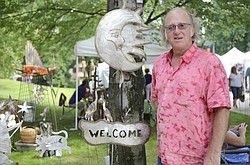 Gallery
Summer Festival of the Arts at Youngstown State University kicked off its first day, allowing local artists the opportunity to sell their hand-made crafts and ended with a Downtown Jazz Festival featuring musician Kim Waters. The Festival of the Arts runs through Sunday.
Alex Stoll has been playing with steel since he was a kid.
His segue into teaching welding wasn't much of a surprise. Neither was his crafting of stainless-steel depictions of plants and animals to decorate the garden of his Collins, Ohio, home.
Saturday marked the 13th time in 13 years that Stoll had traveled the hour and 45 minutes from Collins to the campus of Youngstown State University to sell his yard art during the Summer Festival of the Arts. The festival itself, which continues from 11 a.m. to 5 p.m. today and carries no admission cost, is in its 16th year.
"We're well received here," said Stoll, owner of Stainless Steel Art. "It's why we come back."
Each of Stoll's pieces, from 7-foot-tall sunflowers to delicate fairies, is made in a similar fashion: He draws an original design and cuts it out freehand, then grinds it and burnishes it with a torch, relying on different fuel mixtures to create different colors. He finishes it off with a die grinder to highlight certain areas.
Stoll added that he brings his wares to locations as far away as Georgia and Alabama, but he appreciates "the ambiance of the whole thing" that is the SFA. This year's festival showcases the works of 77 regional and national artists, all of whom were selected by a jury panel from a pool of applicants.
Like Stoll, Jamie Ralston of Akron is one of those artists. Ralston, a former caterer, is owner of Tines to Treasures, and crafts whimsical jewelry, sculptures and other items from antique, silver-plated flatware. The newest flatware she uses for her art dates to the 1960s, but her oldest stretches back to the 1870s, when even everyday utensils were exceptionally ornate. Buying one of Ralston's pieces — a ring — on Saturday was Jenn Mannings of Sharpsville, Pa.
"I thought it was something different and very creative," she said. "It was just what I was looking for."
Mannings hadn't attended the festival in previous years, but said she'd be back — a sentiment that Ralston shared. She started her business five years ago, and has been coming to the SFA for four. It just "has a great mix of everything," she said.
Lori Factor, director of the SFA, noted that the artists' marketplace features an array of items, including fibers and textiles, pottery and wood carvings, paintings and drawings. The festival also encompasses a Festival of Nations, which spotlights foods and performances from various ethnic organizations, and a hands-on art tent where children can create artwork — among other activities and events.
She said she appreciates the community's continued support of the event.
"I can't imagine summer without the Summer Festival of the Arts," Factor added, "and I don't want to imagine it."
In addition to helping artists continue to follow their passions, the SFA also helps to drive the local economy, said Bob Barko Jr., owner of Steel Town Studios and president of the Youngstown Heritage Center. He's been showcasing his artwork that highlights the history of Youngstown at the festival for at least 10 years, with the exception of those years that his military commitments interfered. But even though it's a Youngstown-based event, artists from all over participate, he said.
Catherine Kendrick of Salineville, the owner of Catherine's Art Corner, explained her reason for coming to the festival in each of the past four years: It's simply enjoyable. At the festival, she sells her paintings and pottery, many of which are inspired by nature. The SFA, she added, is the best show she's ever been to.
"You can't just decide to come," Kendrick said, referring to the selection process. "I'm very blessed I do good enough work for them to let me in."
As she sat next to the hands-on art tent, Terri Broadhurst of Youngstown explained that she attends the SFA every year without fail. It's fun, and there's "so much for them to do," she said, motioning to 8-year-old Elly Wright, 10-year-old Abby Wright, and 11-year-old Kataira Broadhurst.
"It's by the community, for the community," she said.