Union Elementary hosts annual Fun Day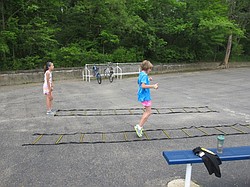 Photo
Neighbors | Tim Cleveland.Union Elementary students Madelyn Tonus (left) and Connie Cougras bunny-hopped as part of an obstacle course during Funday.

Photo
Neighbors | Tim Cleveland.Henry Grenzig of Union Elementary slid down a bounce around as part of the school's Funday activities.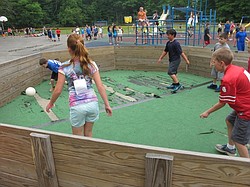 Photo
Neighbors | Tim Cleveland.Union Elementary students played a game of gaga ball during the school's Funday festivities.
By TIM CLEVELAND
Like other local elementary schools, Union Elementary hosted its annual Fun Day on June 10, giving its students a fun way to end the school year.
The school's 288 students in grades kindergarten through four enjoyed many different activities during the event, which had 80 parents volunteering. Among the stations were Pictionary, musical animals, learning about animal facts, a visit by Jungle Terry's Traveling Zoo, who brought live animals for the children to see. Another popular activity was Gaga Ball, an offshoot of dodge ball in which the children batted and pushed a ball inside a pit. Once a child was hit with the ball above the knee, they were out of the game.
There was also a snack station and a popsicle station.
"Fun Day is something that they've been doing for years and every year we tweak it a little bit," Fun Day chair Kim Brant said. "A couple years ago we changed it up where we added Kona Ice and we added the bouncy houses and now this year we kind of wanted to do the safari theme. Everything is having more of a jungle theme to it."
Brant said plenty of planning went into making Fun Day a reality.
"We started planning it a couple months in advance," she said. "We made sure we secured all of our big things like the Kona Ice and Jungle Terry is coming this year, which is new. After that, we decided on a theme. Then we just decided how many stations, this many kids at each station, this much time at each station. How many fun things can we push into one day. We try to do a craft, we try to do relay races to have them review what they've been doing in their gym classes. All the kids love Gaga, so they always want Gaga."
Third-grader Sophia D'Angelo said she thought this year's Fun Day was the best one yet.
"It's really fun," she said. "It might be [more fun] than the last Fun Day we had last year."
D'Angelo went on to say that seeing the live animals was the Fun Day activity she was looking forward to the most.
"I think at the end of the day Jungle Terry who comes with animals. I think I'm looking forward to that," she said.