Two cities, NBA still waiting on LeBron's choice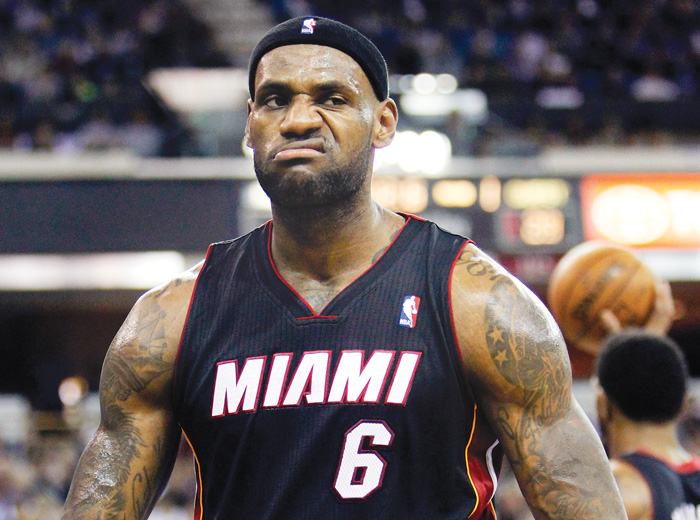 Photo
FILE PHOTO - In this Dec. 27, 2013 Heat forward LeBron James sneers after drawing a foul in a game against the Kings. While the wait continues for James to make a decision on where he'll play this season, once-scorned Cleveland and a now-panicked Miami will undoubtedly feel alienated by whatever choice his latest foray into free agency leads him.
All quiet on LeBron front as tension mounts on social media and at his home in Bath
By JASON LLOYD
Akron Beacon Journal
AKRON
LeBron James may not have chosen his next team yet, but he has certainly made one thing perfectly clear: He's not concerned with how long it is taking to decide if he wants to return to Miami or come back home and play for the Cleveland Cavaliers.
While the NBA, TV commentators and fans across the country buzzed with speculation, James attended his Nike skills camp in Las Vegas - but departed without making an announcement. James still had family members he wanted to speak with, according to an ESPN report, before making any sort of announcement.
That didn't stop social media — and local police — from preparing for the event. James' camp contacted police and asked for extra security around his Bath Township residence, according to Beacon Journal sources, because an announcement was expected Thursday night.
That announcement never came, however, and a separate source with knowledge of James' camp insisted Thursday afternoon that no announcement was planned.
Akron Mayor Don Plusquellic called James on Thursday, wished him well and offered his support, the city of Akron wrote on its official Twitter account.
James, however, is not expected back in Akron anytime soon. He canceled his flight home and instead will take Nike's jet from Las Vegas directly to Brazil to attend this weekend's World Cup, the Beacon Journal learned Thursday. How that affects the timing of any decision remains unclear.
James met Wednesday with Miami Heat officials, but isn't expected to meet with any other teams. The Cavaliers have done their part to facilitate his return, completing the three-team trade with the Brooklyn Nets and Boston Celtics to clear enough cap space to sign James to a max contract.
Thursday marked the first day business could be conducted during the new NBA season. The Cavs wasted little time pushing through the trade, which sent Jarrett Jack and Sergey Karasev to the Nets, while Tyler Zeller and a future first-round pick were shipped to the Celtics.
In exchange, the Cavs received the rights to two international prospects with no real NBA future (Ilkan Karaman and Edin Bavcic) and a heavily protected second-round pick from the Celtics in next year's draft.
The Cavs only get the pick if it falls between 56-60, which is highly unlikely. The trade was simply a salary dump to clear a max slot.
While they wait on a decision from James, the Cavs did complete another max contract. Kyrie Irving's extension was completed Thursday. Irving has one more season under his rookie deal before his new (approximately $90 million) deal begins. The Cavs will control Irving for six more seasons.
As for James, free agency has slowed to a trickle until his decision is made. Chris Bosh remains in talks with the Houston Rockets, according to multiple reports, but his first interest is returning to the Heat to play alongside James. He's reportedly only considering a change if James departs for Cleveland.
The Cavs remain in contact with the Minnesota Timberwolves regarding a deal for Kevin Love, one league source said, but the sides remain far apart on a deal. One source with knowledge of the talks denied that the Cavs have made Andrew Wiggins untouchable.
"I don't think anyone is untouchable," one source said.
The only untouchable, for now, is Irving. Players who sign that extension cannot be traded for at least six months.