Sracic scores among top nationally on PSAT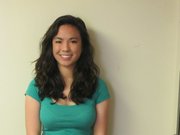 ---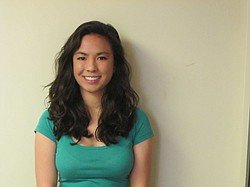 Photo
Neighbors | Tim Cleveland.Katya Sracic of Boardman High School scored in the top 50,000 out of 1.5 million students from across the country and was named a commended student by the National Merit Scholarship Program.
By TIM CLEVELAND
While there are many high school students through the area and even the country with outstanding grades, very few earn recognition to put them among the elite.
In October 2012, 1.5 million students took the Preliminary Scholastic Assessment Test which would give a good idea on what they would score when they took the SAT. Out of those 1.5 million students, Boardman High School senior Katya Sracic scored among the top 50,000 and was named a commended student by the National Merit Scholarship Program.
"It's nice because my dad [Paul Sracic] was a National Merit semifinalist, so it's kind of continuing that on," Katya said. "I like it because it says that not only do I work hard in school, I also test well and do well academically. It shows that it's not just hard work, that I actually am smart. There are kids that work really hard but it's nice to have that reinforcement that this isn't just me working hard, some of it's natural ability.
"It also says that I have potential, so I have to use that which is why I want to become a doctor. I know I have the ability to, so not doing what I feel like I'm meant to do is kind of a waste."
The PSAT consists of math, reading and writing sections. All the questions are multiple choice. The PSAT scores are reported on a scale of 20 to 80 in each section. Eleventh-graders had an average total score of 142 on the test, while Katya had a score of 203. There are two levels above commended, which Katya achieved by being in the top five percent. There are also semifinalists, who are in the top two percent, and finalists in the top one percent.
"We usually have somewhere between one and three [commended students and above at Boardman High School], but 50,000 highest out of 1.5 million students who took the test, it's quite an accomplishment," said Dave Kornbau, the associate principal at Boardman High School and the head of the guidance department.
Katya's goal is to become a doctor. She will be a pre-med student in chemistry next year at Kent State University.
"When I was little, my parents always joked that I was going to become a doctor one day," she said. "My pediatrician always joked that I should. As I got older, I started actually liking biology and science and math. They were my favorite subjects. What really solidified it was last summer I had an internship at the Cleveland Clinic, where a big part of the internship besides the research part was shadowing doctors and getting to see what they do every single day. That solidified in my mind, OK, I want to do go into general pediatrics. I definitely want to do this. I can see myself doing this every day for the rest of my life.
"I like the whole environment of being in a hospital. I really like what they do, I like the opportunity to help people and I like the opportunity to make a difference in kids' lives."
Katya said some of the medical schools she's considering attending after graduating from Kent State are the University of Pittsburgh, which "has a nice medical school," and the University of Washington "because my one cousin went to undergrad there and loved it."
"I could end up anywhere," she said. "No idea where that's going to be yet. I seem to change my mind on where I want to apply every other week."
As far as her goals for after she completes her education, Katya said, "I want to become a general pediatrician at a teaching hospital. I like the idea that I'd still get to work with residents, which would mean I'd be making an impact not only on my patients' lives, but also on the lives of people who also want to become doctors."