Robinwood Lane hosts Fun Day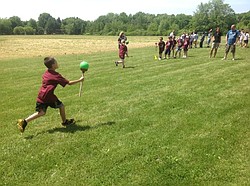 Photo
Neighbors | Submitted.Robinwood Lane Elementary second-grader JJ Hagerty participated in the plunger challenge during the school's Funday.

Photo
Neighbors | Submitted.Students lined up to jump in Bounce Arounds during the Fun Day activities at Robinwood Lane Elementary.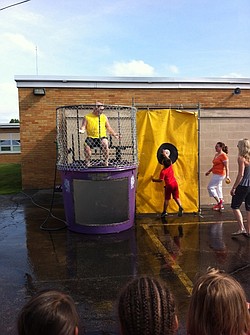 Photo
Neighbors | Submitted.Robinwood Lane Elementary principal Don Robinson was a second away from falling into the dunk tank during the Funday activities at the school.
By TIM CLEVELAND
With the school year ending soon, Robinwood Lane Elementary dedicated May 30 as a Fun Day for its students, with many activities to help celebrate the end of another year.
The school's 400 students in grades kindergarten through four all participated in the Fun Day.
"We've been doing it since I started here 12 years ago," said K-4 multiple handicap teacher and event organizer Nicole Hagerty. "I've been doing it for six years."
There were many fun activities for the students to participate in. Some of the school's staff got involved as well.
"There are Bounce Arounds," Hagerty said. "The fourth graders got picked to go into the dunk tank. The Principal [Don Robinson] and gym teacher [Jen Flores] also go. We have an ESPN Zone where they throw footballs through rings; a plunger challenge, where they have to run a relay race; Tic-Tac-Toe with Frisbees. In the toilet paper toss, they have to throw toilet paper rolls into fake toilets; cup stacking and spray away, where they use squirt guns to spray balls down; snow cones, cotton candy."
Classes were split in two, with half of the students participating in the morning and the rest in the afternoon. When they weren't outside they would watch movies and eat popcorn. The movies shown were "The Croods" and "How to Train Your Dragon."
Hagerty said a lot of preparation went into the event.
"I start researching in January different activities that I want to do because I like to switch it up every year," she said. "We usually do the Bounce Arounds and the dunk tank. They're staples every year."
Hagerty's daughter Hannah was one of the fourth-graders selected to go into the dunk tank.
"It's really fun," Hannah said. "I went in the dunk tank and I watched movies and I went outside to see my friend get dunked in the dunk tank. This afternoon I'm going to go outside and do the rest of the Fun Day activities."
Nicole Hagerty said the Funday event is highly anticipated by the Robinwood Lane students.
"It's just a way to end the school year," she said. "It's a big celebration of school's out in a week. They look forward to it. They were running in and seeing what's out there.
"It's a fun day all around. No learning."