Hathorn's comment cut; attorney calls it unlawful, deceptive
Superintendent's Evaluation for Connie Hathorn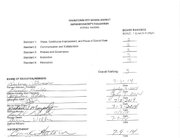 Document
Alternate versions of Youngstown City School District Superintendent's Evaluation of Connie Hathorn by the Board of Education.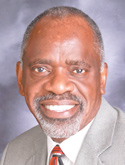 Photo
By DENISE DICK
denise_dick@vindy.com
YOUNGSTOWN
Copies of city schools Superintendent Connie Hathorn's evaluation distributed to the press left out Hathorn's response: "I do not agree with the evaluation."
The original was positioned on the copier so that Hathorn's comment was cut off from the one-page standard letter-size document. Completed Wednesday, the latest performance evaluation ranks Hathorn a three out of five, which board members say means "satisfactory."
See both versions of the evaluation at Vindy.com.
The original was submitted to the district's human-resources office for inclusion in Hathorn's personnel file. That's where The Vindicator requested to see it Thursday.
Board President Richard Atkinson, Vice President Brenda Kimble and Ronald Shadd, a board member and Kimble's son, attributed the omission to difficulty with the copier.
"I don't think there was any intent to not give you the information," Shadd said.
Kimble said Atkinson made the copies.
But Atkinson said that he, Kimble and Shadd made the copies together.
"We put it in the machine, and we had to fool with the machine to get it to work," Atkinson said.
"I did not intentionally move anything. I was just trying to make copies."
Atkinson said he had never used the copy machine before, and he and the other members were rushing.
"We were all pushing the button — and pushing it — and pushing and moving them around," Atkinson said. "There was two-sided, one sided. There was no intention on my part to deceive anybody."
Kimble said there was nothing to hide because she doesn't consider Hathorn's score bad.
Atty. David Marburger of Cleveland said that when someone removes information from a copy of an original public document without signaling it's been done, Ohio's Open Records Law is violated.
"It's completely unlawful and it's deceptive. It's deceit ... You can't trust these public servants," he said.
Marburger is the co-author of a book, "Access with Attitude," an advocate's guide to freedom of information in Ohio. He also has represented several media organizations in court including The Vindicator.
Marcia Haire-Ellis, board member, couldn't be reached.
The other members said they were unaware there was any difference between what was distributed to the press and the original document.
Michael Murphy and Jerome Williams said there shouldn't have been any difference between the copies.
Jacqueline Adair said if other board members distributed copies that differed from the original, she didn't give her permission for it to be done.