Good buy: GE auction brings back memories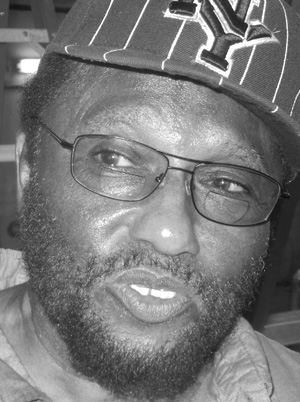 ---

Photo
By Ed Runyan
WARREN
A mixture of strangers and locals climbed the creaky, wooden steps of the three-story 100-year-old GE Ohio Lamp Plant on Dana Street Northeast on Thursday to acquire items during an auction or see the place one more time before it fades away.
Isell Witherspoon Jr. of Warren Township was there to buy and remember.
Witherspoon, who worked 37 years at the plant from 1966 to 2003, was the successful bidder on a couple of ladders that he says he's taking home "for my memories and my grandkids."
The 72-year-old made it clear he found his time at the plant challenging and meaningful and couldn't understand why local workers aren't still standing at machines making light bulbs.
"Too many people worked too hard keeping it going," Witherspoon said. "We had the best workmanship there is — the best machinists, the best electricians, the best workers."
Workers did their best so they and their offspring could live a good life, he said.
"Somebody brought it forward for me. I did my best to bring it forward for my kids. They're making those [light bulbs] elsewhere. The company let this generation down," he said.
Witherspoon, whose wife also worked there more than 30 years and whose son worked there nearly 20, was a group leader during his final years but started out "sweeping this place."
He took pride in finding solutions to obstacles standing in the way of productivity and wasn't afraid to try something different where necessary.
"I had those machines humming. We had no problem," he said.
A GE Lighting spokesman said Thursday the company is soliciting bids for "deconstruction" of the factory. It's likely that a demolition company will be hired within the next couple of months.
The start date for demolition hasn't been determined, but it will take about 12 months, said Chris Augustine, manager of global communications and public affairs.
Workers rejected a concessionary contract that would have kept the facility open. It closed in January, and the machines were moved to other production facilities. Charleston Auctions of Fort Wayne spent Thursday selling off about 700 lots. They included machinery such as drill presses, cabinets, bolts and tools.
The plant also has historic significance.
It is on the spot where Warren's Packard brothers started Packard Electric in 1890, manufacturing some of the first light bulbs and then wiring harnesses. They also built the first 400 Packard automobiles there between 1899 and 1903.
About 100 years ago, General Electric constructed the current facilities to manufacture light bulbs. Packard Electric moved into new facilities farther east on Dana Street, and Packard auto-mobile production moved to Detroit.