Animals and family make this a 'pretty fair week'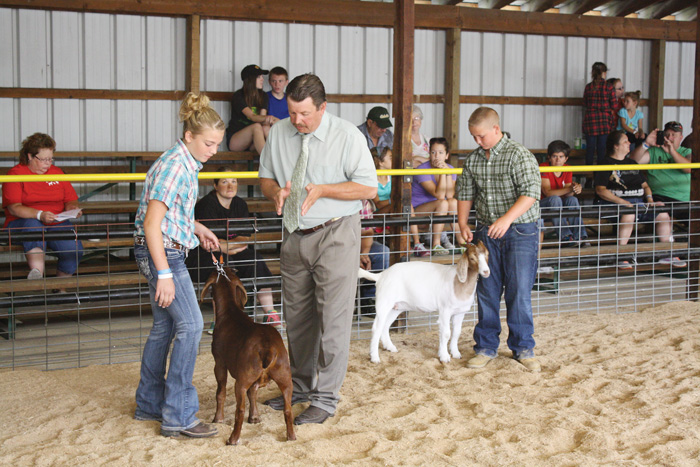 Photo
Carly Ulrich of Bristolville, top, and her son, Colton, 2, keep dry while walking on the midway this week at the Trumbull County Fair. Above, Courtney Hubbard, left, won first place in the Junior Fair intermediate showmanship Boer goat competition Wednesday. At right is Tate Smith of Burghill, who finished second. Steve Taylor, center, judged the competition. Below, Jamie Lewis, 3, and her sister Marlie, 1, of Mecca Township, enjoy a treat during the goat showmanship event. Jamie is the fifth generation in her family to participate in 4-H animal events. Her great-grandmother showed horses when the fairgrounds were in Warren, and her great-great grandfather was a 4-H adviser.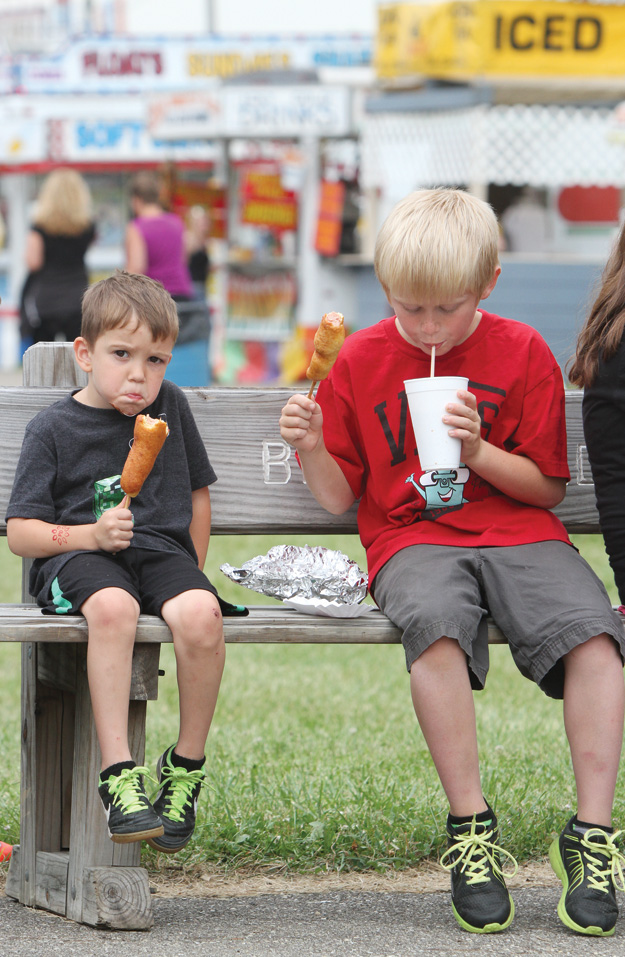 Photo
Santino Ianazone, 5, left, and his cousin, Dominick Woloschak, 8, both of North Jackson, chow down at the Trumbull County Fair this week.
Junior Fair participants show goats
By Ed Runyan
BAZETTA
Jamie Lewis is only 31/2 years old, but she's fully immersed in the lifestyle of the Trumbull County Fair.
Today, she'll be competing in a 4-H goat show for little kids in the SALE Barn just like her cousin, Courtney Hubbard of Johnston Township, a teenager, did Wednesday.
Jamie and her 1-year-old sister, Marlie, were ringside with their parents, James and Marcy Lewis of Mecca Township, watching Courtney win first place in the intermediate showmanship competition with Courtney's Boer goat.
But that was far from the only Lewis family connection. Nearby was Jamie's great-grandmother, Sharon Lewis of Bazetta Township, and throughout the SALE Barn were other cousins and aunts.
For the Lewis-Hubbard-Jones family of northern Trumbull County, the Trumbull County Fair is more than just an event. It's a tradition.
"It's a family thing," Sharon Lewis said. "I'm 65 now, and somebody's been in it ever since I started with horses" when the fairgrounds were in Warren at the site of the present-day
Warren G. Harding High School, she said.
Sharon Lewis lived in Warren then and kept her horses at the fairgrounds. She got started because her father was a 4-H adviser, she said.
As with the fairgrounds, the Lewis family moved north some decades ago.
Now, most of her family lives in the Johnston-Mecca-Bazetta area, and most of them have attended Maplewood schools.
Her daughters also showed horses, then had dogs and then got interested in goats. They, in turn, passed down their interest in goats to their children and grandchildren.
About a dozen members of the Lewis-Hubbard-Jones clan also live in four trailers at the back of the fairgrounds throughout fair week.
"My family has been in it so long, we've kind of made it our vacation," Sharon Lewis said. "They're real close to the members of the [4-H] club. It's nice."
One of her daughters, Debbie Jones of Johnston Township, a 4-H leader, said the fair combines several things she cares about deeply.
"The kids and the animals — when you love 'em both, and you can do it all at one time, it's amazing," she said.
Jones said the "4-H experience" teaches children so much about socialization, responsibility, morals "and, of course, fun."
She also thinks learning about animals is important on a practical level and for possible careers.
"From the very newest [4-H] members to the oldest, they know where their meat comes from, what they eat, the food supply ..." she said.
Having exposed children to the world of animals and agriculture makes Jones feel good about the skills they take with them.
"They are so well-educated. We don't worry about these kids. They are very well-rounded and responsible when they get out of 4-H."
Now that science, technology, engineering and mathematics — the STEM fields — are being touted as lucrative career fields, it makes her feel good that her 4-H kids are getting so much exposure to science through their animal and agriculture projects.
"4-H is the STEM program," she said.