Hummer's run-in with Liberty graveyard leaves it in pieces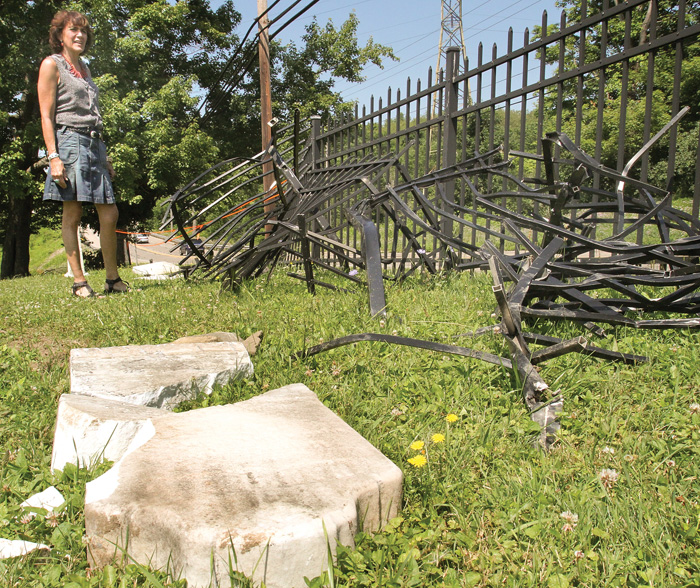 ---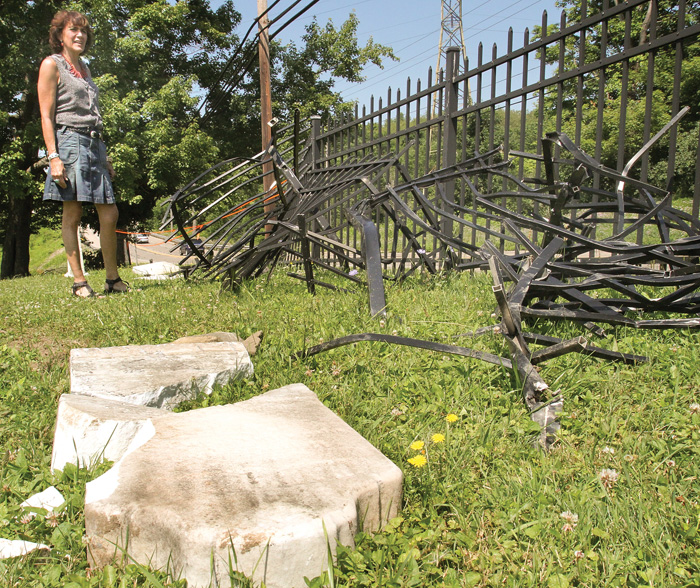 Photo
Liberty Twp Trustee Jodi Stoyak looks over damage done to fence and tombstones at township cemetery atcorner of Rt 304/193.
By JEANNE STARMACK
liberty
Two missing sections of cemetery fence along Church Hill-Hubbard Road, deeply gouged tire tracks in the cemetery and flattened, broken gravestones tell the tale.
The ornate metal fence is an attractive border around Liberty Township's Church Hill Cemetery at the corner of Church Hill-Hubbard Road and Belmont Avenue, but it was no match for the Hummer that crashed through it after the driver, who'd been eastbound on Churchill, had a medical issue and lost control at 3 p.m. June 26.
Township trustee Jodi Stoyak walked through the damaged area Thursday, the first time she'd gotten a chance to see it up close.
The township already has contacted its insurance carrier about the damage and was given an estimate on the fence of $1,700 to $1,800, she said.
But as she walked through the accident site, in the oldest section of the cemetery with graves dating to the early 1800s, it became clear that replacing the tombstones is not going to be as simple.
She bent down and lifted the largest piece of a stone that was cracked in three, bleached white and unreadable.
"Probably a child — I don't know how detailed our records are," she said as she put it down and continued on.
"This is a veteran," she said as she examined another broken stone. "Charles — I can't read the date there — that's a shame," she said.
"This is from somewhere else," she said about a stone that was lying across a grave that already had its marker. "And this is part of his car," she said as she picked up a piece of the Hummer.
At least a half-dozen very old gravestones are broken. The families who buried their loved ones there are likely long gone, Stoyak said, and no one has come forward since the accident about repairing or restoring the stones.
The township has owned the cemetery since the early 1900s, said former road superintendent Tim Monroe.
"Unfortunately, that section — Section C — there's no records for it," he said.
The records were stored at one of several township churches, he said. But a tornado or a fire destroyed the church and the records. The history, as it was told to him, is fuzzy, he said.
With no way to trace who is buried there, and no way to contact families who may be interested in restoring or replacing the stones, the township could try to repair them, he said.
"A lot of those stones are so fragile," he said. "If you even try to straighten them, they just snap. There are different types of adhesives they can use."
He said he doesn't know if they could be restored, or how much that type of work would cost.
"That would be up to the township to work that out with insurance," he said.
Stoyak said the township can repair the damage in the cemetery and then file for reimbursement from the insurance company of the driver, Raymond Lewis Jr., 58, of Pinecrest Road in Girard.
She said she is leery of doing that, because she is afraid the township won't get the reimbursement. She said she would rather have the driver's insurance company pay for the damage.