Boy Scout Troop 115 honors most recent Eagle Scouts

Photo
Neighbors | Submitted .Troop 115 Scoutmaster Andy Welch addressed Eagle Scouts Rollin Bresson (left) and Nick Crescimanno along with their parents at the recent Eagle Scout Court of Honor.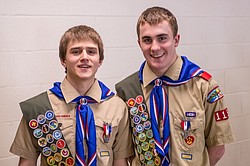 Photo
Neighbors | Submitted .Pictured are Eagle Scouts Nick Crescimanno (left) and Rollin Bresson following their Court of Honor ceremony.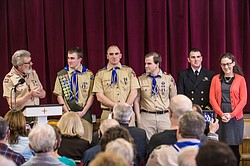 Photo
Neighbors | Submitted .Former troop 115 scoutmaster Ed Hahn addressed Eagle Scout Rollin Bresson and his older siblings who also achieved scouting's highest rank. Pictured, from left, are Ed Hahn, Rollin Bresson, Russell Bresson, Robert Bresson, Ryan Bresson and Regina Bresson (Girl Scout Gold Award).
A Court of Honor was hosted by Boy Scout troop 115 at St. Michael Catholic Church to honor the most recent Eagle Scouts Nick Crescimanno and Rollin Bresson.
Scoutmaster Andy Welch of troop 115 presided over the Court of Honor. Cescimanno and Bresson attained the highest rank in scouting and joined a long list of Eagle Scouts from troop 115. Both young men are seniors at Canfield High School.
For his Eagle Scout project, Crescimanno organized a music festival with the goal of raising money to provide clean water in remote areas of Haiti. His festival was called The Yell for the Well and the goal was to provide funding for one water well in Haiti. The music festival was such a success that approximately $16,000 was raised and an anonymous donor stepped forward and matched Crescimanno's efforts. The funds were channeled through the Food For The Poor organization and a total of six new water wells were developed.
For his Eagle Scout project, Bresson organized, raised money and oversaw a revitalization project at the Hope House in Youngstown. The Hope House provides a safe and structured environment for supervised visits between parents and children. The project included refurbishing the playground and picnic areas as well as construction of a new deck. His efforts will lead to a safer and improved visitation atmosphere. Bresson joins his four older siblings in achieving scouting's highest honor. He joins brothers Robert (2003), Ryan (2007) and Russell (2010) as Eagle Scouts and sister Regina (2005) who achieved the Girl Scout Gold award.
Crescimanno and Bresson are thankful for all of the support they received during their years as members of troop 115. They also wish to extend a thank you to Father Terry Hazel and the St. Michael Parish community as well as Andy Welch and their fellow scouts. Crescimanno will be attending The Ohio State University and Bresson will be attending John Carroll University after graduation.