Creekside wins Class B title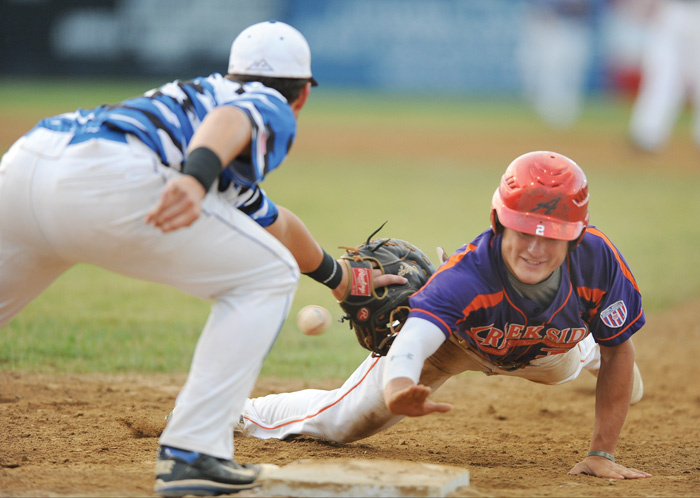 ---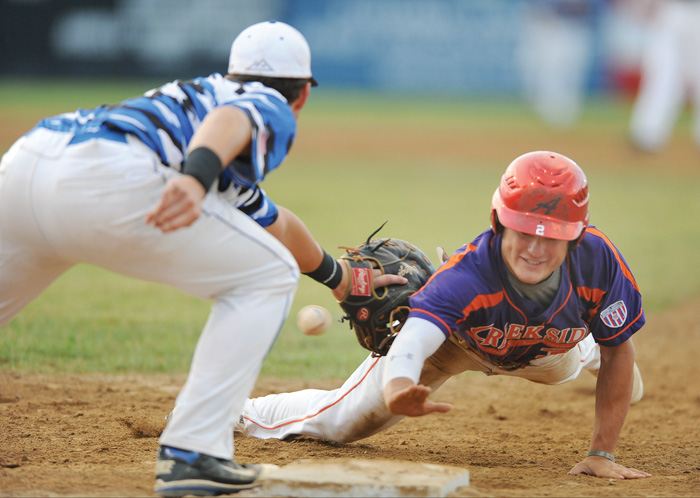 Photo
Gino DiVincenzo of Creekside Fitness dives for the base as the Ohio Glaciers' Greg Popatak is unable to catch a throw by pitcher Matt Gordon on a pick-off attempt in the second inning of their Class B championship game Thursday at Cene Park in Struthers. The ball went into right field, and DiVincenzo advanced to third. Creekside shut out Glaciers, 3-0, to take the series 3-2 and win the title.
Creekside Fitness pitcher Kenosh shuts out Glaciers in Class B finale
By Greg Gulas
STRUTHERS
Last summer, Creekside Fitness came up short against the Astro Falcons in the Class B League championship series.
It's a feeling that manager Terry Landis didn't want his players to experience two years in a row.
Nick Stotler had two hits (including the game's only double) and two runs batted in while Nick Longo added a run-scoring single as Creekside defeated the Ohio Glaciers, 3-0, Thursday at Bob Cene Park to capture the league championship.
Creekside (31-4) won the best-of-five championship series, three games to two.
"We lost in the finals last year and that's a feeling that I just didn't want to experience ever again," Stotler said. "I got a fastball right where I wanted it and was able to drive it. We got the early lead and held on to it. That was the key."
The Ohio Glaciers loaded the bases but failed to score in their half of the first frame while Creekside sent seven batters to the plate in their half of the inning for an early 3-0 advantage.
It was a lead Creekside would not relinquish.
"After winning the Triple Crown Tourney in June we really came together as a team. We got great pitching, our defense kept us in games and we had plenty of timely hitting as well," Landis said. "We're peaking at just the right time with the Connie Mack Tournament ready to start this weekend and then the NABF Tournament to follow."
Jim Kenosh, who just completed his freshman year at Heidelberg University, scattered five hits and struck out eight en route to his fifth victory of the season.
"My fastball felt great but my out pitch tonight was my splitter. After they loaded the bases in the first inning all I wanted to do was minimize the damage and just get back to the bench so we could bat," Kenosh said. "It always feels good to win but there's no better feeling than that dog pile at the end of the game."
The Glaciers (26-7) managed just five hits and left six runners on base.
"It was just one of those games and hats off to Terry and Creekside. This was the ninth time that we played each other and they now have a 5-4 advantage," Glaciers manager Don Pletcher said. "We had the bases loaded in the first inning and didn't score, then turned around and gave up three unearned runs during their first at bat. Unearned runs always have a way of haunting you in the end."
Glaciers second baseman Jamie Switalski had three of his team's five hits, all of which were singles.
"I didn't have a hit the last three games so I just wanted to simplify things and get back to the basics," Switalski said. "Jim pitched really well for Creekside and while the three unearned runs hurt us, we played through that and didn't give up a run the rest of the way."
A combined seven players between the two teams were named to the Class B League All-Star team.
Ted Williams, Cal Miller, Tyler Walters and Dave Lemasters of the winning Creekside Fitness squad and Greg Popatak, Brian Penz and Matt Lapiana of the runner-up Glaciers made the team.
Lemasters finished as the league's top pitcher, going 5-0 without yielding an earned run all season.
Creekside will enter Connie Mack Tournament play on Sunday as the No. 1 seeded team while the Ohio Glaciers earned the No. 2 seed.