City school board gives superintendent 3 out of 5 for performance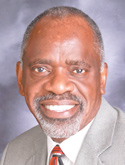 Photo
'Satisfactory' rating from board based on rankings in 5 standards
By Denise Dick
YOUNGSTOWN
The city school board ranked Superintendent Connie Hathorn a three out of a possible five on his latest performance evaluation.
"We're not where we were, but we're not where we want to be," said Richard Atkinson, school board president.
He said the three equates to a "satisfactory" rating. The overall score was based on the rankings in five standards: vision, continuous improvement and focus of district work; communication and collaboration; policies and governance; instruction; and resources.
"We're happy with the direction that we're going," Atkinson said, acknowledging some improvements in student test scores in recent years. "We're just not getting there fast enough."
He pointed to Youngstown Early College, Rayen Early College Middle School and new programs initiated by Hathorn as bright spots in the district.
But the district's performance on the state report card remains low.
"We're moving in the right direction, but we're still in academic distress," said Brenda Kimble, board vice president.
Each board member rated Hathorn individually, and Atkinson tabulated the scores to arrive at the ranking in each category and the overall score.
Hathorn earned a two in vision, continuous improvement and focus of district work; and communication and collaboration and a three in each of the other three standards.
Hathorn said that regardless of what his evaluation says, he's going to keep working for the betterment of the district.
"We're going to continue to move forward for our students," he said.
There are three years left on his contract.
"It's going to be three years of hard work, and I'm not going to let up regardless of what the rating is going to be," the superintendent said.
The format of the evaluation changed from last year to this. Last year's evaluation scored Hathorn at a five out of nine which also equated to satisfactory. That evaluation covered six categories: relationships with the board, community relationships, staff and personnel relationships, educational leadership, business and finance and personal qualities.
Atkinson said the board changed the standards upon which Hathorn is evaluated believing the previous categories were too broad.
Atkinson said vision, continuous improvement and focus of district work, for example, refers to the continuous improvement of the whole district and the vision that Hathorn must articulate for the district, allowing students to know that they can be successful.
The board president said Hathorn's biggest strength is bringing people together to work as a team, referring to members of the district staff. The area where he most needs improvement is communication, Atkinson said, listing communication with the board, the business community and community groups.
He acknowledged the challenges Hathorn manages, serving both the school board and the state-appointed Youngstown School District Academic Distress Commission.
"That's a difficult job, having two bosses and dancing between rain drops," he said.
It's the district's performance on the state report card that drove the board's evaluation, Atkinson said.
"If we got all A's, he would have all 5s," he said.