Ethan Carter III, TNA to make an impact at Eastwood Field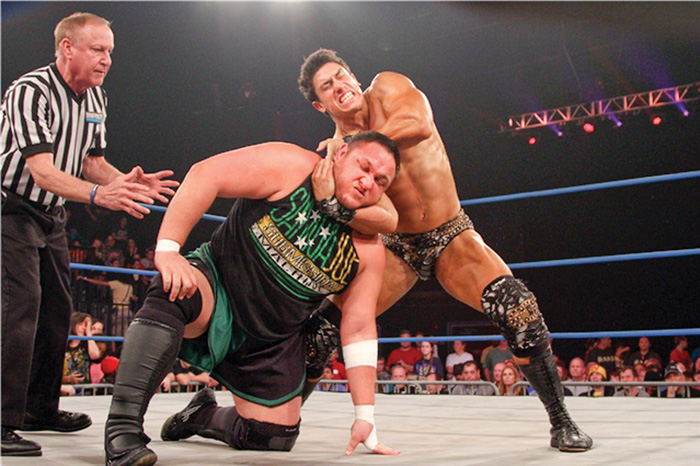 Photo
TNA wrestler Ethan Carter III, right, grapples with Samoa Joe.
Past Event

Saturday, July 12, 2014, 7:30 p.m.
Eastwood Field , 11 Eastwood Mall Blvd., Niles
All ages / $15 - $60
By GUY D'ASTOLFO
NILES
To wrestling fans, Ethan Carter III is the arrogant "1 percenter."
But when it comes to his craft, the TNA Wrestling star gives 100 percent.
EC3, as he is known on Spike TV's weekly "Impact" show (9 p.m. Thursdays), will be part of a wrestling show coming to Eastwood Field this Saturday.
It's something new for the baseball stadium — a stand-alone event. There is no Scrappers game that night.
EC3 will take on Bully Ray at Saturday's event, which also will include former heavyweight champion Eric Young, Mr. Anderson, Magnus, "The It Factor" Bobby Roode, Gail Kim and many more.
The ring will be set up in the infield at the outdoor show.
So, will weather be a factor for EC3, a privileged and pretentious "heel" who might eschew the elements if it's blistering hot or raining?
Not at all.
"Rain, sleet or shine, we will be in the ring," said Carter in a phone call last week while waiting in Detroit's airport for a flight to Japan for another show.
"[Performing in a minor-league baseball stadium] is different but awesome," he said. "What we do is get the crowd reaction, and when you're outside, the sound travels differently, so it's our responsibility to get them to make even more noise."
Saturday's show will be a fan-friendly event for Carter — he'll be "kissing babies, signing autographs and giving high-fives."
But only to a certain extent.
The haughty EC3 said he'll find a way to show some unmistakable disrespect for the hometown fans once he steps into the ring.
Actually, Saturday's show will be something of a homecoming for Carter, whose roots are firmly in Northeast Ohio.
He is a graduate of Willoughby South High School, and his girlfriend is from East Liverpool. "I will have family and friends coming in from Cleveland and East Liverpool," he said.
Now that he's made it to the top ranks of the wrestling world, EC3 isn't planning on letting it go.
"I love TNA and the opportunity that they gave me," he said. "I worked hard for a long time at it, and it's been a constant struggle, but TNA gave me the ball and said to run with it, and I never plan on giving it back. It's awesome to be from a small town and go on to international fame."