Cops: Woman apologizes after running
---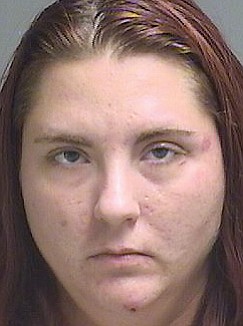 Photo
By Joe Gorman
YOUNGSTOWN
Police say a woman who ran away from a cruiser with her hands cuffed behind her Tuesday evening apologized after she was caught.
Reports said 31-year-old Tracy Mineard of Leetonia, told an officer who managed to catch her by grabbing onto her handcuffs, "Sorry, I had to try," about 10:45 p.m. Tuesday after she was pulled over at Market Street and Delason Avenue for making an improper turn.
Mineard was taken to the Mahoning County jail on charges of driving under suspension, improper handling of a firearm in a motor vehicle, obstructing official business, resisting arrest, escape, possession of heroin and possession of crack cocaine.
Reports said when officers pulled over Mineard's vehicle, she was bending down as though she was trying to place something underneath the floorboards. She gave police a false name and police asked her if she would step outside her car.
Mineard denied having anything illegal, and when police asked her to turn out her pockets so they could search her, she grabbed an item out of her back pocket and tried to hide it, reports said. Officers unclenched her fist and found a magazine for a .380-caliber semiautomatic handgun with four rounds.
Officers then got her wallet from her pocket and found a dose of heroin inside. When they searched her car they found a .380-caliber semiautomatic handgun in a holster loaded with a six-round magazine.
Mineard was cuffed and put in a cruiser and managed to get out and run away with her hands cuffed behind her back, but she did not get very far before she was caught, reports said.
Before she was taken to the jail, Mineard was asked if she had anything illegal on her and she said no, reports said. At the jail, her wallet was searched more thoroughly and police found another dose of suspected heroin and a rock of suspected crack cocaine, reports said.