Canfield Residents Recover from Tornado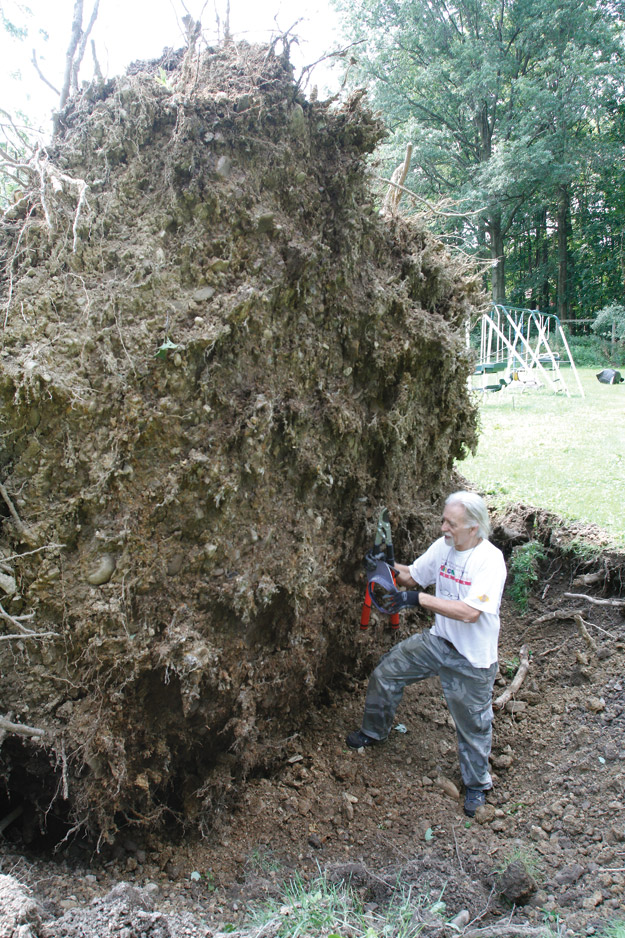 ---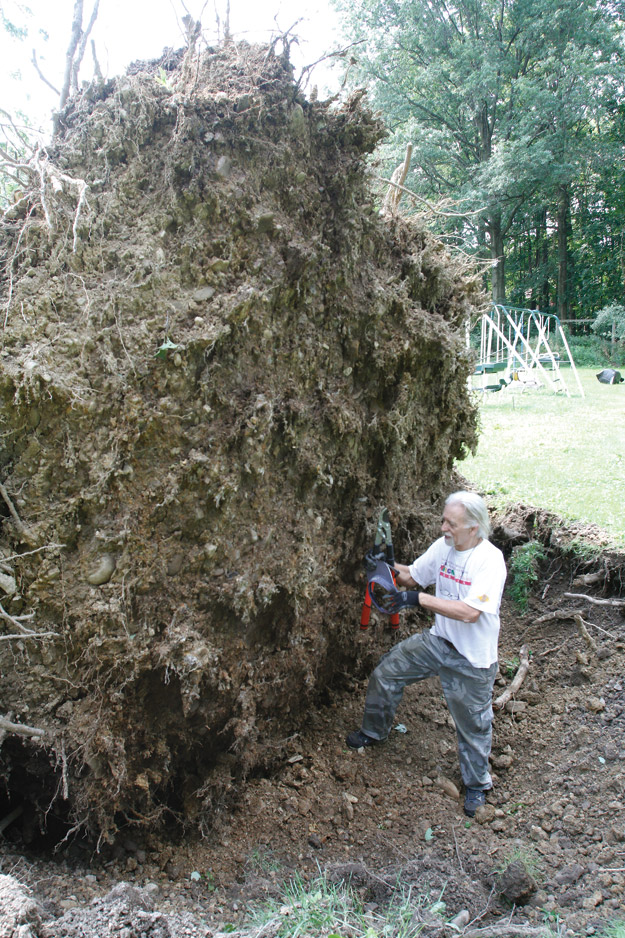 Photo
Bill Majernik, a resident of McCarty Drive in Canfield for more than 45 years, examines an oak tree that fell on his neighbor's property. The tree was one of many that fell during a tornado that touched down Tuesday afternoon in Canfield and Ellsworth Township.
By Jordyn Grzelewski
Canfield
Canfield and Ellsworth Township residents made a quick recovery Wednesday from the tornado that swept through the previous day, leaving several homes severely damaged and cutting off power to 2,000 people.
Three homes had significant damage due to the storm: one in Ellsworth on Akron-Canfield Road, one on Jade Circle in Canfield and another on Raccoon Road near Austintown. The storm also caused more, minor damage to dozens of properties.
Because there are so few properties with severe damage, the communities will not receive federal assistance for the recovery process, according to Dennis O'Hara, director of the Mahoning County Emergency Management Agency.
"While we did have significant damage, we did not have significant structural damage that would qualify for federal funds," O'Hara said.
There were, however, dozens of cases of property damage due to heavy winds that knocked over trees.
Cardinal Joint Fire District Chief Don Hutchinson said the areas most affected in Canfield are McCarty Drive, Blueberry Hill, Herbert Road and Williamsburg Drive. Hutchinson said his department received 21 calls over a 90-minute period right after the storm hit.
According to Ellsworth Fire Chief Robert Sternburg, only three properties were damaged: the Society of St. Paul, a house and a horse park, all located on Akron-Canfield Road.
Sharyn Staffrey, a resident of McCarty Drive in Canfield Township who has lived there 38 years, said she witnessed the twister move in and knock a tree onto her neighbor's roof.
"I've never seen anything like that in all my life. It was like a big balloon, all white. It was gone before you even knew it," Staffrey recalled.
Residents of McCarty Drive lost power after the storm, and several still were without power as of Wednesday evening. Crews from power and cable companies worked throughout the night and Wednesday afternoon to restore services to the street. In the meantime, Staffrey used two generators to power her sump pump and refrigerator.
"I have to give 100 percent credit to the Ohio Edison crew," said Bill Majernik, a resident of the street since 1968 and who was working to remove a huge 50-year old tree that had fallen in his yard.
Majernik said the Ohio Edison workers were there the entire night, and that his power was restored about4 a.m. Wednesday.
According to Ohio Edison's website, there were fewer than 10 customers still without power Wednesday evening.
Sternburg said much of the success of the immediate response was due to the collaboration between the different departments.
"We got a really quick response from the Mahoning County EMA, the National Weather Service, as well as the Canfield Fire Department and Berlin Center [Fire Department]," Sternburg said.
O'Hara cautioned those affected by the tornado to be careful when hiring companies to assist in cleaning up.
"If there are any cleanup companies that come, make sure they are reputable companies," O'Hara said. "There are disreputable companies out there. ... You just have to be careful."
O'Hara said people whose property is damaged should contact the Ohio Department of Insurance, which can help answer any insurance-related questions such as how to file claims and how to avoid contractor fraud.
For more information, visit its website at insurance.ohio.gov/Consumer/Pages/SevereStormRecoveryToolkit.aspx or call the consumer hot line at 800-686-1526.