Belinky says he's 'ashamed'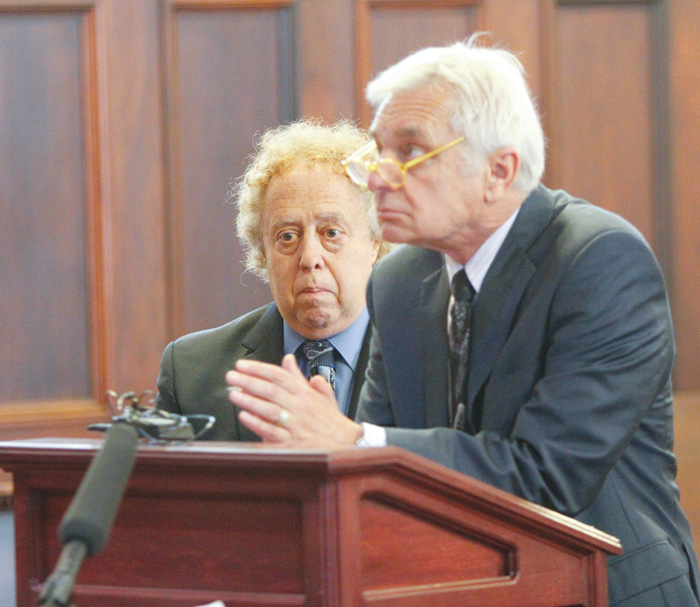 ---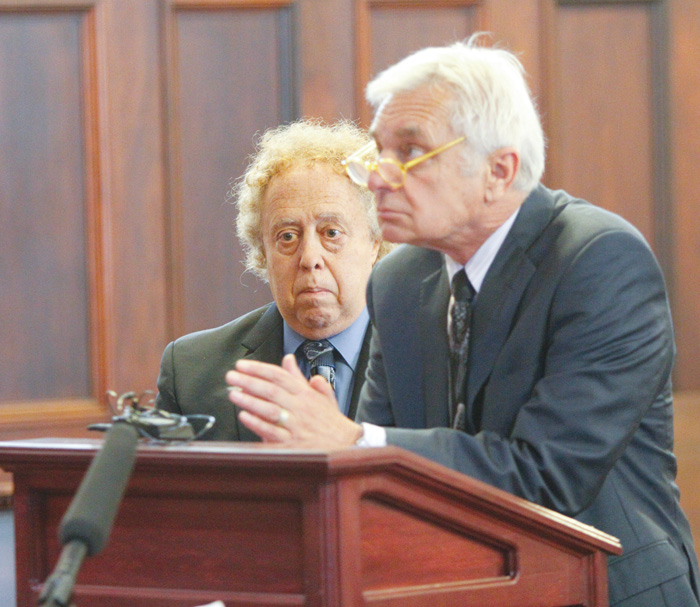 Photo
Mark Belinky, left, a former Mahoning County Probate Court judge, listens as J. Gerald Ingram, his attorney, makes a point about putting his client on probation and not in prison.
By Joe Gorman
and David Skolnick
YOUNGSTOWN
Just before being sentenced to two years' probation, former Mahoning County Probate Court Judge Mark Belinky said he's been in free fall since he agreed to plead guilty to campaign- finance violations.
"It's not easy to see your life crashing down," Belinky told Visiting Judge Ronald Suster on Wednesday. "I accept responsibility for my actions."
As part of his probation, Belinky, a Democrat from Boardman, must serve 60 days of house arrest, perform 200 hours of community service and pay a $2,500 fine. Judge Suster said if Belinky abides by all the terms of his probation, he could release him from it early.
Senior Assistant Attorney General Daniel Kasaris, the lead prosecutor on this case, said the state did not oppose probation because of Belinky's "high level of cooperation" in the case and his willingness to provide information in other potential public-corruption investigations.
Kasaris said Belinky is being "very cooperative" with state investigative agencies and the FBI.
"We need people to cooperate and assist when battling public corruption," Kasaris said.
Belinky could have been sentenced to up to 18 months in prison.
Negotiations for his plea to a charge of tampering with records, a fourth-degree felony, began in February.
Those discussions were ongoing when Belinky's former office in the courthouse and his home were raided by members of the Federal Bureau of Investigation and the state Bureau of Criminal Investigation.
Among the items seized were bank, tax and campaign-finance records.
Belinky pleaded guilty May 8 to falsifying campaign-finance records during his first run for the seat in 2008. He was appointed in November 2007 to the bench by then-Gov. Ted Strickland after former Judge Timothy Maloney retired.
During the 2008 campaign, Belinky falsified his financial records by not reporting debt and hiding the sources of loans, according to the bill of information to which he pleaded guilty in May.
That bill states Belinky failed to record more than $7,500 but less than $150,000 in contributions, expenditures or loans to his campaign fund between Oct. 23 and Dec. 10, 2008.
The Attorney General's Office, which prosecuted Belinky, has declined to provide details about the unreported debt and the hidden loans.
However, Belinky's 2008 post-general election report and a lawsuit filed against him show Mike Pallotta of Naples, Fla., loaned $20,000 to Belinky on Oct. 14, 2008. Belinky then gave $5,000 to his judicial campaign Oct. 23, 2008, and then $15,000 a day later with the report stating that money came from him.
Kasaris and J. Gerald Ingram, Belinky's attorney, declined Wednesday to comment to the media after the sentencing. Dan Tierney, an AG spokesman, also declined to comment.
Before sentencing, Ingram urged Suster, a retired Cuyahoga County Common Pleas Court judge who oversaw this case, to impose probation, saying that Belinky has no prior criminal record, has cooperated with investigators and is "genuinely remorseful" for his actions.
Belinky told Judge Suster he is "ashamed" of his conduct.
"I'm ashamed of what's happened to me," Belinky said. "All I ever wanted to be was a good judge. A lot of people put their hopes in me to be a good judge."
Judge Suster said Belinky has taken responsibility for his actions but he added that Belinky abused a position of trust.
"What makes it a serious matter is that you were an elected official and in a responsible position," Judge Suster said.
Judge Suster said he wants the probation department to find some sort of community service where perhaps Belinky can talk to elected officials and other lawyers about the perils of not following the law.
"Obviously, Judge Belinky has felt the effect of whatever he's done," said county Democratic Party Chairman David Betras.
"The court's action is another reminder that elections are important, and especially in this county, voters should not just grab the Democratic lever," said county Republican Party Chairman Mark Munroe.
After Belinky resigned, the Ohio Supreme Court appointed Visiting Judge R.R. Clunk, a retired Stark County probate judge, to hear cases in the court until Gov. John Kasich, a Republican, appointed attorney Robert Rusu to the seat.
Rusu took office Tuesday and is running in the November election as an independent candidate against attorney Susan Maruca, who won the Democratic primary for the seat.
As part of his plea, Belinky had to surrender his law license, resign from the bench, and withdraw from the Democratic primary.