Severe weather blows through Valley, tornado confirmed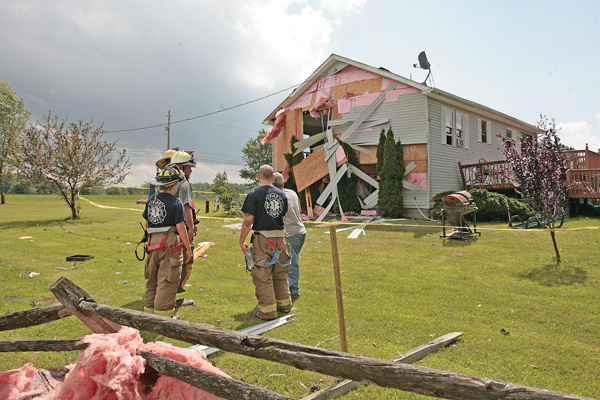 ---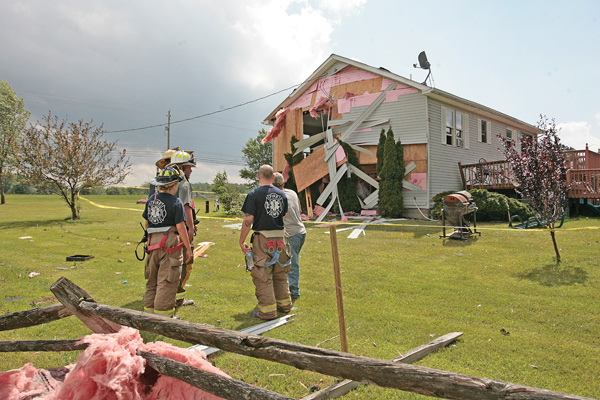 Photo
A house had an entire side blown off , and damage to the roof caused ceilings to cave into the home on the 9300 block of Akron-Canfield Road in Ellsworth Township on Tuesday afternoon. The storm went through the townships of Ellsworth and Canfield as well as the city of Canfield.
By JORDYN GRZELEWSKI and ROBERT CONNELLY
news@vindy.com
CANFIELD
A tornado blew through the Canfield area Tuesday afternoon, damaging homes, knocking down trees and causing power outages for about 2,000 Ohio Edison customers.
The twister destroyed a home on the 9300 block of Akron-Canfield Road in Ellsworth Township, blowing out an entire side of the house. There also was damage to the roof, causing most of the ceilings to cave in.
Brian Mitchell, a meteorologist with the National Weather Service in Cleveland, said the tornado was an EF1 on a scale of EF0, the least severe, to EF5, the most significant.
"From the damage surveyed, it went from the east end of Ellsworth Township through Canfield Township and the city of Canfield," he said.
It skipped along treetops, snapping off trees, but also damaged 10 houses or garages through that area.
Residents said it all happened fast.
"It was so quick. The sirens didn't even go off until we came out of the closet," said Sherry Breese, the owner of the house on Akron-Canfield Road. "I saw wind and stuff falling off the walls and grabbed [my daughter] and ran downstairs." Breese said she and her daughter hid in a closet until the wind quieted down.
In Canfield, dozens of uprooted trees were strewn across roads and yards, with several causing damage to homes and garages.
Rich Trebus of the 4400 block of Williamsburg Road said he had been receiving weather alerts on his phone before the storm hit Tuesday afternoon in Canfield.
"The last one I got was 15 minutes before and said thunderstorm warning," he said. "It was a tornado."
The Society of St. Paul, a monastery located across the street from the damaged house on Akron-Canfield Road, had considerable property damage after heavy winds uprooted several trees, blew out several windows, carried away a sign and knocked down a satellite dish that the Catholic Diocese of Youngstown uses to broadcast. Trees fell into the property's water-purification plant and cemetery.
"We have a number of people from around the country and the world here this week [for a retreat], and one Japanese nun asked when I picked her up from the airport if we ever had tornados in Ohio, and I told her, 'Very rarely,'" said Father Jeffrey Mickler.
"I think my credibility may have been damaged," he joked.
The storm also hit Buckeye Horse Park.
"The concession stand at the horse park lost about a third of its roof," said Ellsworth Fire Chief Robert Sternburg.
Sternburg said there was a clear "line of damage" heading northeast.
Dozens of trees were down in the 800 block of Blueberry Hill, mostly in the yards of people's property. A large tree was down on Herbert Road, blocking traffic between state Route 46 and South Turner Road and hitting power lines.
But Both Cardinal Joint Fire District Chief Don Hutchison and a nursing supervisor with St. Elizabeth Health Center said they were not aware of any injuries.
The storm seemed to be on a path, damaging the backyard of Championship Court, skipping to 4500 block of Raccoon Road, then hitting Trebus' backyard. It also stayed on that path, hitting Mellinger and Canfield roads in the township, and went on from there.
The storm lasted seven minutes at most, said Russell Gillam of Unit 1 on Championship Court.
"I knew there was gonna be a storm ... but never expected anything like this," Gillam said of watching the weather as the storm crept toward the area.
Many trees could be seen uprooted on Canfield Township roads, and residents with chainsaws already had begun the cleanup process shortly after the storm.
Trebus estimated he would have to have 25 to 30 trees taken out of his backyard.
"I'm 69 years old and these trees are probably older than me," he said of the thicker trees in his backyard. He estimated some of the trees were between 100 to 120 feet tall, but said his insurance company told him they would not pay for the tree removal.
Ellsworth Fire Department received assistance from the Mahoning County Emergency Management Agency, Berlin Center and Canfield fire departments, as well as the Mahoning County Sheriff's Office.
Canfield City Manager Joe Warino said they will see what funding is out there for the cleanup for residents, in particular funds through the Federal Emergency Management Agency, or FEMA.
"I would imagine it would be a few weeks' worth of work for the property owners in getting the trees picked up," Warino said.
Canfield Trustee Marie Cartwright said, "If, indeed, [federal or state funding] is available and can help the residents, we'll take advantage of it."
As of 10:45 p.m., Ohio Edison reported that 336 customers in Mahoning County were without power; 244 in Canfield, 43 in Canfield Township and fewer than five in Ellsworth Township. Fewer than 15 customers each in Austintown, Boardman, Struthers and Youngstown and fewer than five in Campbell were without power Tuesday night.
In neighboring Pennsylvania, thousands were without power as a line of severe thunderstorms raced across the state, leaving reports of damage and one possible tornado. The state's large electrical utilities reported scattered outages in the western and central parts of the state as a cold front moved in over the late afternoon and early evening.
The Pittsburgh Post-
Gazette reported several tornado sightings were reported to emergency dispatchers in Mercer County, and reports of damaged roofs and downed trees in Mercer and Armstrong counties.
A National Weather Service meteorologist told the Post-Gazette winds of more than 40 miles per hour were recorded in the area.
CONTRIBUTOR: Associated Press