Published: Wed, July 9, 2014 @ 12:05 a.m.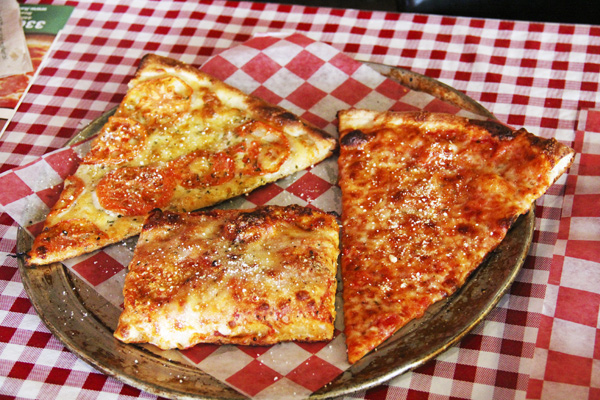 Photo
Time-tested family recipes are used for both the tomato sauce and dough used for the Italian Village's variety of pizzas. Patrons can choose a thin crust or a thick Sicilian crust.
If You Go...
Where: Italian Village Pizza
Phone: 330-758-0000
Address 440 Boardman-Poland Road, Boardman
Hours: 11 a.m. to 9:30 p.m. Mondays through Thursdays; 11 a.m. to 10 p.m. Fridays and Saturdays; and noon to 8 p.m. Sundays
Website: italianvillagepizza
BOARDMAN
The restaurant's ruby-colored walls are crowded with dozens of poster-sized pictures of Italian immigrants whose vintage faces watch over patrons enjoying steaming plates of pasta and thick slices of pizza.
The next thing you notice are the pleasing aromas that fill the air.
Fresh-baked dough, simmering marinara sauce — shut your eyes and you'd swear you were standing in the homey kitchen of an Italian matriarch.
It's only fitting that an Old World ambience dominates this Boardman eatery. Italian American owner Eugene Razzano relies on time-tested family recipes to concoct his tomato sauce and dough, and oh my, what delicious sauce and dough it is!
Warm, chewy and tender, the dough is superb and even the restaurant's croutons are made of it. The restaurant's garlic knots — a signature appetizer of twisted rolls seasoned with garlic and Parmesan cheese — are even better, especially when dipped in the aforementioned sauce.
"My mother and grandmother taught me to cook, and it has always been something I've loved to do," Razzano said.
Before owning Italian Village Pizza, Razzano owned Sghetti's in New Castle for 20 years. Razzano said he had a "great following" at Sghetti's, but he eventually closed the establishment. Later he decided to get back into the restaurant business and initially envisioned an Italian version of Chipotle.
"Italian Village Pizza is a spin-off of a chain of restaurants in the Pittsburgh area. What makes it stand out is it's not just a pizza shop," he explained. "It is an Italian restaurant that sells pizza, but we also sell all the traditional Italian favorites."
Some of the highlights on the menu are baked rigatoni, lasagna with layers of sausage and ricotta, cavatelli marinara, gnocchi Bolognese, eggplant parmigiana, chicken parmigiana and various hoagies, paninis and salads.
Of course, there's also pizza — lots of it. White pizza, spinach and tomato, BBQ chicken, fresh spinach and goat cheese, buffalo chicken, ranch lovers, veggie and steak and cheese, to name a few.
During my visit I sampled several of the pizzas, which were all delicious. Patrons can choose between a thin crust or a thick Sicilian crust.
The white supreme pizza is topped with creamy ricotta cheese, and the home street pizza is labeled as the restaurant's "Brier Hill," with fresh garlic, oregano, roasted red bell peppers and grated Parmesan cheese.
For my main entree I chose chicken parmigiana. The boneless breast of chicken was deep fried and finished with marinara and then baked with a blend of imported cheeses. A large salad with freshly made ranch dressing accompanied my meal.
Razzano said fresh food is a No. 1 priority at his restaurant.
"Nothing is frozen. We make 40 gallons of sauce every other day. All our zucchinis are fresh, all our vegetables," he said.
Razzano buys as much produce locally as possible because he said he cares about the area economy. He also cares about providing a casual dining experience with high quality, great-tasting fare.
"We aren't a fancy place where people come for an anniversary dinner, for example, but we are a casual place with affordable, fresh, delicious food and big portions," Razzano said.
Italian Village Pizza opened in August of 2013. The restaurant seats about 50 people and much of its business is delivery and pickup. The restaurant delivers within a five-mile radius.
Dine-in specials include: two slices of pizza (one topping each) and a drink for $5.49 (until 4 p.m.); and endless Italian wedding soup, salad and garlic knots for $5.99 until 4 p.m. and $8.99 during dinner hours.
In addition to the hearty entrees and wide variety of pizzas, the menu includes desserts such as chocolate chip cannoli, cheesecake and tiramisu. The zeppolis supreme dessert is one of the best I have ever tasted.
It features pieces of fried dough tossed with powdered sugar and slices of fresh strawberries and blackberries. It comes in a huge bowl and is meant to be shared by a group.
It is another recipe Razzano has adapted from his Italian elders.
"My mom made zeppolis at Christmas and she would pour honey over the pieces of dough and family would sit around eating it, sipping wine," he said, adding, "We are in the business to please people. We put extra love in all our dishes."
About Food:30
We are offering a glimpse into local restaurants and eateries by reviewing their food offerings. To recommend a location, send an email to society@vindy.com.