Ejection, pitching spark Creekside victory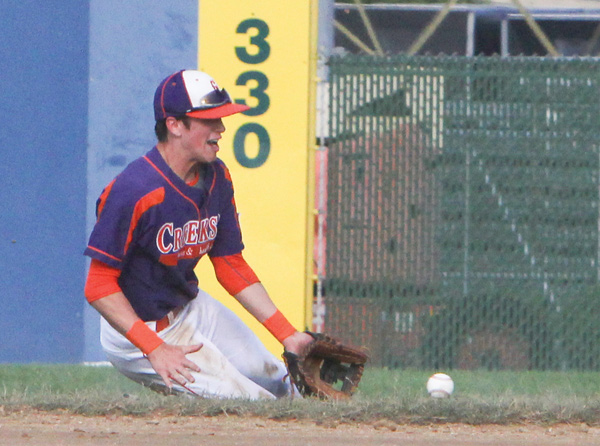 ---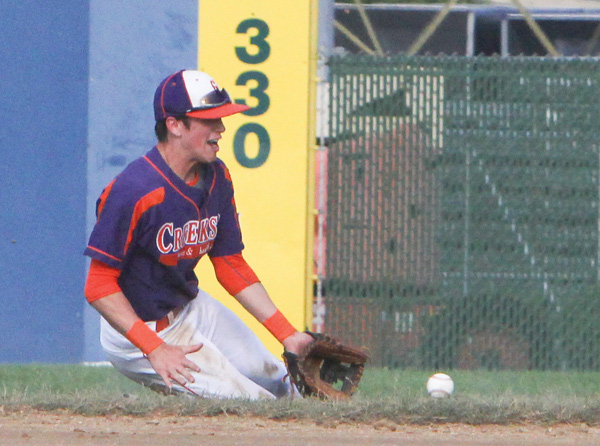 Photo
Ted Williams of Creekside makes a sliding stop down the right-field line during a Class B 18-under-under game against the Ohio Glaciers on Tuesday night at Bob Cene Park in Struthers. Creekside won the first game, 10-2.
By Curtis Pulliam
Struthers
Creekside Fitness received a spark from a couple of unlikely sources to tie the Class B championship series at a game apiece with the Ohio Glaciers in the first game of a doubleheader Tuesday night.
Assistant coach Scott Knox was ejected for arguing a call at second base in the top of the first inning. The ejection motivated Creekside, according to manager Terry Landis.
"Oh yeah, they started hitting the ball," Landis said. "That brought them alive."
Creekside collected 14 hits and got a solid performance on the mound from Gino DiVincenzo for a 10-2 victory over the Glaciers in the opener at Bob Cene Park.
Landis believes that was what his team needed to do to tie the best-of-five series.
"We came out swinging today," Landis said. "Sunday, we didn't hit nothing. I think they came determined today."
Leading the way for Creekside offensively was catcher Tyler Walters, who went 2 for 4 with a double and triple. Center fielder Kyle Wise went 3 for 4 for with an RBI.
Creekside did not waste any time, scoring on the double by Walters. Third baseman Cal Miller, who reached on an error, came around to score on a passed ball making it 2-0.
Creekside added a run in the second on an RBI single from Wise, scoring Nick Longo to make it 3-0.
The Glaciers answered with two runs in the bottom of the inning on RBI singles from center fielder Mitch Machi and right fielder Matt Kamenicky That is the closest the Glaciers got thanks to Creekside's seven unanswered runs and DiVincenzo.
The Cardinal Mooney grad shut the door, allowing the two runs in four innings of work.
"It was my first game back in a while — I was having some arm problems," DiVincenzo said. "I was OK with it."
DiVincenzo admitted there is room for improvement from his performance.
"Could've done a little better," DiVincenzo said. "Could've got ahead in the count, but I threw strikes and let my defense make plays."
Pitcher Scott Sada replaced DiVincenzo, and worked three scoreless innings.
As for the first-inning excitement from Knox, DiVincenzo knows it worked for his team.
"That's the first time I've ever seen it," DiVincenzo said. "He did what he had to do and got us fired up."
Ohio Glaciers manager Don Pletcher was not pleased with his team's performance.
"Not good," Pletcher said. "We came to play and they hit the ball. They did a good job."
At press time, Creekside was leading the Glaciers, 7-6, in the top of the fifth inning in the second game.
Regardless of who prevailed in late game, Game 4 of the best-of-five series is set for 7 p.m. today at Cene Park.