Published: Tue, July 8, 2014 @ 3:14 p.m.
Lori Factor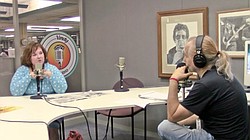 Video Set
Vindy Radio will be live from 8 a.m. to noon July 9 with host Louie Free.
Along with his regular programming, he'll welcome a special guest at 9 a.m. Lori A. Factor is the assistant director of the Donald P. Pipino Performing Arts Series and coordinator of the YSU Summer Festival of the Arts. She'll stop in to talk about a big weekend in arts, culture and jazz in Youngstown— the YSU Summer Festival of the Arts, Downtown Jazz Fest and St. Nicholas Greek Orthodox Summerfest will all be in full swing this weekend.
Go to vindy.com/radio to listen to the show live, or vindy.com/mobile/vindy-radio to listen from your smartphone.
Click here to listen to the show. We'll be live tweeting the visit, so follow us @vindyradio and @vindicator!
Vindy Talk Radio Studio: 330-333-4454