Downtown Sunset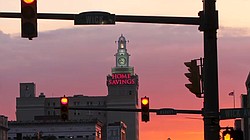 Video
A colorful sunset in downtown Youngstown.
Downtown Sunset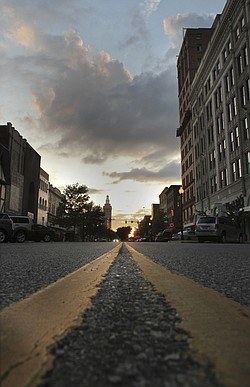 Gallery
A colorful downtown Youngstown sunset
STORY AND PHOTOGRAPHY By William D. Lewis
YOUNGSTOWN
I admit it, I'm a sucker for a sunset photo. There's something downright magical about seeing the sun slowly slip from a colorful sky.
Photographing the constantly changing qualities of light and shadow along with the explosion of color found in a sunset has always fascinated the creative side of me.
For three-plus decades, I have worked as a photojournalist in the Mahoning Valley, and whenever the opportunity presented itself, I have made photos of steel mills, area lakes and landmarks using a sunset as a backdrop. These images often depict everyday subjects in an unusual and visually interesting manner.
In my personal photography, sunsets on the west coast of Ireland, Costa Rica and Lake Erie are among my favorites. Many photographers think they have to travel to exotic destinations to make dramatic images. That isn't always the case. Sometimes a trip to your backyard can produce amazing results.
Familiar everyday scenes can be transformed into spectacular images by waiting for just the right sunset moment. These photographs of downtown Youngstown at sunset were made within walking distance of The Vindicator's office.