Scrappers' slide continues
---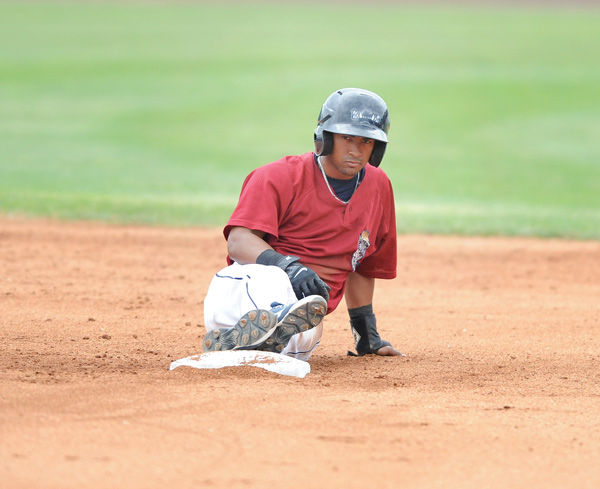 Photo
Scrappers baserunner Ordomar Valdez sits at second base for a moment after being tagged out in a rundown to end the fifth inning of Sunday's New York-Penn League game against the Batavia Muckdogs at Eastwood Field in Niles. The Muckdogs downed the Scrappers, 5-3, and swept the series, 3-0.
Hitting, fielding woes persist as Muckdogs sweep Scrappers
By Steve Ruman
NILES
Life is like a box of chocolates. You never know what you're gonna get.
Take the Mahoning Valley Scrappers, for example.
On paper, the Scrappers look like a team which should be scoring runs against the best the New York-Penn League has to offer. However, a roster filled with high draft choices continues to come up short at the plate and, at times, in the field.
The latest struggles occurred Sunday in a 5-3 loss to Batavia in which the Scrappers collected just five hits and committed three errors.
With the setback on what was dubbed Forrest Gump Day at Eastwood Field, the Scrappers fall to 8-15. They were swept in the three-game series against the Muckdogs, scoring just five runs in the process.
Afterward, Scrappers manager Ted Kubiak held a closed-door meeting with his team.
"I talked to them not about today's game in particular but about the intensity and effort I saw in our pre-game work," Kubiak said. "They're going out there like it's a party or something, and this is pro ball.
"There's just a little bit of effort that needs to be there, a little bit of intensity and urgency in order to master this game. That effort has got to be there. That's what I'm going to teach them and they're going to learn it."
The Scrappers' offense on Sunday could pretty much be summed up in one sentence.
Run Greg, run!
Scrappers leadoff hitter Greg Allen scored the game's first run in the bottom of the third when he singled, stole second and third, then scored on a fielding error on his steal of third.
Three innings later, Allen reached base on a walk, stole second, advanced to third on a groundout then scored on a wild pitch.
"Having that speed at the top of the lineup is huge, especially when we're struggling to score runs," Kubiak said. "When you're not hitting you need to produce runs any way you can, and Greg did that tonight."
In the eighth, Allen also produced the Scrappers' third run when he hit an RBI single that plated Ordomar Valdez.
The Muckdogs' offense was stymied by Scrappers starter Sean Brady, who gave up just one run on three hits in six innings of work.
However, the Muckdogs scored a pair of runs in the seventh on a two-rim single off the bat of Hiram Martinez. In the eighth, the visitors broke a 3-3 tie when Wildert Pujols doubled, scoring a pair of runs.
Justin Garcia was tagged with his first blown save of the year while Luke Eubank suffered the loss.
"I believe the seventh, eighth and ninth innings of a game are where things are won and lost," Kubiak said. "In the later innings, the intensity gets better, the focus gets better and the play improves.
"The game is very easy. All you have to do is execute from day to day and stay focused."
The Scrappers host Williamsport tonight at 7:05