Pirates (finally) complete sweep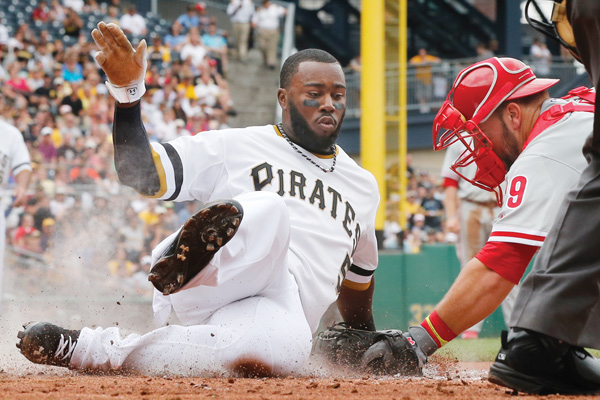 ---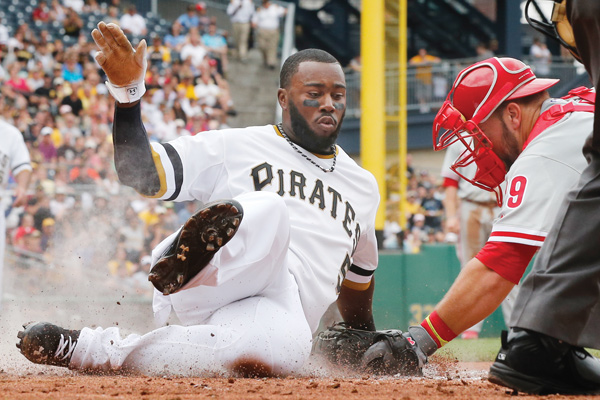 Photo
The Pirates' Josh Harrison scores ahead of the tag by Phillies catcher Cameron Rupp during the third inning of Sunday's game in Pittsburgh. The Pirates won 6-2 and earned their first series sweep this season.
Associated Press
PITTSBURGH
Jeff Locke spent a lot of time with A.J. Burnett last year, and then faced his mentor in a pitching matchup in Pittsburgh.
Locke got the best of Burnett on Sunday in Pittsburgh's 6-2 victory that finished off a three-game sweep of the Philadelphia Phillies.
"It didn't even feel like we were playing a Major League Baseball game," Locke said. "We spoke really briefly before we got in the bullpen, just told each other to have fun today, go get 'em. Pound down."
Locke gave up just three hits and a walk in eight innings, and the Pirates completed their first sweep of the season. Pittsburgh had failed to finish a sweep in eight previous tries this season.
Philadelphia was swept for the eighth time.
"I didn't know we didn't have a sweep all season," Locke said. "It feels good, especially a team like those guys over there. Especially when [Marlon] Byrd and A.J. come back again."
The Pirates (47-41) moved a season-high six games over .500, while the Phillies (37-51) fell a season-high 14 games below .500.
Locke (2-1) gave up two runs — one earned — and struck out four. He has made six straight quality starts since being recalled from Triple-A Indianapolis on June 8.
The left-hander worked mostly off of his fastball and changeup in an outing his manager Clint Hurdle called "fantastic."
Byrd gave the Phillies a 1-0 lead in the first inning with a single to left. Jimmy Rollins scored an unearned run from second after he reached base on a throwing error by third baseman Pedro Alvarez.
Alvarez leads the major leagues with 18 errors this season.
Pittsburgh responded in its half of the inning with two runs to erase Philadelphia's early lead.
Andrew McCutchen beat out a ground ball to shortstop with two outs after Burnett struck out the Pirates' first two hitters. Neil Walker followed with a single.
Against his former batterymate, Pirates catcher Russell Martin hit a two-run double to right-center for a 2-1 advantage that wouldn't have been possible without McCutchen's hustle.
"That's my game," McCutchen said. "I go up, hit a ball on the ground, and I have an opportunity to do something with it. That's what I use my legs for and that's what I'm going to always be like."
The Pirates added another run in the third when Josh Harrison led off with a triple that split the gap in right-center. Harrison tagged from third on a shallow fly ball from Walker to center fielder Ben Revere and scored as Revere's throw came in offline.
Burnett (5-8) gave up three runs and five hits, walked two and struck out seven in seven innings in his return to Pittsburgh. The Pirates played a "Thank You A.J." video on the scoreboard when Burnett took the mound in the first inning
"The video caught me by surprise," Burnett said. "I don't know what to say about it. It was very moving. It was very unexpected."
Byrd hit his 18th home run in the seventh inning to draw Philadelphia within 3-2.
Locke threw Byrd a changeup low and inside, which Byrd sent over the fence in left field.
"He got me," Locke said. "I got ahead of him, threw a changeup, and boom, he hit it. I knew it was a home run."
For Hurdle, it was only a matter of time until Byrd would damage the Pirates.
"Byrd's a good hitter," Hurdle said. "We played with the tiger's tail earlier in the series because he had a lot of at-bats with runners in scoring position that we were able to navigate through and around."