Comic book fans converge on Warren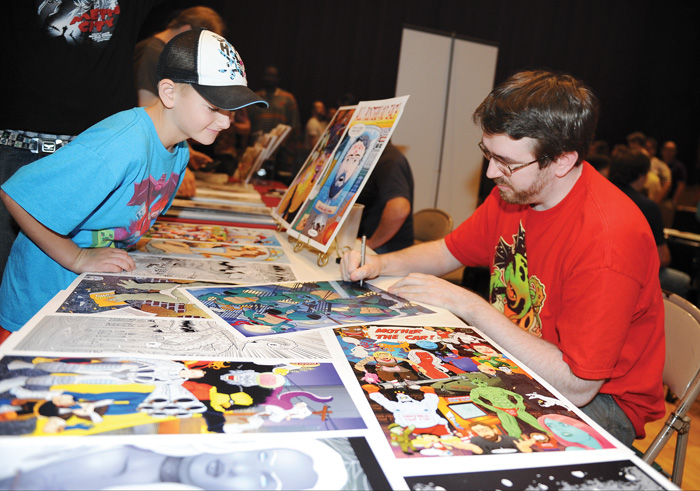 ---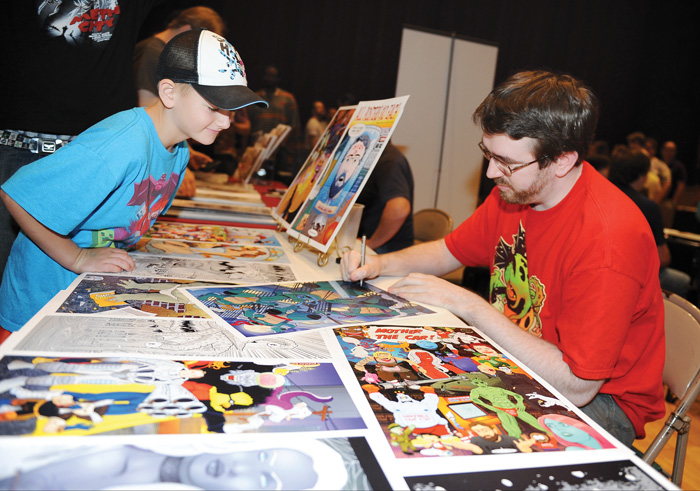 Photo
Comic-book artist George Graybill of Brookfield signs an original piece of artwork for Riley Russo 7, of Brookfield during the 2014 All AmeriCon comic book convention at Packard Music Hall in Warren.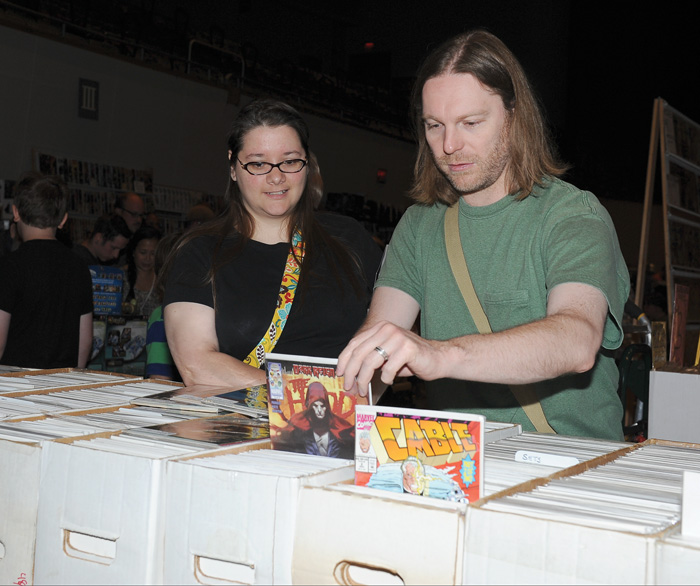 Photo
Eric Harper and Julie Cancio-Harper, both of Boardman, look through stacks of comic books at the fifth annual comic-book convention.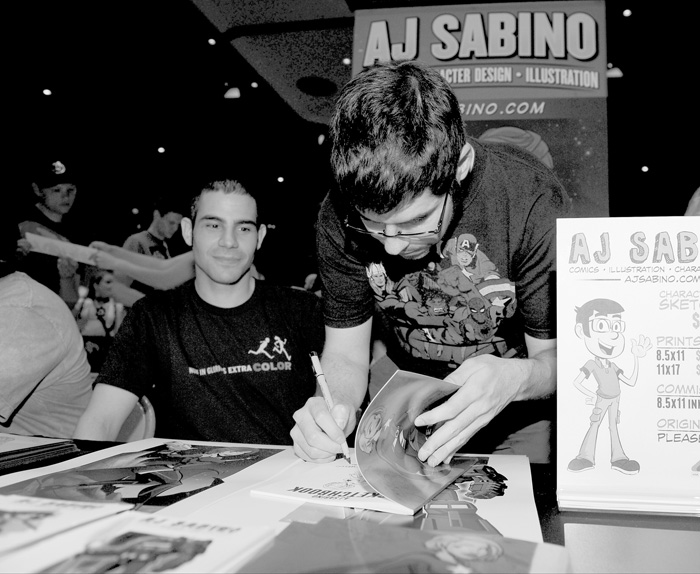 Photo
Local artist AJ Sabino of Cortland signs a piece of original artwork during the 2014 All-AmeriCon comic book convention. Rocco Sabino of Cortland also is pictured.
By Sean Barron
WARREN
Comic-book charac- ters serve as the influence for the majority of George Graybill's artwork, but one exception is a rendering he drew and colored of his head in a jar.
"That was a funny Facebook photo," the Masury man explained. "I've got a weird sense of humor, I guess."
Regardless of motives and level of inspiration for his work, Graybill continually drew small crowds to his table who admired his drawings, which were an attraction during Sunday's fifth annual All AmeriCon show at Packard Music Hall, 1703 Mahoning Ave. NW.
Seventy tables were set up for the estimated 45 vendors, including 15 local and regional artists, noted Greg Bartholomew, event founder and organizer.
Guests of honor were influential artists James F. "Jim" Steranko and Darryl Banks, whose creations include the Green Lantern, a conglomeration of superhero characters that appear in books published by DC Comics.
Long lines greeted Steranko, who's also a comics historian, film-production illustrator and magician and is perhaps best known for his 1960s comic-book feature "Nick Fury, Agent of SHIELD." He earned added acclaim for his style of surrealism and graphic art in the field, and inspired many young artists to break away from conventional styles.
Graybill, who began drawing about age 11, explained that he uses a digital-drawing tablet to create his works, which also are laden with pop-culture influences. He drew mainly for family and friends, but he hopes to sell some of his renderings and become a professional artist, he said.
One of those admiring Graybill's work and seeking his autograph was 7-year-old Riley Russo of Brookfield, who came with his father, Jason Russo.
Assisting Graybill was longtime friend Jake Trinckes of Masury.
Jim Lee, Joe Mad and other 1990s comic-book artists, as well as Andy Warhol, serve as the impetus for Chris Kasmar's hand-drawn work.
"I like big, bold and punch-in-your-face colors," said Kasmar, of Leavittsburg, who was selling series of prints for $10 each, along with sketch cards for role-playing games. "It's art for everybody."
Kasmar, who works as a graphic artist on many of Giant Eagle's in-store ads, recalled his early interest in art, which started with drawings of Teenage Mutant Ninja Turtles characters. His mother encouraged the young Kasmar to draw, and he continued.
Also with Kasmar was his wife, Kristin Kasmar.
In addition, the show featured the usual fare such as graphic novels, GI Joe and other action-figure toys, T-shirts, books, bobble-head figures and costumes.
Bill's Books & More of Canton and Westerville, Ohio-based World's Greatest Comics were among the vendors selling "X-Men,'' "Strange Adventures," "Batman," "Spiderman," "Captain Marvel" and the "Detective Comics" series. Also on hand were independent titles such as The Walking Dead, as well as Marvel standouts such as Iron Man and the Fantastic Four.
Bartholomew, the organizer and a Warren city councilman, expressed gratitude with being able to have the event at Packard to accommodate its increase in popularity. He also was pleased that the AmeriCon gathering continues to grow annually.
"The venue was big enough to hold the show for the size I want it to be. It was a logical expansion," he said.