Trip to Aruba will celebrate Samblanets' 50th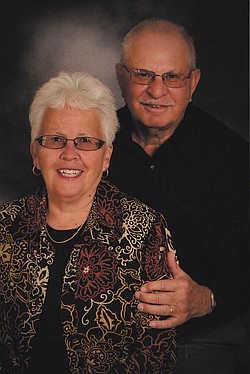 Photo
Mr. and Mrs. Dennis Samblanet
LAKE MILTON
Mr. and Mrs. Dennis Samblanet of Lake Milton will celebrate their golden anniversary with a trip to Aruba, hosted by their children.
The former Elaine Kline married Mr. Samblanet on June 27, 1964, at Immaculate Conception Church in Ravenna.
The couple are members of Our Lady of the Lakes Church.
Mrs. Samblanet worked for Robinson Memorial Hospital in Ravenna and retired in 2002.
Mr. Samblanet worked at Terex, a division of General Motors, in Hudson, Ohio, for 20 years, and for 20 years at Convoy Inc. in Canton. He retired in 2003.
The couple have two sons, Sean (Zeta) of Pasadena, Md., and Todd of Ravenna; and a daughter, Beth (Keith) Clifford of Paris Township. The Samblanets also have eight grandchildren.