Kocherts mark 60th with family at Oglebay Park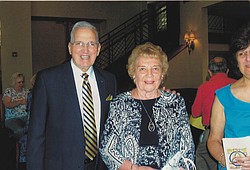 Photo
Mr. and Mrs. Milton Kochert
CANFIELD
Mr. and Mrs. Milton R. Kochert of Canfield celebrated their 60th wedding anniversary as guests of honor at a weekend at Oglebay Park in Wheeling, W.Va., with their family.
The couple have twins, Allison (Chris) Long of Indianapolis and Mark Kochert of Columbus. They have four granddaughters, Katie and Kylie Kochert of Columbus, Stephanie Long of Indianapolis and Suzanne Long (Corey) Baker of San Antonio.
The former Nancy Montgomery Wellendorf and Milton R. Kochert exchanged marriage vows June 12, 1954, at Canfield Presbyterian Church, where they are members.
Mrs. Kochert was an elementary schoolteacher in the Canfield Schools from 1953 to 1986.
Mr. Kochert was a social studies teacher, department chairman and basketball coach at Austintown and Poland schools before retiring in 1986. He is a retired captain in the U.S. Naval Reserve. He served from 1953 to 1956 aboard the USS Coolbaugh DE 217 and as an English instructor, basketball and track coach at the U.S. Naval Academy Preparatory School, Bainbridge, Md.