Despite recalls, Valley stays committed to General Motors
By KALEA HALL
khall@vindy.com
YOUNGSTOWN
GM Ignition Switch Recall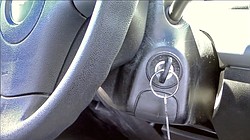 Video
Tom Wills, The Vindicator's Regional Editor, takes viewers for a ride in a 2010 Cobalt to demonstrate the issue plaguing GM's ignition switches.
Seeking a cheap car with great mileage, Jon and Rachel Clark bought a pair of General Motors' Lordstown-built Chevrolet Cobalts — one from 2006 and another from 2008 – last October.
They had not been Cobalt owners for one year when the ignition-switch recall began.
They have gone through the process of waiting for parts to come in, and are happy with their Cobalts.
"I think the new CEO [Mary Barra] has been proactive," Jon said. "I would definitely buy [a GM] car again.
"It's not so much an issue of a problem coming up. It is how they address the problem."
THE VALLEY'S CAR
The Mahoning Valley, where the Cobalt was manufactured from 2003 to June 2010, is the home of thousands of loyal GM customers who, by tradition, support the vehicles manufactured at the Lordstown plant. In turn, there are many successful dealerships.
Lordstown-built cars can be found in a higher per capita percentage here: Vega. Cavalier. Cobalt. Cruze. Build it and they will buy.
Bill Vargo of Hubbard worked as a tool maker for 36 years at GM and retired in 2006.
"No matter what happens with GM, I am going to be a GM person," he said. "I think GM is going to try and do anything they can to try and rectify the situation."
In many ways, the Cobalt looms large as the Valley's car. Dealerships are among those on the front line of the recall battle.
Tom Brittain, owner and operator of Brittain Chevrolet Inc. in East Palestine believes the seemingly constant coverage of GM and its recalls is sensationalized in the media.
"Nobody has ever made the perfect machine." Brittain said. "You've got to roll with it. We will get through it."
The defect surrounds the ignition switch, which could allow the key to switch to the "accessory" or "off" position, turn off the engine and lead to a crash. In that scenario, GM engineers would later learn, accidents could become fatal because in the accessory position, the front air bags may fail to deploy.
GM attributes 13 fatalities to the faulty ignition switch.
A website, gmignitionupdate.com, was established to help customers understand the ignition switch recall. It includes a three-point check plan of removing everything from the key ring except the car key, making sure the vehicle is in park before exiting the vehicle; or if it is a manual transmission to put it into reverse gear and set the parking brake. It also urges communication with a local GM dealer.
The Clarks, now driving their repaired Cobalts, believe GM has handled the ignition-switch recall well. The automaker has sent them at least eight mailers about the recall to explain the process.
Rachel drove a rental car while her 2008 Cobalt was getting fixed. Just before the recall announcement of her Cobalt, she could not turn the key in the ignition.
"I was worried about it," Rachel said.
Jon's 2006 Cobalt did not have similar problems, so he continued to drive it.
The recall has made Rachel more aware of the vehicles she is purchasing.
"I [will] really study everything about it," she said.
The GM ignition website reports as of June 25, 296,462 vehicles have been repaired of nearly 2.6 million vehicles recalled for ignition-switch torque performance. The models include the 2005-2010 Chevrolet Cobalt, 2007-2010 Pontiac G5, 2006-2011 HHR, 2006-2010 Pontiac Solstice, 2003-2007 Saturn Ion and 2007-2010 Saturn Sky.
In June, an additional 8.4 million GM vehicles were recalled, a majority for unintended ignition-key rotation. GM is aware of seven crashes, eight injuries and three fatalities in older model full-size sedans from models in this recall.

Since January 2014, 28,968,527 vehicles have been recalled for various reasons, including axle problems, in GM North America.
THE BIG FIX
Multiple shifts are working seven days a week to produce parts for the recalled cars.
"People have been very patient and reasonable" Brittain said. "There are parts that have to be ordered as they produce them."
Brittain estimates more than 100 of his customers have had the problem fixed.
"The only frustration is the parts are not as readily available as they would like," Brittain said.
The operation of fixing the recalled cars takes less than two hours, he said, and it is a "pretty simple" operation.
Although the ignition- switch and other recalls are new for Greenwood Chevrolet Austintown, the dealership is working through them with the customers.
"This is the first time we had a dedicated team of people to take phone calls" and handle the process, Greenwood Austintown general manager David Roberts said.
The team works to ensure the customers with a recalled vehicle are taken care of quickly and efficiently.
"We are processing a good size of cars every day," Roberts said. "We are probably doing 40 to 50 a day for the most part."
SALES KEEP CRUISING
GM sales are still doing well despite the recalls. GM dealers delivered 284,694 vehicles in the U.S. in May, up 13 percent compared with a year ago — making the company's best May in seven years and its best total sales since August 2008. Retail sales were up 10 percent and fleet sales were up 21 percent, according to the company.
June Cruze sales were down 20 percent from last June — which was the record month of Cruze sales for the company. In June 2013, GM set a monthly sales record of 32,871 Cruzes. In June 2014, 26,008 were sold. Overall, Cruze sales are up 8.7 percent this year.
"GM appreciates the contributions of the dedicated men and women who work at the Lordstown complex to support the building of the Chevrolet Cruze, our best-selling car that has played a key role in the success of General Motors," said GM spokesperson Katie McBride.
"We also recognize the support of our United Auto Workers partners, retirees, dealers, suppliers, community leaders and customers in the Mahoning Valley," McBride said. "Since 2009, GM has invested approximately $300 million at the Lordstown complex. The outstanding focus on safety and quality at Lordstown helped earn these investments and support the future of GM's footprint in the Mahoning Valley."
Analysts were, once again, shocked with 267,461 delivered GM vehicles in the U.S. last month, and with total sales increasing 1 percent compared with a year ago.
Analyst Karl Brauer for Kelley Blue Book believes GM has done a good job in handling the "unprecedented situation" with the ignition-switch recall and the company will absolutely get through this.
Barra "has done a great job with managing that," Brauer said. "She has come out with a consistent message. She has done really everything anyone put in her position could have done."
The GM product, he said, is solid now and continues to get better.
"It just really is an unfortunate situation where it is a ghost from GM's past," Brauer said. "But if they can do what Mary wants to do and take it as a learning opportunity and further the upgrade, that is really about the best thing they can possibly do."
Dan Pecchia, operator of Pecchia Communications LLC, who has been in tpublic relations for more than 20 years, also sees Barra's leadership as a positive for the company because she is making sure GM is being accountable and not pretending as if it's a small problem.
"I hope that approach can extend down to the lowest level of the organization because that is the way they will be successful," Pecchia said.
CORPORATE FOCUS
GM appointed Jeff Boyer as vice president of safety, added 35 investigators to identify and address issues with its cars, instituted "Speak up for Safety" program to encourage workers to report safety concerns, implemented a Global Product Integrity organization to enhance overall safety and quality performance and reconstructed the safety decision-making process.
GM also started a compensation program for families of those who died or were injured because of the faulty ignition switch. Atty. Ken Feinberg, one of the country's top compensation experts, is leading the compensation program.
Additionally, GM at the request of the National Highway Traffic Safety Administration, hired former U.S. Atty. Anton Valukas to lead an internal investigation into the design failures of the ignition switch that led to fatalities. The question: Why did it take the auto maker more than a decade to announce the recall?
In June, the Valukas' report was released and Barra spoke about the "deeply troubling" report in a town- hall meeting to thousands of GM employees.
"This is not just another business crisis for GM," Barra said. "We aren't simply going to fix this and move on. We are going to fix the failures in our system – that I promise. In fact, many are already fixed. And we are going to do the right thing for the affected parties."
"We have to personalize this challenge," Barra told the employees. "Quality and safety aren't someone else's responsibilities. They are mine. They are yours. We all must feel a personal responsibility to see that this company excels at every level."