Enjoy your Fourth, protect your pets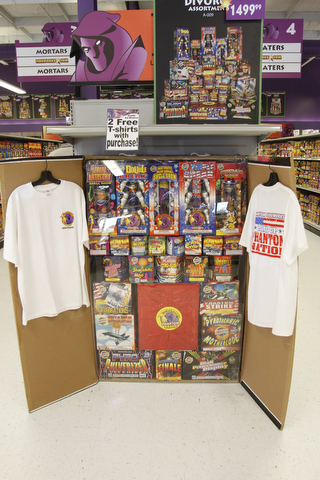 ---
SEE ALSO: • Fireworks business is booming
• Injured man warns of fireworks danger
By JEANNE STARMACK
starmack@vindy.com
YOUNGSTOWN
We all have our traditional Fourth of July activities. They usually start with a flare as we fire up our grills for barbecues and end with a bang as fireworks displays light up our night skies.
Some take place right in our own backyards around a picnic table, and the weather here should cooperate. Today's weather should hold at partly cloudy with temperatures in the mid-70s, giving way to mostly clear skies and upper 40s tonight, says the National Weather Service in Cleveland.
The rest of the weekend is looking good, too, with Saturday mostly sunny and in the upper 70s. Saturday night is predicted clear and in the mid-50s, and Sunday will be partly sunny and in the mid-80s.
Some of our activities take place at a family gathering after a five-hour car ride and a tank of gas. How much is it going to cost us to get there? About $3.68 per gallon, AAA was predicting.
Wherever we are, our kids (and all of us who've never grown up) are likely going to want to try out Phantom Fireworks' latest toy. What is the newest and best seller this year? Let's make some noise!
But please, not in front of your dog. He's usually right there with you, game for whatever activities you've got going. The Fourth of July is different, however. It sends many dogs running for cover, and there are ways to help them through it.
THE FUN AND THE FOOD
This year at Phantom Fireworks' Meridian Road store, assistant manager Jared Kirby has a new favorite he'd like to recommend.
There are a lot of new items in stock, he said. But he especially likes the reloadable mortar kits that change colors.
"You put a shell in the tube then light it," he said. "It breaks in the air and looks like a palm tree coming down."
As it does, it changes colors — blue to red; blue to silver-glitter; purple to green; yellow to red; or green to red.
If you haven't gotten your backyard fireworks by today, you still can. Phantom is open until midnight. Its showroom is at 1260 N. Meridian Road. It also has a location at 9400 N. Market St. in North Lima.
If you ask Brandie Richard's daughter Autumn, 7, what the best part of the Fourth is, it's those backyard blastoffs.
"No," her mother reminded her. "We're going to watch them down at the Covelli Centre." The Covelli event starts at 9:30 tonight in downtown Youngstown.
Brandie, Autumn and Autumn's sister, 4-year-old Bianca, were at Mill Creek Park's Wick Recreation Center this week to watch a ball game. They took time out to reflect on what they like best about the holiday.
It isn't baked beans.
"You KNOW I don't like baked beans!" Autumn corrected Brandie after she suggested she did. Hamburgers, pasta salad — those are fine. The family, who live in Campbell, will get together with Brandie's sisters and their children and her parents, then they'll go to Willow Lake in Champion.
Also watching the game was Jocelyn Blackson of Canfield. She has to work at her job as a medical-lab technician in the emergency room at St. Elizabeth Health Center in Austintown. But she's going to try to watch some fireworks after her shift ends at 11 p.m. Her boyfriend, Victor Cardarelli of Youngstown, works at Giant Eagle in the morning. So he'll get to catch some fireworks.
Kathleen Montgomery of Cleveland was planning to go to Blind River, Ontario, for the holiday to observe a 60-year tradition of staying in lakeside cabins with family and friends.
"It's a great tradition and probably terribly annoying to the Canadians on the lake," she said. "But we fly both flags, and since we're up there on Dominion Day (renamed Canada Day, July 1), we go to those fireworks in town."
Montgomery and her friend Anna Goldman of Twinsburg were eating at Jimmy's on Belmont Avenue last week — which they often do when they work at the Veterans Affairs clinic on Belmont.
Goldman stays close to home, noshing on shish kebab with her husband and 4- and 10-year-old daughters.
That beef is "marinated for a long time," she said. It's one of many delicious traditions on our tables this year.
THE SHOCK
Many a dog is content to stash himself under the picnic table to wait for morsels of Fourth of July barbecue, dropped or offered. But once the food is put away and the kids break out the backyard fireworks, the noise will cause him nothing but fear and stress. This is particularly true in older dogs, said Dr. Wendy Jenkins, a veterinarian with Town & Country Veterinary Hospital in Howland.
"Stress from fireworks will get worse each year," she said.
There are ways to help, she said, and some products to try.
She recommends the Thundershirt, a tight jacket that hugs the dog and uses pressure points to help calm him. It's available at Sam's Club, PetSmart or online.
"I steer away from sedatives," she said. "They're still scared, they just can't respond." If drugs are recommended, she said, she would use an anti-anxiety medication instead.
Don't make too much of a fuss about your dog's being frightened, she said. That will only reinforce that there's a reason to be upset.
"If they want to go into a closet or a tub, that's OK," she said.
"Be positive — give treats when they're being calm," she added.
Never "flood" a dog, she said — which means expose him to the noise so intensely that it's overwhelming in the hopes you'll get him used to it. That won't work.
There are calming colors and scents available, she said.
Another tried-and-true trick: Put the dog in a room and turn up the air conditioner or TV so it can't hear the fireworks.
THE AWE
Once the dog is safely tucked away, grab a blanket and get a good spot for the Fourth's grand finale. We love our pyrotechnics, and not many people know more about them than Dr.George Zambelli. His family has been in the business of lighting up the skies for generations.
"Our family is fourth-generation," he said last week from his office in New Castle, Pa. "My son Jared is a Penn State student and will be doing Pittsburgh's show this year."
What can we expect to see flashing across the night sky this year?
"There are scatter shells, which kind of break, and different light projections go out and scatter through the sky," he said. "Those are new."
Zambelli said strobing waterfalls, pixie dust and smiley faces have been popular effects in recent years and will be back for encores, depending on which shows you attend.
Not all communities get the same effects, he explained.
A show such as Pittsburgh's might have 400 to 500 different pyrotechnic effects, with stacking from low to midlevel to 700 feet high, he said.
A smaller community will have 100 to 200 effects, and not all effects can be used at every venue.
"Our job is to give the best display we can for the dollar value for that community," Zambelli said.
He said that this year, the colors will be more intense. So no matter what you see up there, it's going to be a bold, bright finale to your Fourth.
HOLIDAY HAPPENINGS
All events are today unless otherwise noted.
MAHONING COUNTY
Austintown: The Austintown Historical Society will host its 38th annual ecumenical service 8:30 a.m. at Austin Log Cabin, 3797 S. Raccoon Road. The Fitch Color Guard will present colors as a Fitch trumpet player performs "To the Colors." Keynote speaker is Rev. Charles Cole of Austintown Baptist Church. A continental breakfast will follow.
Austintown: Austintown's 38th annual Fourth of July parade will begin at 2 p.m. on South Raccoon Road and proceed to Kirk Road north to Falcon Drive.
Boardman: Boardman Park, 375 Boardman-Poland Road, will host an Independence Day celebration with fireworks at 8 p.m. Sunday. The United States Army Field Band will perform at 8 p.m. and fireworks by Phantom Fireworks will follow at approximately 9:45. Take a lawn chair or blanket. Concessions available. Rain location will be the Boardman High School Performing Arts Center.
Canfield: Canfield will host the following events for the holiday: Kids' foot race, for age 12 and under, beginning at Farmers National Bank, 8:15 a.m.; Firecracker Four Mile Run, begins at Dairy Queen, 8:30 a.m.; pre-parade performance with J.D. Eicher and the Goodnights, 8:45 a.m.; kids' bicycle parade judging at Gate 5 of the Canfield Fairgrounds, 9:30 a.m.; awards presentation for race winners, 10 a.m. at the reviewing stand; parade, leaving Fairgrounds at 10 a.m. and traveling to the green by 10:30; introduction of parade grand marshal, awards presentation, caricatures at the green and children's games on the north green, all after the parade; additional performance by J.D. Eicher and the Goodnights, noon; Youngstown Symphonic Band performance in the gazebo, 1 p.m.
Youngstown: A downtown Youngstown fireworks display will take place at 9:30 p.m. near the Covelli Centre. There is no parking offered at center lots.
Youngstown: Warehouse 50, 50 W. Federal Plaza, will host its Party on the Plaza with entertainment by Stolen Rhodes from 5 p.m. today to 1 a.m. Saturday.
TRUMBULL COUNTY
Howland: Howland Township will host a holiday parade and celebration. A Stars and Stripes 5K Run and Walk sponsored by St. Joseph Health Center will begin at 8 a.m. A 1.5-mile parade along East Market Street will start at 10 a.m. at the Hunter Woods Plaza and finish at Howland High School. From 11 a.m. to 3 p.m. there will be music, pizza-eating contest, concessions, game booths, music and other entertainment. A car and bike show also will take place from 11 to 3, with judging beginning at noon. A pet parade will begin at noon.
Newton Falls: Newton Falls Fourth of July committee will host events throughout the week, as well as the holiday. Music will be offered nightly in the township community center, including Guys without Ties from 8 to 11 p.m. Saturday. Events planned for today are: a parade, lining up at Broad Street at 9 a.m. and stepping off at 10 a.m.; Dixie Soul country band from 6 to 10 p.m. in the community center; and a free fireworks display, rain or shine, at 10 p.m.
Warren: The Packard Band will host a free Fourth of July spectacular starting at 8 p.m. featuring the W.D. Packard Concert Band, conductor Dr. Stephen L. Gage, vocalist Helen Welch and fireworks provided by Zambelli Fireworks Internationale. The event will take place at Packard's South Lawn band shell. In inclement weather, the concert will be indoors.
COLUMBIANA COUNTY
Columbiana: Firestone Park will be the site for all-day events celebrating the holiday. Events will take place rain or shine, excluding the fireworks; if the fireworks are rained out, they will be rescheduled and announced at a later date. Planned events include a fishing contest for age 3 to 12 (bring your own pole) and a canoe race, both at the Duck Pond; pet contest at the football field's west end; family games and activities at the football field east end; ice- cream-eating contest for age 3 to 12 and watermelon-eating contest for age 6 to adult, both at concession area; music in the gazebo and on the hill throughout the evening; sidewalk chalk event (find chalk and information at Columbiana Chamber office); flag-bearing skydivers at 8 p.m.; and a fireworks display by Phantom Fireworks at 10 p.m. A drawing for a 50-50 raffle will take place immediately after fireworks; tickets will be on sale all day at Chamber of Commerce tent.
MERCER COUNTY
Mercer, Pa.: "A Patriotic Extravaganza" will be the theme of a concert at Mercer County Courthouse Square. Makin' Changes will provide warm-up music at 6 p.m. for the Mercer Community Band at 7:30 p.m. Vocals by Gregory McClelland and flute by Josephine Kost will be featured. An ice-cream social with the Mercer Band Boosters will be offered from 6 to 9 p.m. In inclement weather, the events will move to the Mercer High School auditorium. For information, visit www.mercercommunityband.com.