Sad end to Gina's troubled life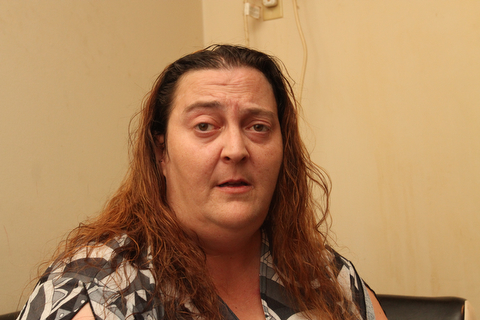 ---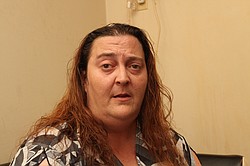 Photo
William D. Lewis | The Vindicator.Jacqueline Bacher, Gina Burger's biological mother
Ricki Williams Charged in Gina Burgers Death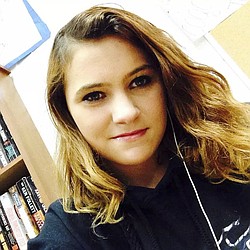 Video
Ricki D. Williams IV, 18 of Youngstown, arrested in connection with Gina Burger's death, was given a $750,000 bond on multiple felony charges today. Williams faces felony charges of aggravated murder, two counts of kidnapping, intimidation, tampering with evidence, two counts of abduction, possession of criminal tools, abuse of corpse, and one misdemeanor charge of criminal trespass
RELATED: Prosecutor: Williams 'would have killed the first person he saw'
By ROBERT CONNELLY
rconnelly@vindy.com
AUSTINTOWN
On Saturday, Jackie Bacher thought about the past 24 hours and chain-smoked — nervously answering a reporter's questions about her daughter, Gina Burger.
The 16-year-old had been identified the previous night, found dead in a Mercer County landfill.
"My baby went through a lot in her 16 years and now she gets to rest," Jackie said.
She never expounded on what those 16 years included, and no one could have imagined.
Gina's 23-year-old half-sister Ashley DiRenzo, born to Jackie after a relationship with a Youngstown man, chimed in.
"I don't know why this happened. She was only 16, and she had such a bad life," Ashley said. "... That's my baby sister."
A trail of police reports and court documents helps to explain how rough life was for Gina.
She was born into a Florida household repeatedly investigated for drugs, domestic violence and neglect.
By 3, she was adopted with her brother, but separated from her other two siblings — who were adopted by another family. Gina's adoptive parents divorced about a year later, and the family moved to Texas.
The four siblings kept up correspondence by phone and letters for about five years after they were separated, but that eventually stopped.
As Gina grew older and social media became available, she was able to reconnect with one of those lost siblings, Ashley.
After problems arose in Gina's home life in Texas, her adoptive mother, Michele Bennett, sought a way to help her. A visit to see Ashley was decided, for just a few weeks.
Bennett says she did not know their birth mother, Jackie Bacher, was in the same apartment as Ashley.
What followed was a six-month ordeal that separated Gina from her legal mother, Bennett, who demanded that Austintown police track her daughter down.
Police reports tell two tales of Gina:
One mother said Gina was crying on the phone wanting to come home; the other saying she was fine and wanted to stay in Austintown.
On June 23, she was killed by a single stab wound to the chest. Ricki D. Williams IV, 18, of Youngstown is charged with aggravated murder in her death.
Her mangled body was removed from a Mercer County, Pa., landfill.
As Ashley said: "We can't even have an open casket to see her body at all."
THE MOTHERS
Jackie Bacher repeatedly portrayed herself to local TV and newspapers as Gina's mother.
But she is not — at least not legally.
Legal mom Michele Bennett lives in Texas. She called Gina's death "her fault" and said there had been a lot of "should have, could have, would haves" in the last week.
She let Gina visit Ashley beginning Dec. 24, 2013, for a few weeks. The teenage Gina had been acting up, missing school and filed a complaint of abuse about the Bennetts.
Because she had found Jackie Bacher and Ashley via social media, Michele hoped that a visit would help.
Bacher lost her daughter, but Bennett fiercely defends against the idea that Bacher is the real mom.
"You lose your children and then, 15 years later, you decide you want to be a mother again? It just doesn't work that way," Bennett said this week.
THE SEPARATION
When Gina was born June 8, 1998, to Kevin and Jackie Bacher in Florida, she was the fourth child in that Florida household. She was the second born to the Bachers, who also parented two children from a previous relationship Jackie had with a Youngstown man. One of those two other children is Ashley.
Documents obtained by The Vindicator show that within months of Gina's birth, Florida officials investigated the Bachers for claims the children were left alone hungry and thirsty. Also, the Bachers were accused of openly using drugs in the household.
"The second [report] alleged the parents smoked crack cocaine in front of the children," one official wrote.
By 1999, the Florida Department of Children and Families was unable to locate the family amid reports the Bachers had moved back to Ohio.
For a short time, that curtailed the Florida officials' case. But then the family returned to Florida and became the focus of new charges in 2000. The charges accused the Bachers of dealing drugs, and that the four children had witnessed domestic violence.
That year, the Hollywood Police Department arrested Jackie, charging her with driving violations and possession of cocaine.
Eventually, the Florida Department of Children and Families took custody of the four children. Gina and a brother went to one foster home, while Ashley and another brother went into a separate home.
Michele Burger, Kevin Bacher's stepsister, was approached by a family member who wanted to keep the family together. So Michele and her husband at that time, Mark Burger, began the process of adopting Gina and her brother to move them to their Virginia home.
In 2001, a judge in the 17th Judicial Court in Broward County, Fla., terminated the rights of the Bachers and the Youngstown man as parents to the four children.
While the Burgers would eventually divorce and Michele would marry Dennis Bennett and move to Texas, she always had custody of Gina.
Jackie Bacher would continue to mount a criminal rap sheet in Florida that included, by 2005, dealing in stolen property, fraudulent use of a credit card, petit theft and unlawful use of an identity.
In 2007, Kevin Bacher died of a drug overdose.
When asked by The Vindicator to discuss those Florida years, Jackie Bacher said, "No, I don't want that in the paper at all."
THE DISTRAUGHT MOM
Initially, Jackie Bacher had talked about how Gina had recently moved to Austintown from Texas due to a sexual assault.
Michele Bennett disputes the claim, saying there have never been charges or arrests. A court records search doesn't show any such case. The sexual-assault claim was one of a line of episodes by the then-15-year-old Gina over the course of four to five months, Bennett said. Bennett looked to Gina's half-sister Ashley as an option to reach out to the girl.
Tuesday night, Jackie Bacher said Gina arrived here for only a visit — not a new living situation.
Bennett said she had tried to retrieve her daughter this spring, and had called Austintown police to check on her welfare a few times. Austintown police provided a copy of one of those reports, from Dec. 31, 2013 — about a week into Gina's visit.
Police were unable to find Gina, Jackie or Ashley because they were at a residence in the Pembrook Apartments area, just on the other side of Burkey Road from their Compass West apartment. The report said once police tracked them back to Compass West, Gina was fine. She told police she did not want to go home.
Bennett said communication began to erode over the months and she had even sent her own sister to Youngstown to find Gina, with no luck.
Ashley and Bacher said Gina had grown close to Jayden DiRenzo, Ashley's 2-year-old son, during her visit.
THE LAST WEEK
By Bacher's and police accounts, Gina went to her neighbor, now identified as a woman on the third floor, to get some tea bags. Outside, it was pouring rain. Inside the complex, she wore only socks and no shoes for the quick visit.
After being gone for two hours, Bacher alerted authorities. She was convinced, given the rain and Gina's lack of shoes, that she had not left the complex.
Ashley said Wednesday that Bacher knocked on the neighbor's door twice before calling police. Ashley said she spoke to that neighbor, who was later identified in a police report as witnessing Gina die and also being threatened with her own death.
The neighbor told Ashley: "The second time [Bacher] knocked on the door, Gina was dead."
The half-sister said the neighbor recounted Gina's words before she was stabbed. "She kept saying, 'Let me go home. I won't say nothing.'"
Ashley continued, sobbing: "My baby girl."
While waiting for authorities to arrive the night of June 23 for the initial missing person report, Bacher saw Ricki D. Williams IV struggling to carry a child's playpen from the complex to a car trunk. Williams even offered to sell the playpen to her.
It was later revealed in a court document that when Bacher saw Williams struggling with the playpen, Gina's body was inside.
According to the court document, Bacher told police she thought it was odd when she saw it in the trash receptacle behind her building the next morning that Williams had offered to sell the playpen to her.
THE FINAL BATTLE
While Jackie Bacher had told The Vindicator that she and Ashley were working with officials to claim Gina's body and cremate her remains, Michele Bennett initiated legal action to assert her role as legal custodian.
That led to Kinnick Funeral Home becoming embroiled in a tussle between both sides. By Wednesday, Bennett had made arrangements for the body to be interred at a family burial site.
"I don't believe Jackie knows that I have custody of the body," Bennett said, adding she had begun the sad process of writing her daughter's obituary.