Prosecutor: Williams 'would have killed the first person he saw'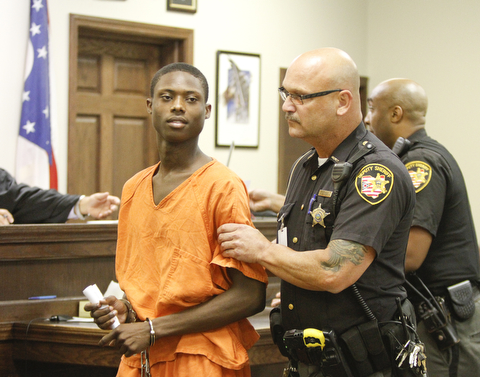 ---
By ROBERT CONNELLY
rconnelly@vindy.com
AUSTINTOWN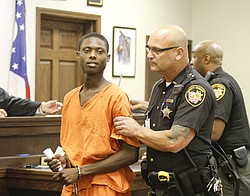 The Vindicator ( Youngstown)

Photo
ROBERT K. YOSAY | THE VINDICATOR Deputy Mike Taylor escorts suspect Ricki D. Williams IV, 18, of Youngstown, into court. Williams faces felony charges of aggravated murder, kidnapping, intimidation, tampering with evidence, abduction, possession of criminal tools, abuse of corpse and misdemeanor criminal trespass in the Austintown murder of Gina Burger.
Ricki Williams Charged in Gina Burgers Death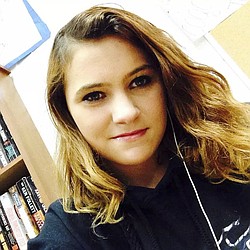 Video
Ricki D. Williams IV, 18 of Youngstown, arrested in connection with Gina Burger's death, was given a $750,000 bond on multiple felony charges today. Williams faces felony charges of aggravated murder, two counts of kidnapping, intimidation, tampering with evidence, two counts of abduction, possession of criminal tools, abuse of corpse, and one misdemeanor charge of criminal trespass
Ricki D. Williams IV may have carved "kill fo fun" in the stairwell of the apartment complex where he is accused of killing 16-year-old Gina Burger.
Williams, 18, of Youngstown, is in Mahoning County jail on a $750,000 bond for multiple felony charges, and could face the death penalty if convicted of the grisly homicide.
"His purpose was to kill someone that day; didn't matter who it was. He just happened to come across this young girl," said Ken Cardinal, an assistant county prosecutor.
"I've been doing this for 27 years, and this is one that hits hard because she was an innocent victim. ... He would have killed the first person he saw," Cardinal said.
Williams faces charges of aggravated murder, two counts of kidnapping, intimidation, tampering with evidence, two counts of abduction, possession of criminal tools, abuse of corpse and one misdemeanor charge of criminal trespass.
He entered a plea of not guilty on the misdemeanor criminal-trespass charge Wednesday morning in Mahoning County Area Court. He has a pretrial hearing at 9 a.m. Wednesday, where he can enter a plea on the felonies. In most cases, pleas to felony charges are not allowed at arraignment but at the pretrial hearing.
According to the police report, Williams burglarized a Youngstown home June 23 and stole a vehicle there that he then drove to 987 Compass West Apartments where Burger is suspected to have been killed.
The theft victim found his vehicle that same night in the back of the apartments, with Williams still inside. The two exchanged words, and Williams made threats that he had a gun. The incident was reported to township detectives June 27.
The same night as the theft Williams is alleged to have killed Gina in the apartment complex.
"We had information that the little girl never left the apartment complex, so whoever killed her had to be in" the complex, Cardinal said.
According to a report provided by Cardinal, Jacqueline Bacher, Gina's birth mother, told police Gina had associated with a resident of a neighboring apartment and Williams. The report also said Bacher saw Williams try to carry out of the back entrance to Compass West a child's playpen, but was struggling.
At one point, Williams saw Bacher and asked if she wanted to buy the portable playpen. He had it open and was trying to fit it into the trunk of the vehicle he is accused of stealing that night.
Bacher then told police June 24 she observed what appeared to be the same playpen in the trash receptacle, which was odd to her because he tried to sell it, according to the report.
Garbage from 18 trash bins at Compass West is delivered to Tri-County Industries in Grove City, Pa., where Gina's body was found June 25.
Bacher told Austintown police that Gina had gone to ask a neighbor for tea bags June 23. She was reported missing two hours later.
During the investigation at the complex, police found a fresh carving of "kill fo fun" in the stairwell of the first floor, as well as three holes in the drywall.
Comparing Burger's stab wound with the three hole marks, authorities found the holes "could have been made by a similar size cutting/stabbing instrument," according to the report.
Austintown police obtained a search warrant for the apartment neighboring Bacher's on the third floor Monday and found apparent blood splatter on the neighbor's kitchen wall, two kitchen chairs and evidence of a "large volume blood stain on the floor" between the kitchen and living room.
Police talked with the neighbor Tuesday, who told authorities Gina was stabbed by
Williams in her apartment.
She told police Gina's body was moved in the portable playpen from the apartment to the large trash bin, and she participated because she feared Williams would kill her, too, the report said.
The neighbor said Williams brought Gina into the apartment June 23 and began beating the neighbor. After a brief time, Williams took them into the kitchen "where he allowed them to have a last cigarette," the report said. The report then said Williams stabbed Gina with a knife that he had and made the neighbor watch her die, and then they took Gina's body to the trash bin.
The knife has not been recovered.
The next morning, June 24, they moved the playpen to obscure any view of the body. The neighbor then drove Williams to a residence near Martin Luther King Boulevard in Youngstown.
Once there, Williams placed the gloves and a hooded sweatshirt that he'd worn the day of the killing into a backpack. Austintown police recovered the items Tuesday, according to the report.
U.S. Marshals apprehended Williams on the criminal-
trespass charge, related to the car theft, on Lakeview Avenue on Youngstown's West Side.
The county grand jury meets today at its regularly scheduled time and may consider the case.

According to juvenile-court records, Williams was put on probation in 2008 and 2010 on charges of domestic violence, and he was also put on probation for an aggravated-menacing charge in 2010.
Additionally in 2010, Williams was sent to a treatment facility after being convicted of assault. In 2012, he was placed in the custody of the county Children Services Board after a domestic-violence charge because of issues with his family. In 2012, he was convicted of felonious assault and sent to a Department of Youth Services correctional facility for six months.
Juvenile-court records also list Williams as homeless.
County Sheriff Jerry Greene thinks he may have a vague memory of Ricki Williams IV, then 7, pondering which remote-controlled car he wanted for Christmas 2002, during Greene's first participation in the annual Shop with a Cop program.
Greene, then a deputy, was featured in a Vindicator story about the program, which is sponsored by the Fraternal Order of Police and the Salvation Army.
Greene said he has participated in the program most years since then. "It's something I do regularly if scheduling permits," he said.