Martinos, Smida ready for Norwalk's drag racing
---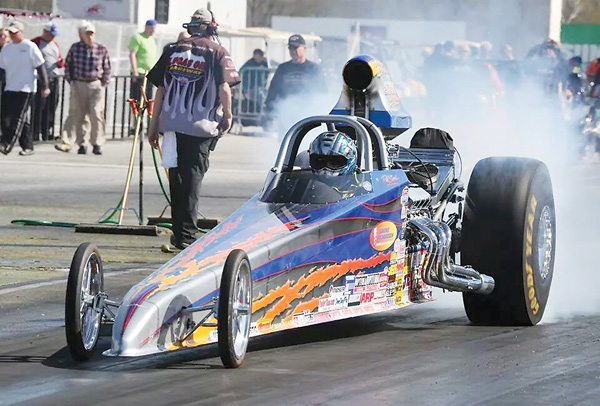 Photo
Phil Smida II of Canfield will be competing in two categories Sunday at Summit Motorsports Park: Super Gas and Super Comp.
By Greg Gulas
Two Mahoning Valley teams will compete this weekend when the National Hot Rod Association stages its Summit Racing Equipment Nationals at Summit Motorsports Park in Norwalk.
Youngstown's Tom and Ryan Martino of Martino Motorsports eye the winner's circle with their K&N Filters/Victory 1 Performance Top Dragster while Canfield's Phil Smida II of Phil Smida Motorsports is hopeful in two different categories — Super Gas and Super Comp at Summit Motorsports Park on Sunday.
"Phil is a very talented driver and has been a threat all season, winning numerous rounds at various competitions," said Ryan Martino, race engineer for the Martino Motorsports. "He's an excellent driver and it sure would be great to share the stage, hoisting an event trophy alongside him and his family on Sunday afternoon."
This event is the closest to home for both teams on this year's NHRA racing schedule.
"Right now, it's the busiest part of our racing season," Tom Martino said. " We are coming off a great weekend of Top Dragster competition at the PDRA Summer Drags at US 131 Motorsports Park in Martin, Mich., and feel like we have a competitive, consistent car to bring home an event win.
"We've competed at Norwalk since the 1970s and know the track inside and out," he said.
The Smida Racing Team battled generator problems Tuesday in preparation for today's time trials, but are now set.
Lifelong area residents, the Smidas are owners of SOS Security.
Phil Smida said he knew long before he climbed behind the wheel of his 1,000 horsepower dragster or Cavalier that drag racing would be a lifelong passion;.
Smida got his start in the NHRA Jr. Drag Racing League in 1998. It's a league designed for ages 8-18 on NHRA's eighth-mile tracks in halfscale-size dragsters.
During his first two years, Smida advanced to the final round of various competitions and claimed his first career championship at Quaker City Motorsports Park in 2001.
"I would love nothing better than to stand alongside Ryan and Tom Martino with all of us holding up a championship trophy," Smida said.
Smida attended Edmond Richardson's Drag Racing School in 2001 and was the 2002 High School track champion (in a 1974 Olds Cutlass).
He's won several high dollar bracket races over the years and was team member of the Summit Motorsports Park Division 3 NHRA bracket finals in super pro category (dragster) in 2007.
In 2009, Smida was team member of Summit Motorsports Park Div. 3 NHRA bracket finals in the pro category (1988 Oldsmobile).
A two-time Jegs Sports Nationals super comp champion (2011-12), he followed that up in 2013 with the Chevrolet Performance U.S. Nationals win at Indianapolis (Super Gas category).
He also had a runner-up finish at the Moser Shoot-out Race in Columbus, earned a final-round appearance in Super Comp and Super Street in Spectacle of Speed in Indianapolis and won the NHRA Div. 3 Super Street Division Championship in Columbus.
Ranked in the Top-10 in both NHRA Div. 3 Super Comp and Super Street, Smida won the Super Comp Div. 3 race at Rt.66 Chicago this season.
"It's how bad you want it and then giving it your all," Smida said. "You have to do what is necessary in order to get the job done."
Competition continues to drive the Martino Motorsports Team.
"Unlike the competition, we are from Youngstown and proud to call Youngstown our home," Tom Martino said. "We're forged from the same fire, iron and steel mold that helped put our city on the map.
"We all get knocked down on a daily basis, but the difference between 'us' and the rest of the world is that Youngstown knows how to get back up and get the job done," he said. "When we hit the track for our first qualifying attempt at Norwalk, it's all about utilizing that competitive Youngstown edge and bringing home a win for the fans, associates of our race team and of course, the City of Youngstown."
You can follow Team Martino's progress on their social media sources at www.facebook.com/martinomotorsports; www.instagram.com/martinomotorsports ; www.youtube.com/martinomotorsports; and www.twitter.com/martinoracing.
Team Smida will provide daily updates on their Facebook page by just clicking on the Like button.
Overall results can also be found on Summit Motorsports Park's website at www.summitmotorsportspark.com.