Surgeons remove brain tumor from Youngstown man through his nose
---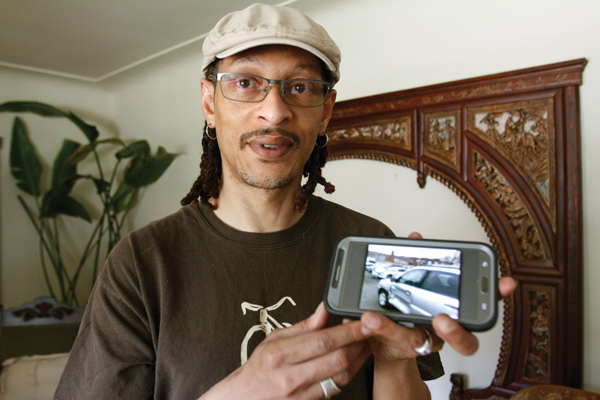 Photo
Robert Matthews, a Youngstown hairdresser, shows a picture of his car, which was broadsided last November, causing his head to strike the window, a blow that he believes caused a brain tumor at the base of his skull to grow and require surgery. In March, he underwent a relatively new through-the-nose technique at Cleveland Clinic to have the tumor removed.
YOUNGSTOWN
Robert Matthews of Youngstown came out of potentially life-threatening brain surgery to remove a tumor at the base of his skull without a scar on his head.
Using an innovative technique, Cleveland Clinic physicians — a neurosurgeon and an ear, nose and throat surgeon — accessed Matthews' skull through his nose rather than performing the traditional craniotomy.
Part of the Minimally Invasive Cranial Base and Pituitary Surgery Program at the Cleveland Clinic, hospital officials say the technique is becoming more widely accepted, but is still being done at only 12-15 hospitals in the nation.
It is typically done for skull-base tumors, which are dangerous to remove surgically because they typically are very close to critical nerves, blood vessels and structures in the brain, neck and spinal cord.
Matthews, 47, is glad the Cleveland Clinic is one of the hospitals that use the technique and also is glad his best friend, Joseph Rochette, recommended he seek a second opinion at the clinic. He first was told the tumor removal would require a craniotomy.
A craniotomy involves cutting the skin covering the skull and surgically removing a part of the skull bone to access the brain.
In Matthews' case, because his tumor was at the base of the skull, it would have also involved lifting or retracting the frontal lobes to get at the tumor which could cause swelling and a longer recovery time.
Matthews, a beautician who formerly worked as an accountant, said he definitely knows he had brain surgery in March and still is feeling some of the effects.
But he said doctors told him the difference in recovery time is four to six weeks compared to four to six months for a craniotomy.
After his surgery March 19, he was in the hospital six days. He still is having physical and occupational therapy at home and doesn't completely trust his memory.
Also, he developed what doctors believed was leakage of cerebral or spinal fluid, causing him a lot of pain. However, the cause of the pain turned out to be a severe sinus infection which required sinus surgery in April.
But nearly four months out, he is cleared to drive a car and is beginning to put feelers out to beauty salons to resume work, probably parttime to begin with, he said.
The tumor first was discovered more than six years ago while he was living in Washington, D.C. But it was not large enough to require surgery, , he said.
However, he was broad-sided Nov. 12, 2013, on the driver's side of his car, about two blocks from his home, causing his head to violently strike the door window.
When he woke up in the hospital, he had lost his memory.
"It was the most frightening thing, not knowing my name. It was horrifying," Matthews said.
His concussionlike symptoms and headaches got worse after the accident, so he got an MRI. Doctors discovered the brain tumor, a meningioma, at the base of his skull, had grown to 4.5 centimeters after the accident.
Though the tumor was noncancerous, it was pressing on the brain, and surgery was necessary to prevent damage to the brain.
Matthews' surgery required two surgeons — Dr. Pablo Recinos, a neurosurgeon who brought the through-the-nose technique to the Cleveland Clinic, and Dr. Raj Sindwani, an otolaryngologist — working in tandem.
Using special instruments, they cut a 2-centimeter opening through the dura (brain covering) and did the removal through that opening, an operation that took 10 hours.
During the surgery, Matthews wore a "neuronavigation headband," in effect a global positioning system (GPS), which enabled the surgeons to see inside his head so they could guide their surgical instruments.
Dr. Recinos said the technique using endoscopes to approach the skull base was first used for smaller tumors in the late '90s but has been expanded to larger tumors in recent years. His hope is that in the future, it can be used to remove brain tumors in other areas beyond the base of the skull.
"You have to coordinate what you are doing. It is sort of like learning to dance together," Dr. Recinos said.
"If you think about it, it is pilot and co-pilot interchangeably," said Dr. Raj Sindwani, who has special training in endoscopic sinus surgery — rhinology.
He navigates the instruments through the nose and sinuses, and once they get to into the brain itself, Dr. Recinos takes the lead.
The constant feedback back and forth makes it function more effectively, Dr. Sindwani said.
Matthews said he is anxious to get back to his old routine.
"I was so active, working in a salon in Twinsburg and volunteering at the Youngstown State University theater department, that being inactive is hard," he said.
"People say to me, 'You don't look like you had surgery,' but I feel like I did," Matthews said.
"Still," he said, "I'm happy with the decision I made. My recovery is amazing compared to where I was in March."