Growing Degree Days can anticipate life cycles Controlling insects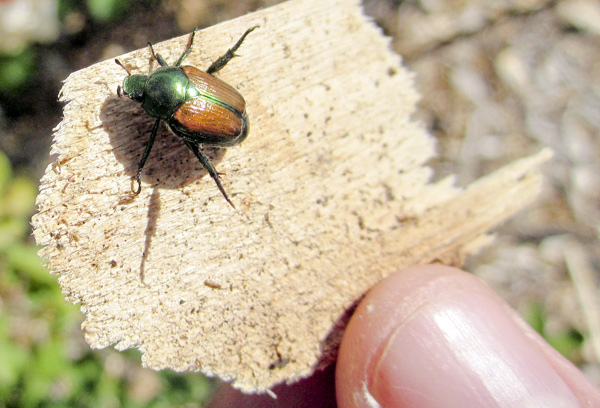 ---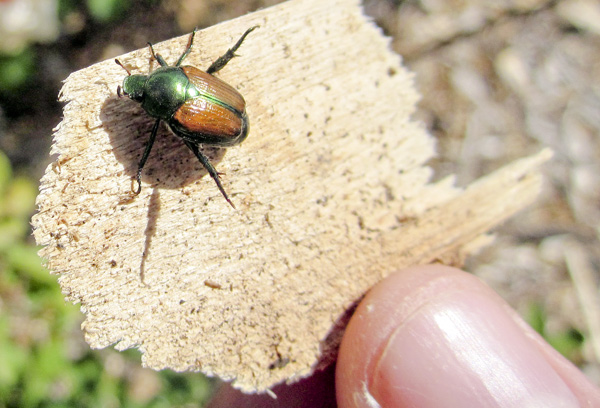 Photo
This undated photo provided by he North Dakota Department of Agriculture shows a Japanese beetle. The beetles have turned up in North Dakota for only the second time in more than half a century, but officials do not believe it has anything to do with extreme drought in states where the destructive pests are more prevalent.
By David Sprague
OSU Ext. master gardener volunteer
Growing Degree Days (GDD) is a measure of accumulated heat during the growing season. One application for GDD information is to anticipate the life-cycle events of insect pests and use this information to time the effective use of pest controls. Insects are cold-blooded, which means they are dependent on the environment to provide the warmth they need to develop and grow. Research has shown that by monitoring daily temperature highs and lows we can accurately predict the life-cycle stages of most insect species. This temperature monitoring is what GDD does for you.
For gardening in Ohio, GDD monitoring started on March 1, and data continued to accumulate each time the average daily temperature was above 50 degrees. Using a system of 10 weather stations, the Ohio Agricultural Research and Development Center (OARDC) tracks the estimated GDD for each ZIP code in Ohio. Gardeners can access this information by going to the OARDC GDD website at http://www.oardc.ohio-state.edu/gdd/ and typing in their ZIP code.
OARDC is the research partner of OSU Extension at the state level.
Of course different pests develop at different rates over the spring and summer.
For bagworms, the larval stage is from GDD 600 to 900. These little black crawlers started eating on your arborvitae and other evergreens just about two weeks ago. Since a bagworm lives most of its life in its protective bag, it is most vulnerable to insecticide treatment in this larval stage (including the use of organic insecticides). The OARDC web site includes a chart with GDD information for various insect pests.
The dreaded emerald ash borer began to fly this week, with 50 percent of the adults emerging over the weekend. These shiny green insects are killing ash trees all over the Mahoning Valley – and quite quickly.
Japanese beetles live most of their lives as grubs in the ground and do not emerge as adults until the GDD reaches 950 to 1,000. Since the daily GDD approached 1,000 this past weekend, gardeners need to be on the lookout for Japanese beetles and take steps to control them. In most gardens physical removal is adequate for control. Please note: Traps are not recommended for Japanese beetles; they attract even more beetles.
GDD is a more accurate predictor of insect life-cycle events than using the calendar. An early spring will speed events up while a late spring like this year slowed them down some. Because GDD starts anew each year it accommodates for any yearly variations. Keep in mind that the GDD reading from OARDC and the GDD in your backyard may not be exactly the same. But it's still the best estimator for when things are about to happen.
For more on japanese beetle control, go to: http://go.osu.edu/japanesebeetles.