Valley residents commemorate 50th anniversary of Civil Rights Act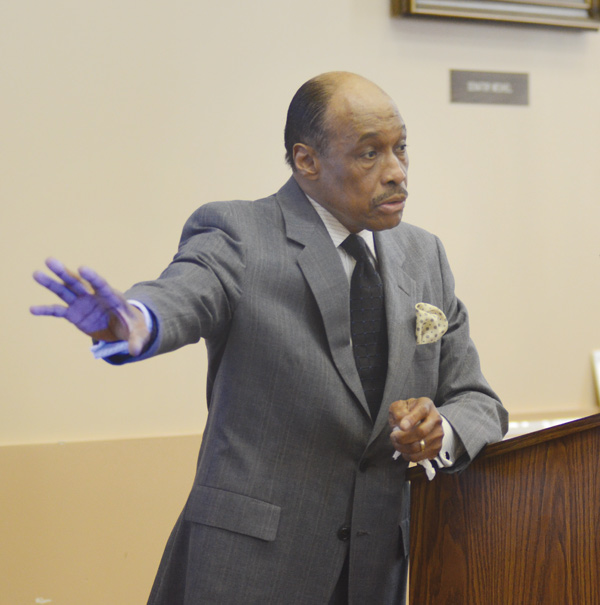 ---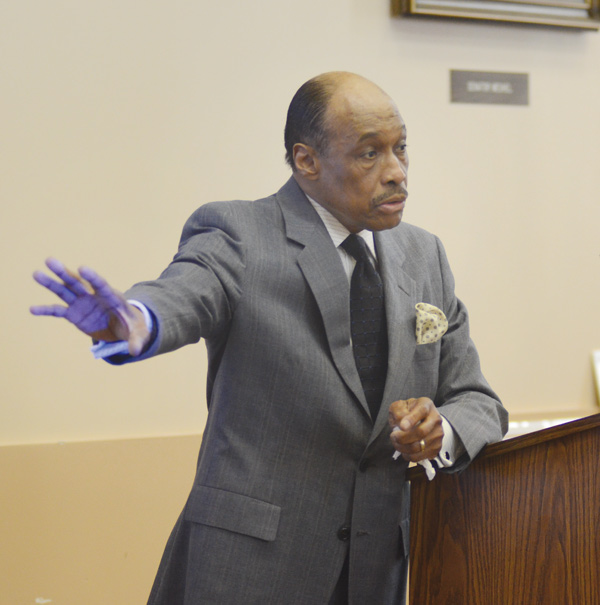 Photo
Former YSU art professor Al Bright speaks at a ceremony in Youngstown commemorating the 50th anniversary of the Civil Rights Act of 1964.
By LINDA M. LINONIS
YOUNGSTOWN
About 100 Valley residents gathered Tuesday night to focus on "Remembering What is Civil and Doing What is Right" in recognition of the 50th anniversary of the signing of the Civil Rights Act.
President Lyndon B. Johnson signed the bill into law July 2, 1964, 50 years ago today.
The Rev. Dr. Martin Luther King Jr. Planning Committee of the Mahoning Valley sponsored the commemoration and conversation at Youngstown Historical Center of Industry and Labor, 151 W. Wood St.
Al Bright, artist and retired Youngstown State University professor, shared a personal insight into discrimination and segregation that he experienced as a child.
"It made me a stronger human being," he said.
He recalled Little League beginning in 1951 in Youngstown for 8- to 12-year-old boys, sponsored by the Uptown Kiwanis Cub. "I played on one of the first teams," Bright said. "I was the only African American."
To celebrate a winning season, the team went to South Side Pool for a picnic. But the pool manager shunned the 11-year-old Bright, barring him from entry and telling him if he would touch the water, the pool would be drained. Bright, brought up with a religious background at Tabernacle Baptist Church, deferred to the elder white man.
"Mrs. Mulligan was the only one with courage to talk to the pool manager about letting me come in," Bright recalled. When the manager relented, Bright's teammates pulled him around the pool in a dingy. "I looked everyone in the eye and no one looked back," he said. He then was forced outside the pool area.
"I left a totally different person," Bright said. "I came a hero and left a pariah."
But Bright didn't want retaliation. "I felt sorry for the people who didn't stand up," he said. "I've modeled myself so no one could come at me with that kind of stupidity again.
"It was a life-changing experience," he said. "I made a commitment in my professional life to help others and take that experience and move forward and achieve greatness."
The Civil Rights Act was enacted to stop the kind of discrimination that Bright endured. It banned discrimination in public accommodations and voter registration. It barred racial segregation in schools, employers from discriminating on the basis of race, religion, sex or national origin and discrimination by government entities receiving federal money.
U.S. Rep. Tim Ryan of Howland, D-13th, said civil rights was "elevated to a moral issue."
"It was a code of respect and law applied so that all were protected," he said.
Ryan said the non-violent approach advocated by MLK "was a strategy that worked."
State Sen. Joe Schiavoni of Boardman, D-33rd, wondered what MLK would think of what has happened over the 50 years. He cited the youth-oriented parade for nonviolence in which young people stand up as advocates for peaceful protest.
Members of the MLK committee also spoke briefly. Penny Wells offered a welcome. The Rev. Kenneth Simon spoke on "Why We Are Here." He said people of all races, creeds and colors must show solidarity "so that we truly become one nation." The Rev. Jim Ray said, "We need each other to survive" and led a closing prayer.
The Rev. William Blake, director of YSU Student Diversity Programs, offered the opening prayer. Jim Tressel, YSU's new president, made a surprise appearance. Elder Cynthia Wright-Palmer led the song, "I Need You to Survive."
Other speakers offered viewpoints on civil rights. They were the Rev. Bob Offerdahl, who has worked with the Sioux; Harry Meshel, Youngstown State University trustee and former Ohio state senator and former chairman of the Ohio Democratic Party; Frank Nolasco of OCCHA, Hispanic American Civic & Cultural Organization Inc.; Steven Mickel, president of Youngstown National Association for the Advancement of Colored People; Dr. Abdul Ghani, Islamic Society of Greater Youngstown; Florence Harshman, representing the Jewish community; Anita Davis, representing Pride Youngstown, the lesbian, gay, bisexual, and transgender community; and Jaladah Aslam, president of Youngstown Warren Black Caucus.