Published: Wed, July 2, 2014 @ 12:00 a.m.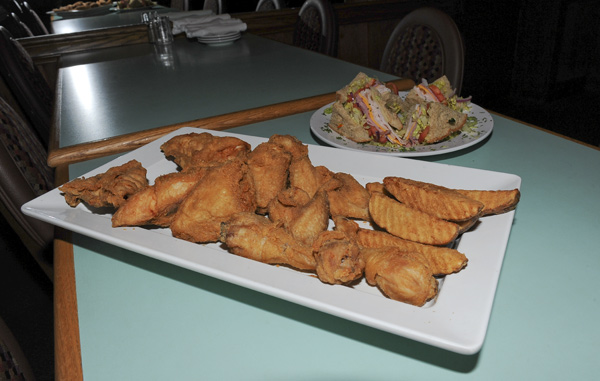 Photo
The signature dish of Buena Vista Cafe, the fried chicken.
If You Go...
Where: Buena Vista Cafe
Address: 1305 Buena Vista Ave. NE, Warren
Phone: 330-372-4493
Website:buenavistacafe.biz
Hours: Sun., 11 a.m. to 6 p.m. (carryout and banquet only); Mon., 11 a.m. to 8 p.m.; Tue. through Thurs., 11 a.m. to 9 p.m.; and Fri. and Sat., 11 a.m. to 10 p.m.
By Mark Smesko & Michael Vallas
Last month was an Italian dish; this month it is a Greek feature. Seems apropos, as one of us is half-Italian and half-Greek, while the other is 100% miserable.
But we are both Youngstown boys and have made our rounds mooching enough meals in town that we decided it was time to venture up to Warren. This time there was little debate between us, the Buena Vista Cafe was at the top of our respective lists as we were eager to sample their renowned Uncle Nick's Greek Fried Chicken.
"Uncle Nick" was Nick Frankos, who opened up the Buena Vista in 1956 amidst the thriving manufacturing plants in the community.
You can get the Greek Fried Chicken in Boardman and Austintown, but we wanted to go to the place where it all started, at 1305 Buena Vista Ave.
On our visit we met with his son, Nicky Frankos, who explained that 58 years ago the Buena Vista was a bar that opened at 6 a.m. and closed at 2 a.m. to serve all three shifts at the local plants.
Food offerings were minimal until his dad purchased a Henny Penny fryer at a food show. Nicky explained that for the first three months, his dad gave the chicken away for free as he was perfecting the now-signature recipe.
Nicky started washing dishes at the restaurant when he was 9 years old. When he graduated from college in 1988, Nicky's dad made him an offer to come and take over the restaurant. His dad retired in 1991, and Nicky has been at the helm since.
The Buena Vista makes about 170 tons of chicken a year. The restaurant has a robust menu, but as Nicky proclaims, "The chicken put the bricks on the building."
Although we came to Buena Vista for the famous fried chicken, Nicky was generous to share a table full of his dishes. Our first taste of the night was the Grecian pizza.
The dough for this pizza is made in house and is topped with fried escarole, feta cheese, tomatoes, olives, banana peppers, garlic, onions and of course, basil and oregano. The vegetables and herbs married together well, and the flavor was spot on. We wanted to eat more than one slice, but there were too many plates remaining on the table.
Next up was a wonderful presentation of grilled Faroe Island salmon topped with a pineapple Bing cherry salsa. Neither of us particularly cares to order salmon out as it is often overcooked. However, this was cooked a perfect medium so moisture was intact. The tartness of the salsa worked well with this fresh salmon. Served over saut ed spinach, with a side of asparagus, it was a superb dish.
The next dish was a 10 ounce grilled Black Angus sirloin topped with fried onion straws and served with a side of steamed broccoli. The steak, cooked to medium rare, had a very satisfying full flavor beef taste. From there we moved to a large plate of Chicken Parmesan. Breaded and fried chicken breasts topped with melted mozzarella cheese served over spaghetti with a red sauce. The chicken had nice crisp texture outside while maintaining moisture inside. The red sauce that accompanied this dish was tangy and delicious.
The last plate was the Buena Vista's signature dish, the Greek fried chicken. The care that they take in preparing this dish is evident from the beginning. Each piece of chicken is individually trimmed of any excess fat or skin.
The meat is then covered in garlic, salt and spices and marinated for 24 hours. Every piece of chicken is then individually hand breaded and pressure fried in the Henny Penny fryers. When the chicken comes out, each piece is hand patted to remove any excess oil. Even though they do a tremendous amount of fried chicken every day, each piece tastes as if it was fried in fresh oil. This happens because the oil is filtered after every third run.
Even with bellies full we couldn't wait to dig in when the piping hot chicken arrived at our table. On the first bite, you immediately get the crunch and the spice. The chicken is perfectly salted and seasoned.
After the crunch comes the tender meat and what you think is grease running down your fingers but it is actually the juiciness of the chicken. This chicken is not greasy at all. As we quickly finished our first piece, we both looked at each other and said, "Well, maybe just one more piece." This is everything fried chicken should be, and it was easy to see why the bricks that made this building have kept it strong over the years.
Nicky Frankos is an affable gent who makes you feel right at home. He spoke fondly of his dad's old school ways that laid the foundation to this landmark, and the blessing of his longtime staff. The hospitality of its owner and the delicious food from the kitchen make the Buena Vista a must stop on your local culinary bucket list.
ABOUT Signature Dishes
Mike and Mark are on the lookout for the biggest, hottest and tastiest dishes in the Valley. Email them at BrothersInFood@gmail.com.