From big to giant: Behemoth TVs take off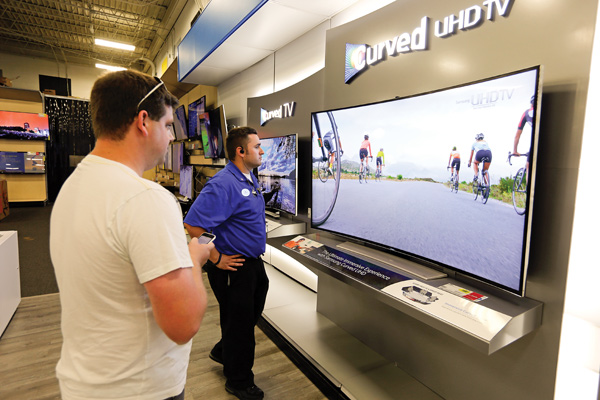 ---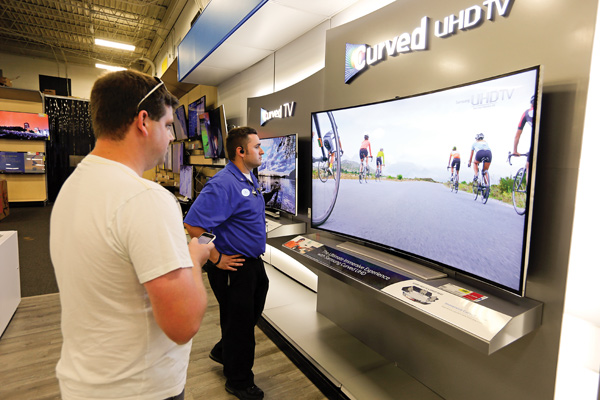 Photo
Jake Willis, center, home-theater supervisor at the Best Buy store in Greenwood, Ind., talks with customer Landon Leichter, of Spencer, Ind., at a display featuring a Samsung 78-inch curved television at the store in Greenwood, Ind. The 78-inch television is flanked by 65-inch versions. Americans increasingly are replacing their once-enviable 50-inch TVs with even bigger screens.
Associated Press
NEW YORK
Supersized isn't just for french fries.
Americans increasingly are replacing their once-enviable 50-inch TVs with even bigger screens. Think: 65-inches and up.
People are snagging big screens — pushing sales of them up 50 percent in the past year while overall TV sales have faltered. As prices fall, hardcore TV watchers and video gamers are finding sets affordable that a few years ago would have been playthings for wealthier people.
Jarvis Jackson, for instance, plans to spend up to $1,500 for a 65-inch TV with Internet capability. Jackson, who lives in Birmingham, Ala., says he'll scale back on dining out and postpone other purchases to make room in his budget.
"You definitely can tell the difference between a 55-inch and a larger size TV," says Jackson. "To get the right TV is important, especially when football season is coming up."
Shoppers such as Jackson are being enticed by new technologies such as Internet capability that allows Netflix streaming, and Ultra HD screens, which offer a sharper picture.
Falling prices also have made big screens more accessible to the average person: TV prices overall have fallen 9 to 11 percent, and the average price of a 50-inch TV is down $75 from two years ago to $573, according to research firm NPD Group.
Although TVs 65 inches or bigger account for just 2 percent of sets sold, they're the bright spot in a market that has been slumping in part because more people are using tablets and cellphones to stream movies and TV shows.
Overall, TVs 50 inches and bigger accounted for 25 percent of the sets sold in the past 12 months, up from 14 percent in 2012. NPD expects the figure to reach 30 percent this year.
The advent of flat screens and high-definition television prompted a rush to upgrade a decade ago, but things such as 3-D TVs have failed to entice buyers in recent years. But experts say Ultra HD is a simple enough upgrade to gain widespread adoption in the next few years.
Retailers are taking advantage of the demand. Amazon.com plans to feature some 100-inch models this year.
Wal-Mart Stores Inc., the world's largest retailer, also is beefing up its big-screens because of increasing customer demand.