Boys put to the test in Greatest Jr. series
---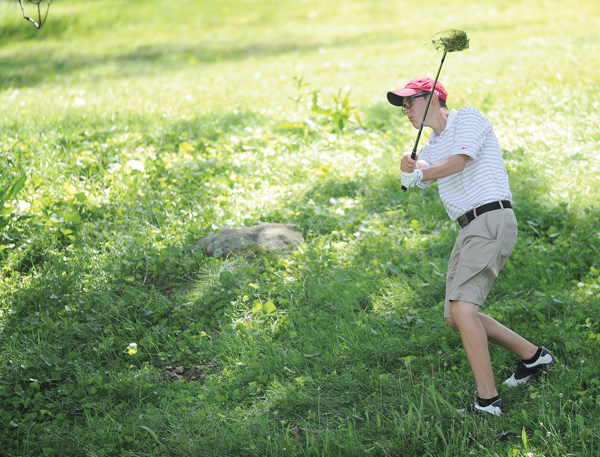 Photo
Daniel Lapolla of Warren shoots out of the long rough on the ninth hole on Tuesday at Diamondback golf course during The Vindicator's Greatest Golfer qualifying tournament.
ELLSWORTH
Eighteen holes wasn't enough to decide Tuesday afternoon's qualifier at Diamondback Golf Course.
Ken Keller and Zach Jacobson posted matching rounds of 79 and needed a playoff to decide the winner.
It was the first playoff of the year in the Greatest Juniors series. Keller made par. Jacobson three-putted for bogey.
"I haven't been in a playoff in a while, but I just tried to go in there with confidence," said Keller, who's tee shot found it's way into the rough.
"There's always pressure," said Jacobson, who was on the edge of the green in two, and in the better position. "I've been in a few before, but there's always going to be pressure."
Keller's third shot landed within five feet of the pin, which he calmly knocked in for par.
"I was just looking to hit some good shots and maybe make a putt like I did," Keller said. "I had a confident line on the putt and just gave it a good stroke."
The pressure shifted back over to Jacobson. He left his first putt well short and to the right, making his chance at par, and to extend the playoff, a difficult one.
It rolled past the left side of the hole.
"I was happy with my round, but I choked on the last three holes," Jacobson said. "I could've gone real low and I feel like I left a lot on the table."
In what was billed as one of the most talented groups assembled for a Greatest Juniors qualifier, Keller went off with current 17-and-under qualifiers Bradley Miller and Nolan Snyder, along with past 14-and-under champion Brian Terlesky.
Expected to shoot low as a group, instead the foursome was given all they could handle by the golf course.
Terlesky, who will play in the boys 14-U championship, and Miller shot the low rounds of the day with 78. Snyder shot 81.
"There greens are very difficult and, you know, with the wind blowing around it's difficult to have the right distance on your shots," Keller said. "But the greens were very fast today and they broke a lot.
"Putting was probably the most important part of my game today."
Keller will play in the Optimist International Junior Golf Championship at Palm Beach Gardens in Florida before returning to compete in the Greatest Juniors championship on July 27 at Avalon Lakes Golf Club in Howland.
"I'm going to continue to work on my putting, because that's going to be very important," Keller said. "If I can keep the ball straight and have good ball striking, I should be fine."
As for Jacobson, he is tied for the top points spot with Nicholas Braydich. The top six in the points standings qualify in each division, along with the six automatic qualifiers.
"I'm just going to have to keep hitting balls at the range and keep going out and playing," Jacobson said. "I just came off vacation, so it's been a while since I've been really practicing."
Keegan Butler shot a 87 in the boys 14-and-under division to also qualify on Tuesday.
He finished just ahead of Bobby Jonda, who has a comfortable lead in the points standings with 22 points.
Cole Christman shot the low round for the division with a 80, but he's already earned a spot in the championship thanks to a round of 75 at Tam O'Shanter.
The final qualifier is July 16 at Trumbull Country Club.